We love zucchini! It's a go-with-anything veggie and easily available. And tasty. You too? This will be just perfect for you to try out then: a delicious recipe for a zucchini pie.
But this time, an unconventional zucchini pie family recipe. You'll be surprised!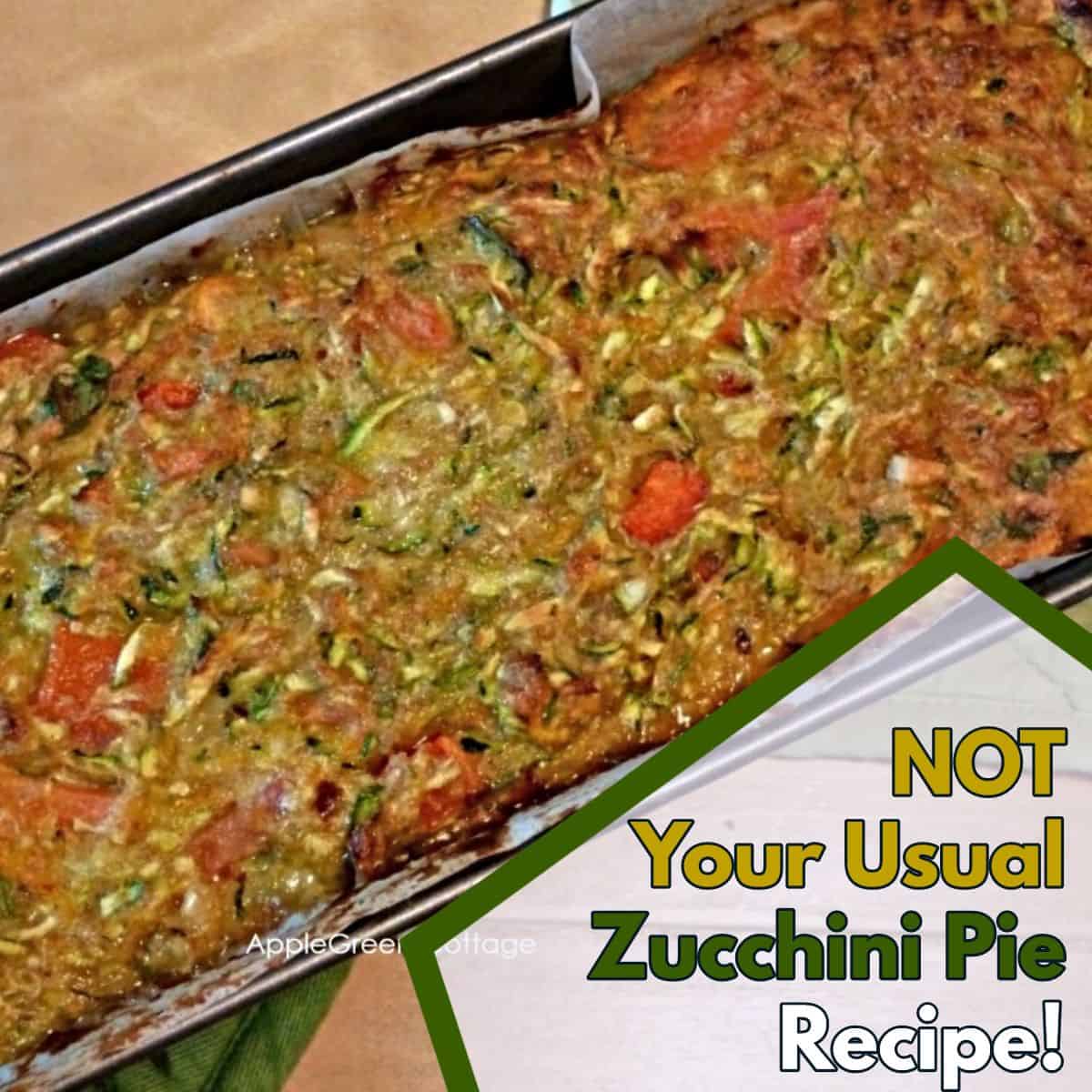 While the summer season may be coming to a close, there's no shortage of crisp and fresh zucchini to be found.
We absolutely adore zucchinis (have I mentioned that before?), but even kids can get tired of having the same food prepared in the same way over and over again, even if it's super yummy.
So, sooner or later, you'll reach a point where you just need to shake things up a bit, especially as summer comes to a close.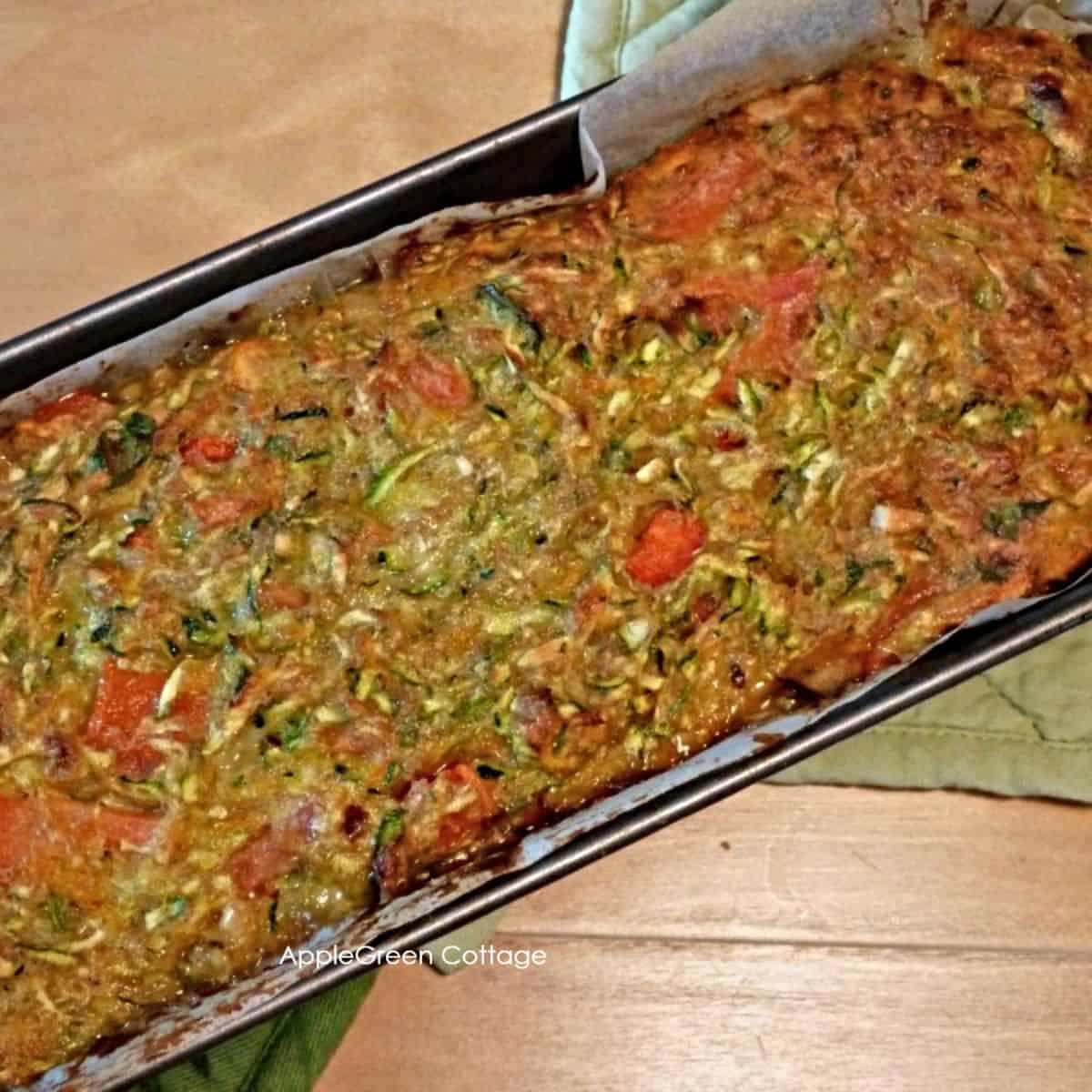 No matter the occasion, our zucchini pie is the perfect choice. Whether you're hosting a fancy summer party, packing a picnic, or enjoying a cozy family meal, this pie has got you covered. It's so versatile that it fits any event, and it's super easy to make, so both beginners and seasoned chefs can whip it up without a hitch.
Recipe for a zucchini pie
INGREDIENTS for a zucchini pie
To give you an idea, that's what I got:
3 grated zucchini
1 grated carrot
2 eggs
a cup of wholegrain spelt flour (it may just as easily be any regular wheat flour, let's not make it complicated...)
a tiny bit of baking powder (though I'm not sure if I needed that, usually the eggs take care of the fluffy texture, but you never know...)
1 tomato (cut into bits)
1 bell pepper (cut into bits)
a clove of garlic
a pinch of salt
chopped parsley
a cube of coconut fat
... and anything else you'd like to add. Really, there is no limit. I was making the list up along with what I saw in the fridge (at the moment I wished for a different zucchini-type lunch), so you might want to go another way. It's ok, too.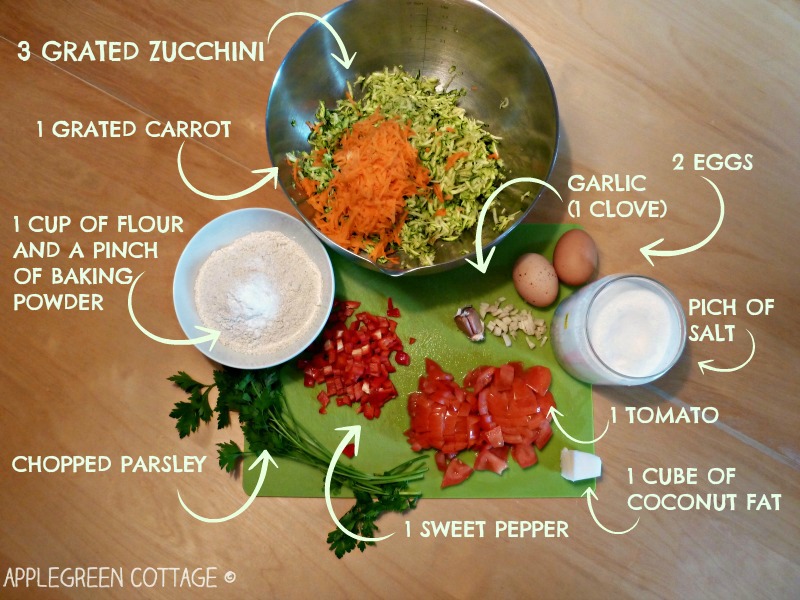 DIRECTIONS:
Stir the eggs and then throw into the bowl everything you've prepared. Except for coconut fat - which I added to the top of the mixture only after I'd put it into the baking pan. Why? 'Cause I forgot to mix it in before. 🙂 And the zucchini pie turned out better this way.
The steps look like this: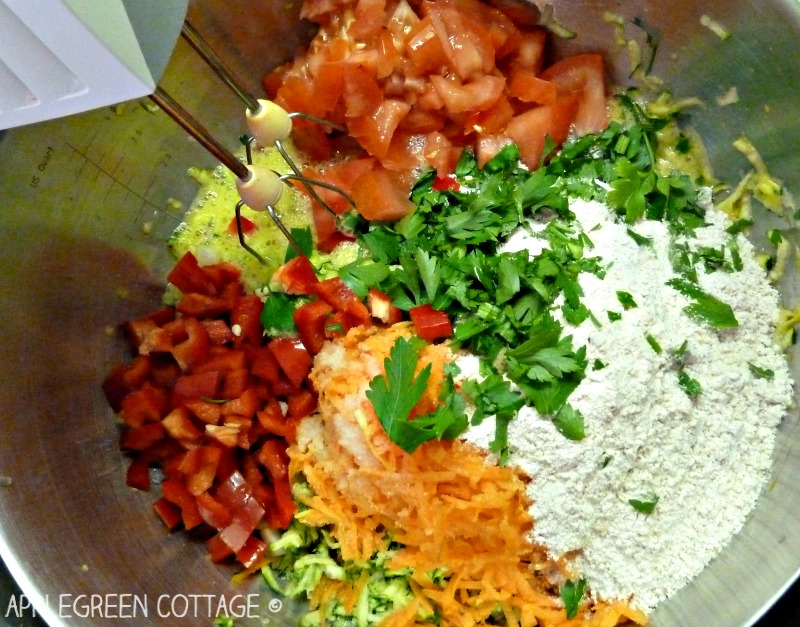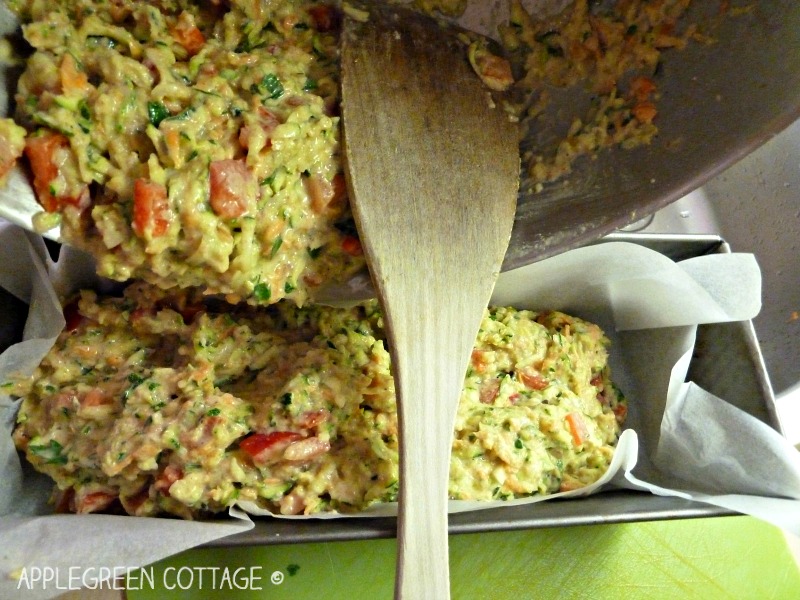 Aaaand let it stay in the oven at 190 deg. Celsius for ... eh, forget the exact timing. As long as you can wait. (=my usual timing.)
But for those of you who would want to know the number: I baked it for 16 minutes. At first. Checked - is it done yet? My curious eyes and nosy character, alright. And back it went into the oven because it wasn't done yet. Checked after another 5 minutes. Nope. Not yet. Another 10 And when I opened the oven after another 7 and a half minutes, I decided: it's done. Ready. So...to sum up: 38 minutes and a half. 🙂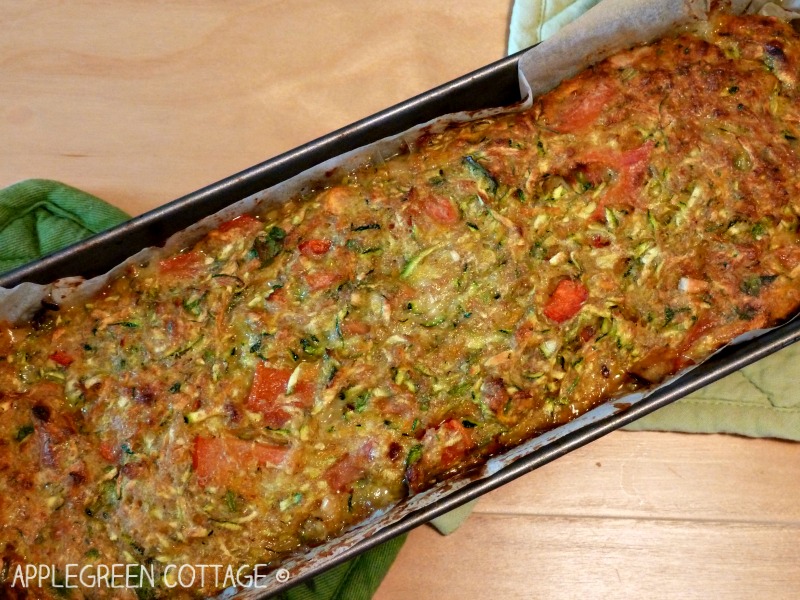 It looks like a veggie meatloaf, doesn't it?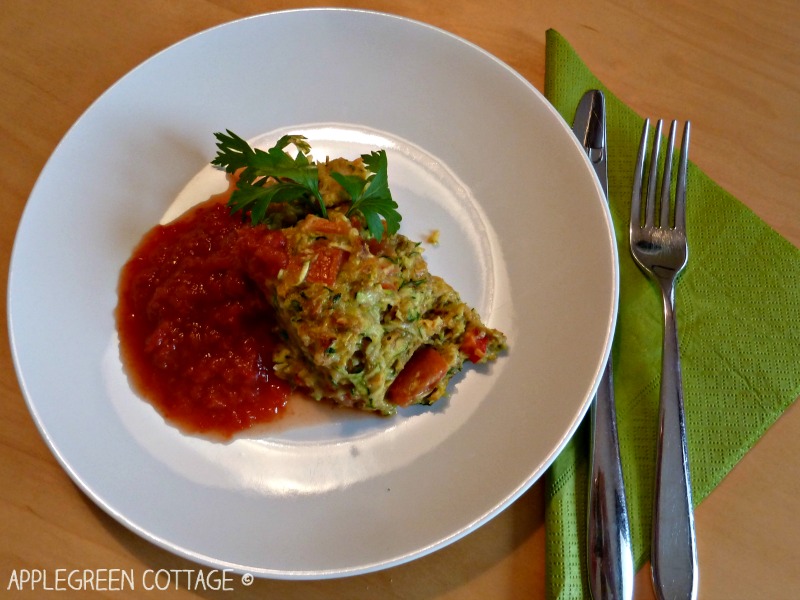 It can be served as an individual dish, topped with a good shower of homemade tomato sauce, but it would do just as well as a main dish along with polenta, or couscous. Or bread. Or ...you name it.
Viva zucchini, and - bon appetit 🙂
Alternative Ingredients
feel free to swap coconut fat with any vegetable oil
you can add cheese on top before pushing the pie into the oven - any good melting cheese will work in this dish. We love cheddar.
Can I Make Zucchini pie ahead?
Sure! To save time and plan ahead, you have the option of baking the zucchini pie beforehand. Simply set it aside on your kitchen counter at room temperature until you're ready to enjoy it.
Can I add other vegetables to a zucchini pie?
Absolutely. While it's fair I mention that the above free-style zucchini pie recipe is already unconventional, you can surely add any additional veggies you like.
Can I make a mini zucchini pie instead of a full-sized one?
Absolutely! This recipe is great to make on a muffin plate. Don't forget to adjust the baking time if you make zucchini muffins though, 20 minutes at 180 degrees Celsius will do.