See how to make hot chocolate bombs and take the classic hot cocoa with marshmallows to a whole new level of fun!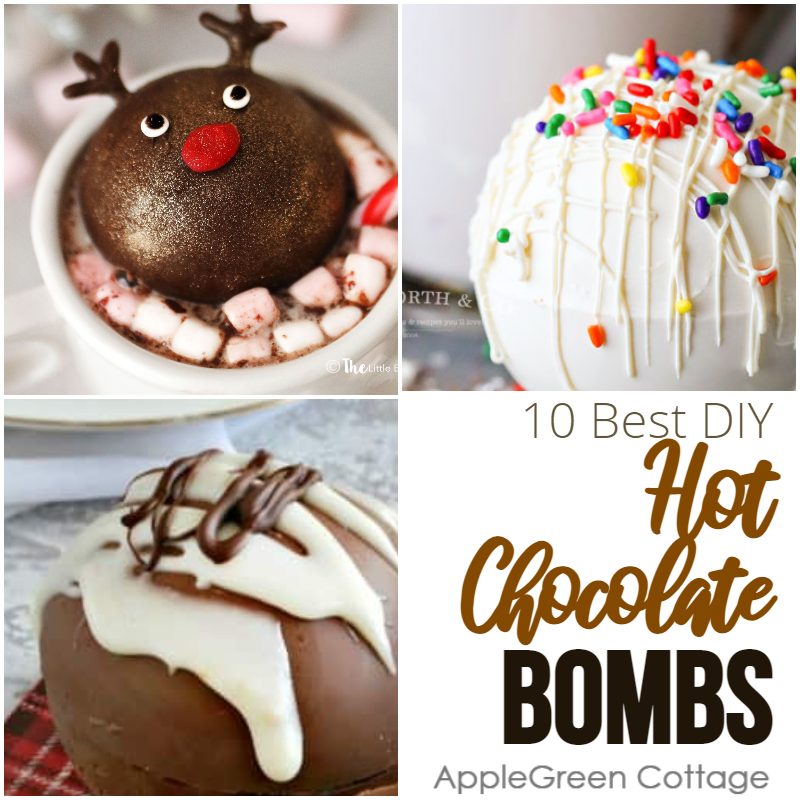 See how to make chocolate bombs in 2021! They are sometimes called hot cocoa bombs - but it's just another name for a brand new, fun foodie trend that has taken over all the popular places. Don't miss out on this trend, see how to make hot chocolate bombs now - or save this list to Pinterest so you can use it later: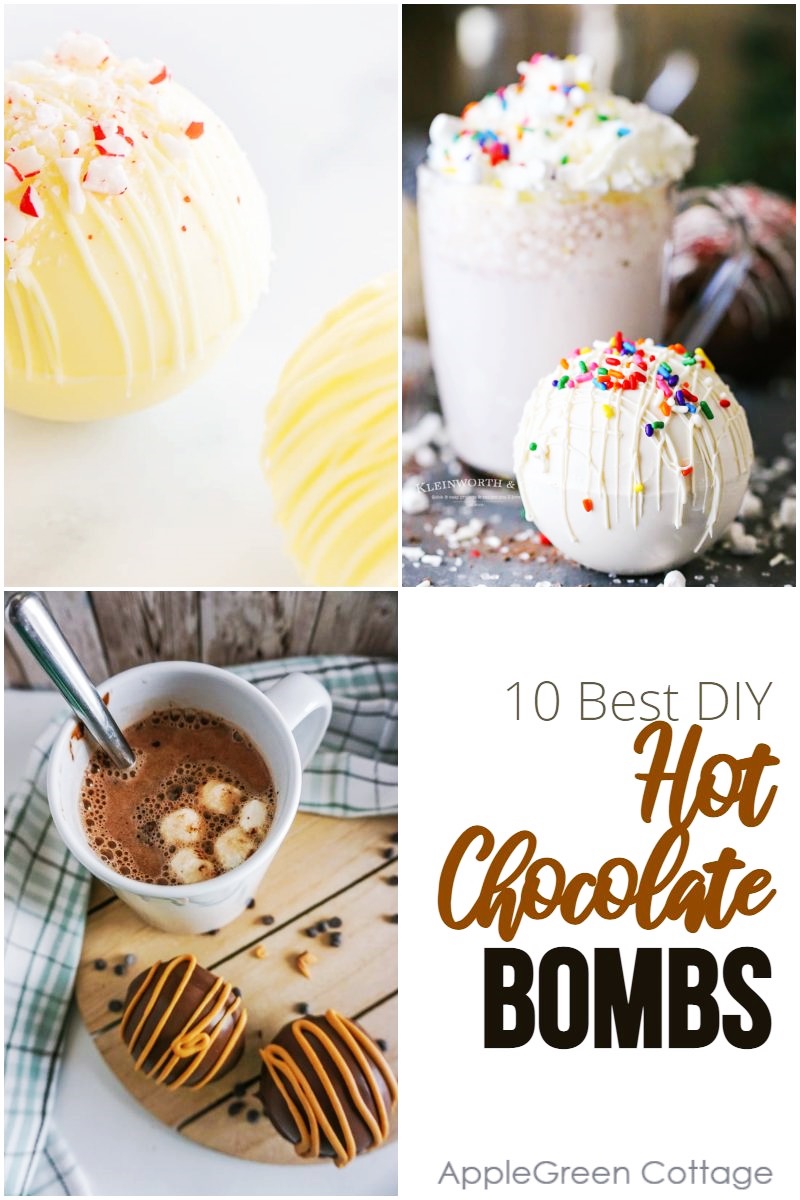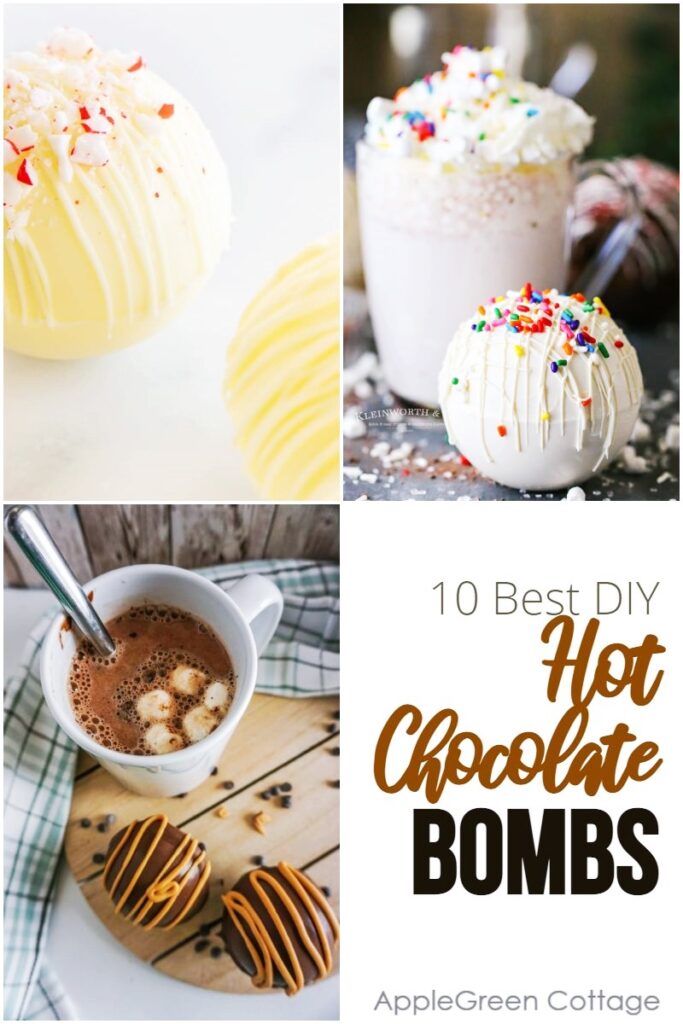 Other Dessert Recipes You'll Love:
These cocoa powder and marshmallow bombs are the thing to try this winter. And since we are about to spend a lot of time at home anyway this winter, let's make a lot of diy chocolate bombs! Are you asking yourself what are these - just like I did a few months ago when I first spotted a lustrous recipe video for making hot cocoa bombs? Let me first explain a few basics - then scroll down and find your favorite hot cocoa bomb recipe to make!
What are hot chocolate bombs made of?
The basic idea of a hot chocolate bomb is a chocolate outer shell, filled with mini marshmallows plus chocolate milk powder. Easy and sweet, but there are so many options and hundreds of variations. Actually, you can use your favorite hot chocolate toppings inside of your hot chocolate bombs.
How do you Serve cocoa bombs?
Place your hot chocolate bomb into the cup you plan to serve it in. That is, your favorite mug.
Heat up some milk and pour it over the hot cocoa bomb. Now watch the magic happen: the chocolate slowly melting, the bomb splitting and mini marshmallows popping up. Fun!
Don't forget to decorate with a cute mug rug, for an extra touch of coziness and a handmade feel! But first, let's make a few hot chocolate balls.
How To Gift Diy Hot Chocolate Bombs!
Diy chocolate bombs make the best diy gifts - especially if you add a beautiful diy coffee cup cozy. Use my free coffee cozy pattern and make a few, it's a super easy sewing project!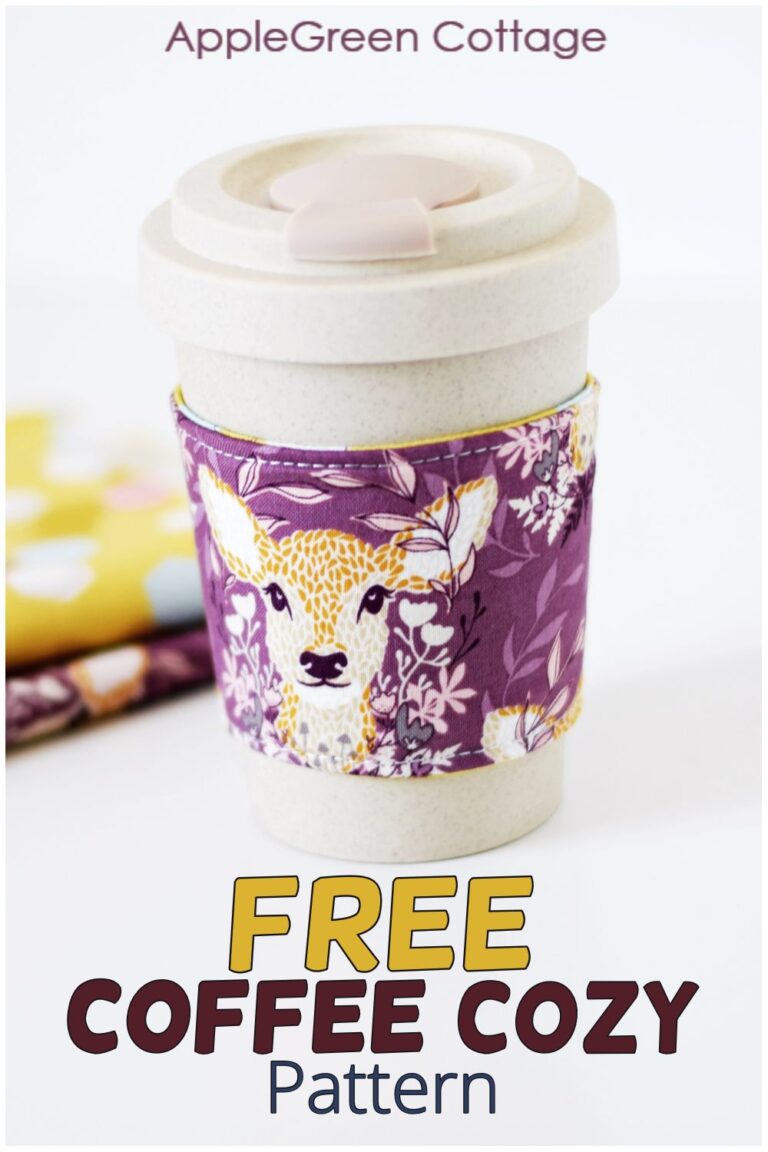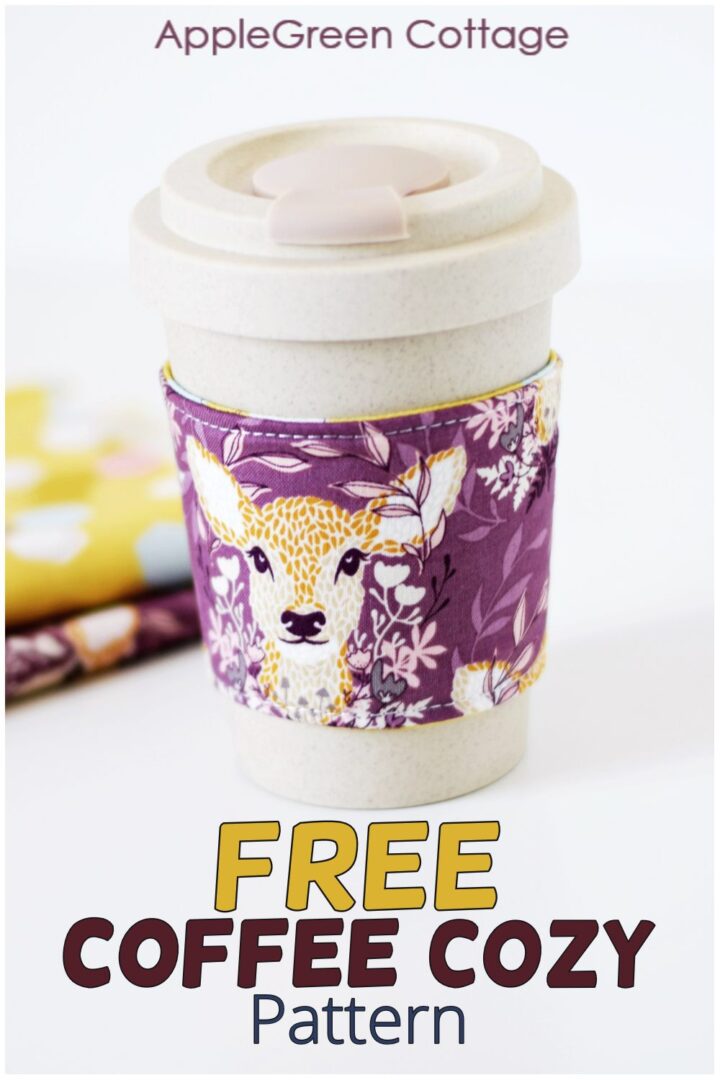 Best DIY Hot Chocolate Bombs To Make
Here I'm listing my favorites. First, the classic chocolate bombs made with a silicone mold. I loved these:
Classic Diy Hot Chocolate Bombs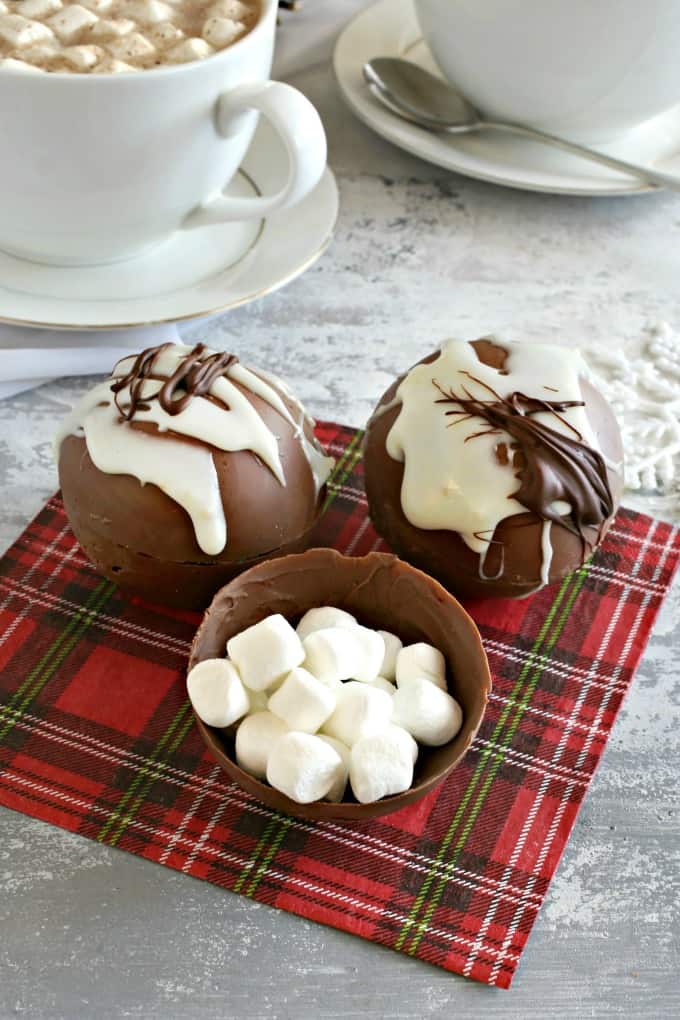 These classic Hot Chocolate Bombs by Noshing With The Nolans blog are just waiting for hot milk to explode into!
White Hot Chocolate Bombs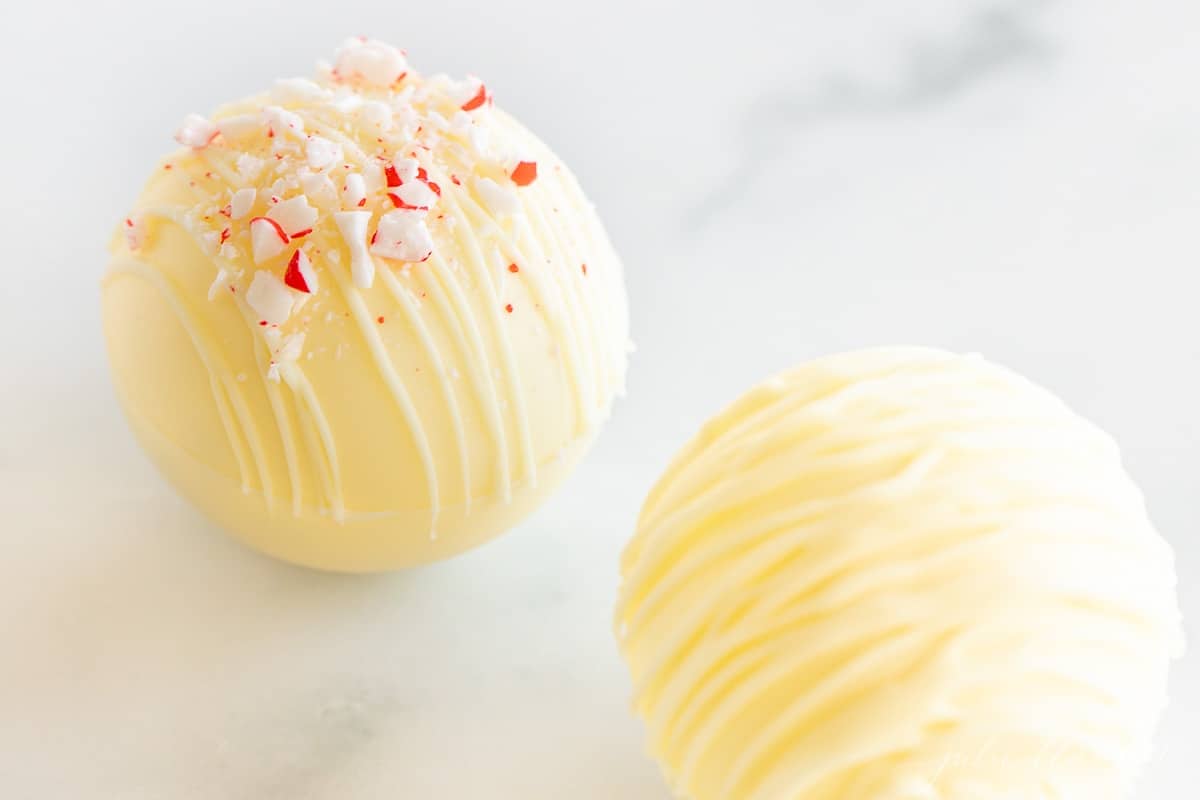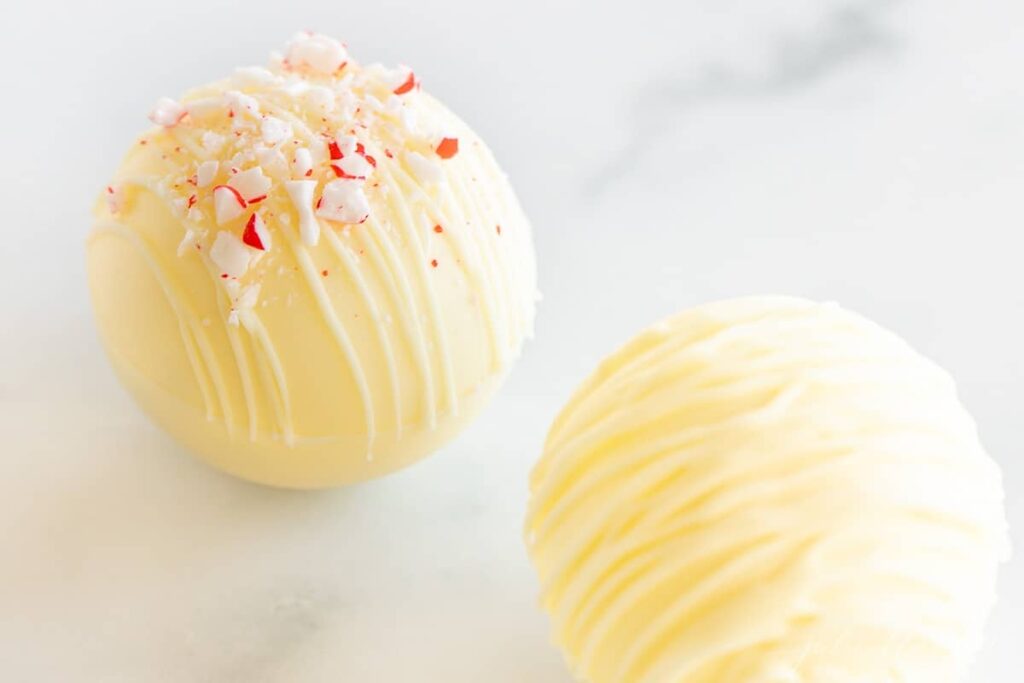 A cool spin on the classic hot cocoa balls, these white hot chocolate bombs are decorated with peppermint candy - an awesome idea! See more at Julie Blanner site.
Reindeer Hot Chocolate Bombs
Next, a vegan hot cocoa bomb version, this popular reindeer Hot Chocolate Bomb by The Little Blog Of Vegan.
How To Make Hot Cocoa Bombs with Peanut butter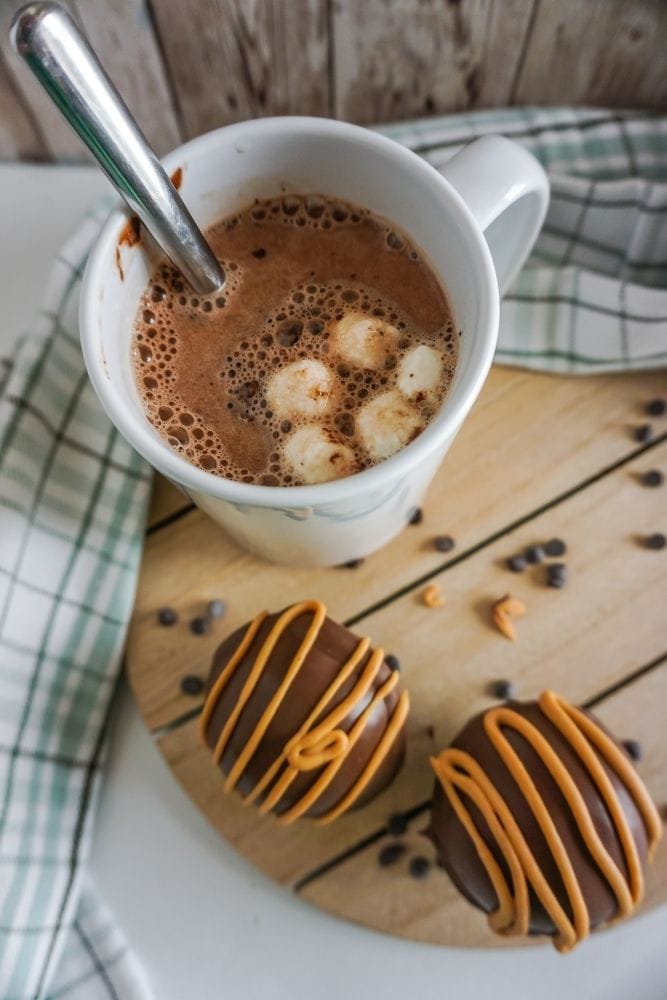 And what about adding some peanut butter? Always! Check out these peanut butter hot cocoa balls by Everyday Family Cooking!
Snowman Hot Chocolate Bombs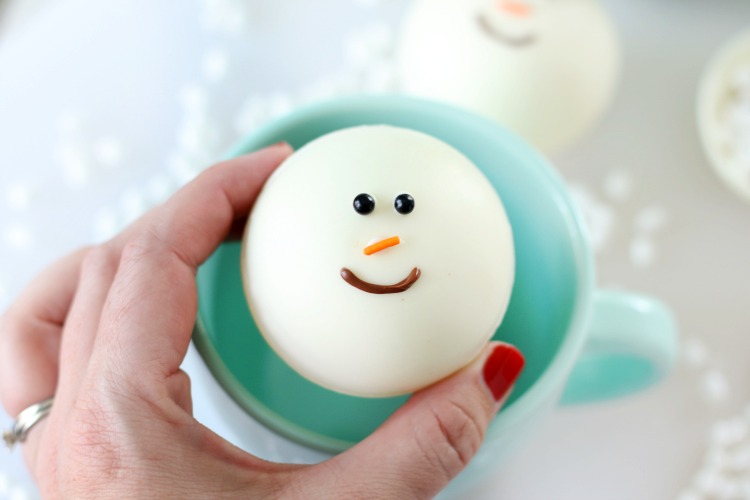 These are the cutest snowmen of teh season! This snowman version is just plain fun. And it looks like white chocolate makes them easier to make than using dark chocolate. definitely worth trying out!
COCOA POWDER HOT CHOCOLATE BOMBS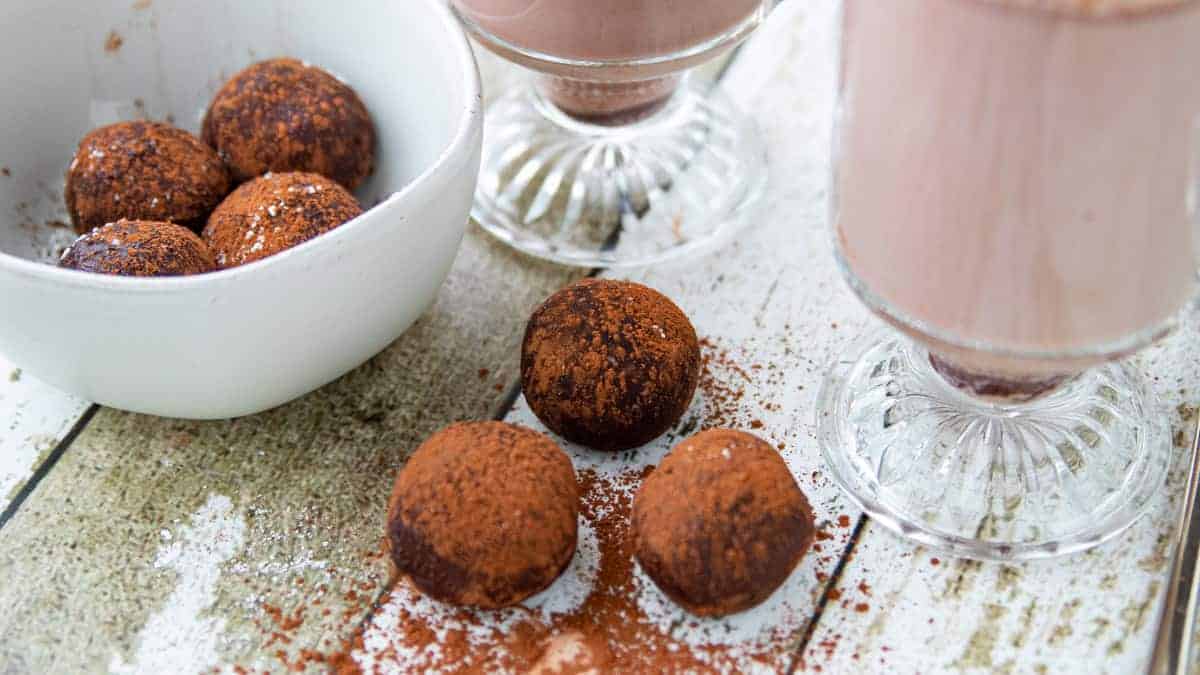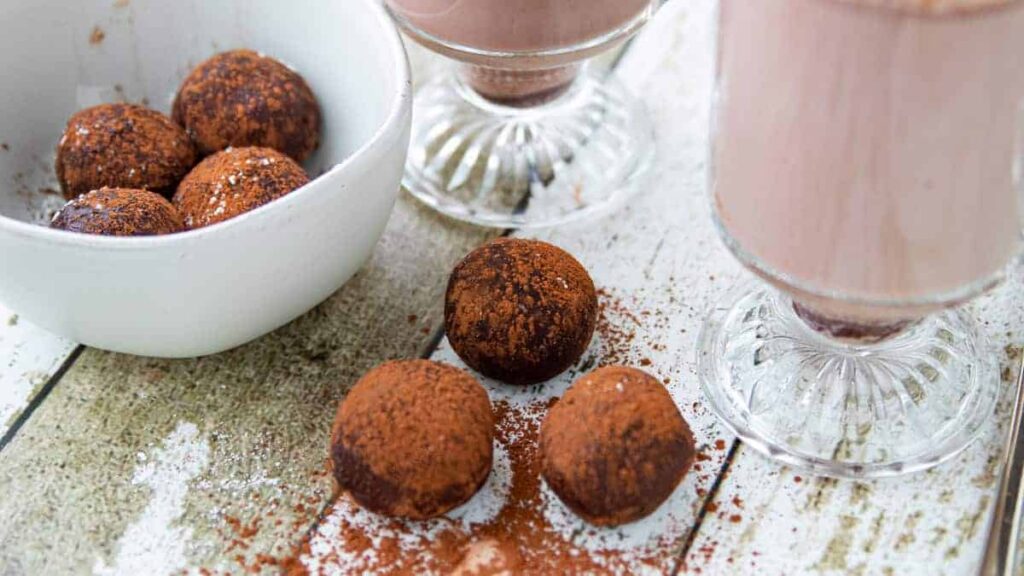 These cocoa powder-covered hot chocolate bombs do not require a mold, which makes this a great recipe to make with the kids.
Salted Caramel Hot Cocoa Bombs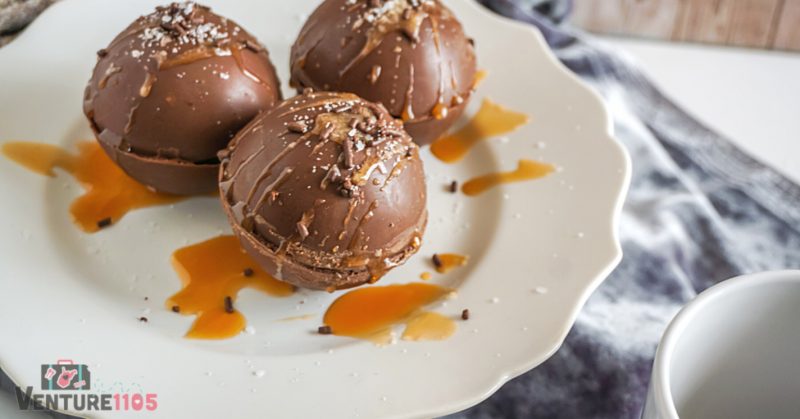 Everything you need to make the perfect cup of hot chocolate!
Sugar Cookie Hot Cocoa Bombs - and More!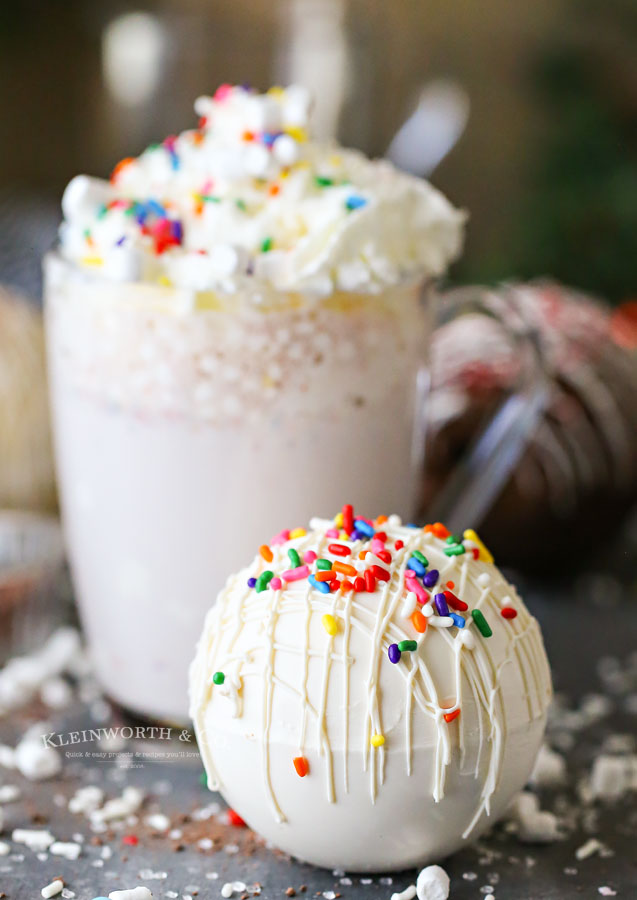 Want more flavours for your hot cocoa bombs? Kleinworth & Co has several recipes - think sprinkles, sugar cookie (this is the one in the photo above), gingerbread, eggnog, peppermint - crazy good!
STRAWBERRY HOT CHOCOLATE BOMBS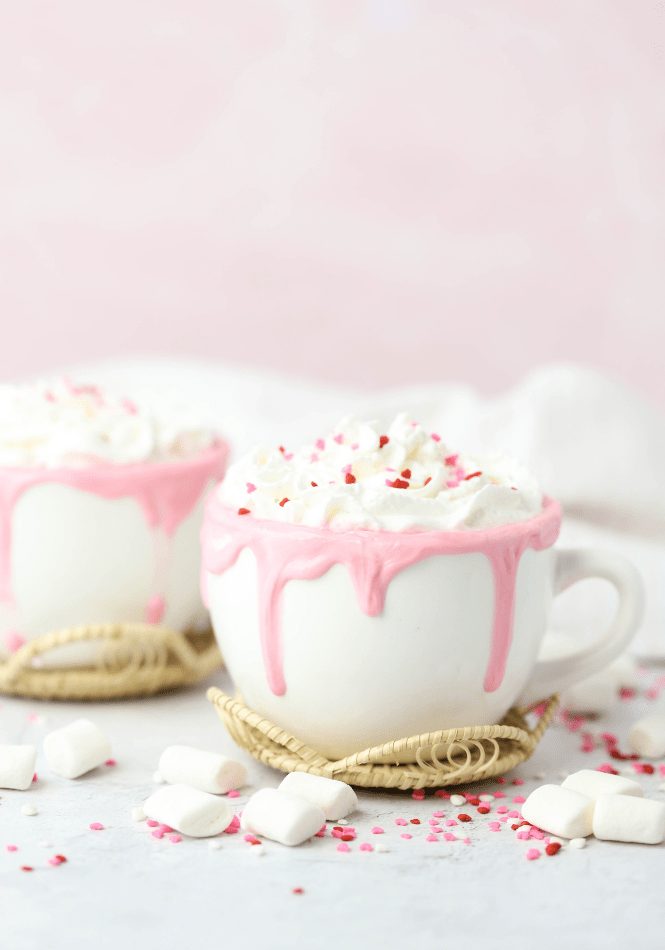 These Strawberry Hot Chocolate Bombs by Cooking With Amber are perfect for Valentine's Day with the pink color and heart-shaped sprinkles, but you can twist this recipe to fit any occasion.
Dairy-Free Vegan Chocolate bomb Recipe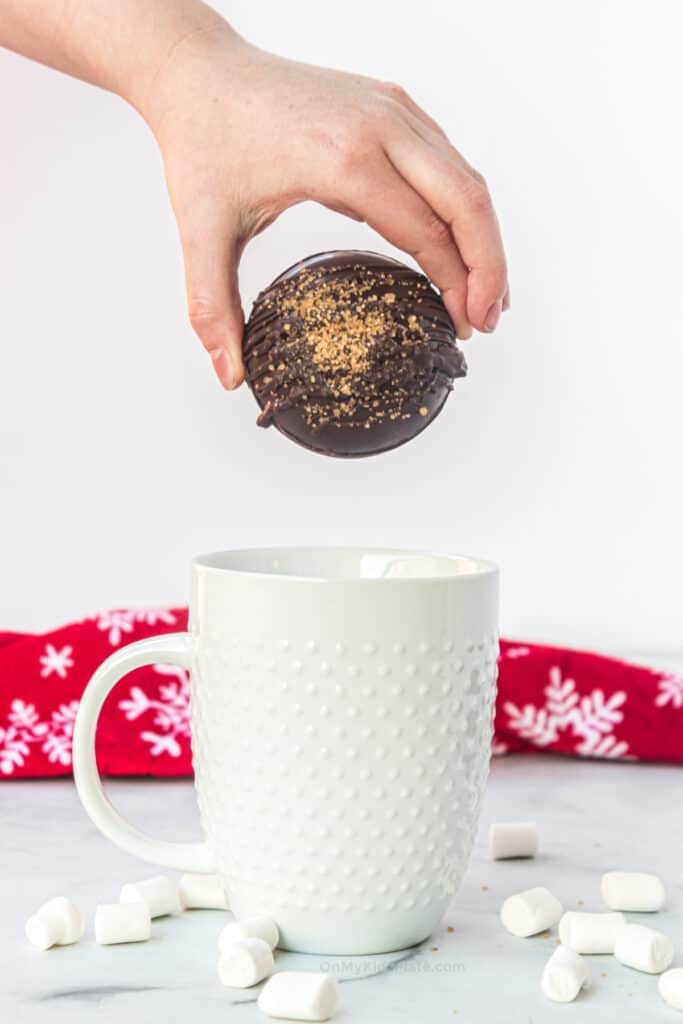 Kristy at On My Kids Plate blog created her own dairy-free hot chocolate bomb recipe!
Colorful Hot Chocolate Bomb Recipe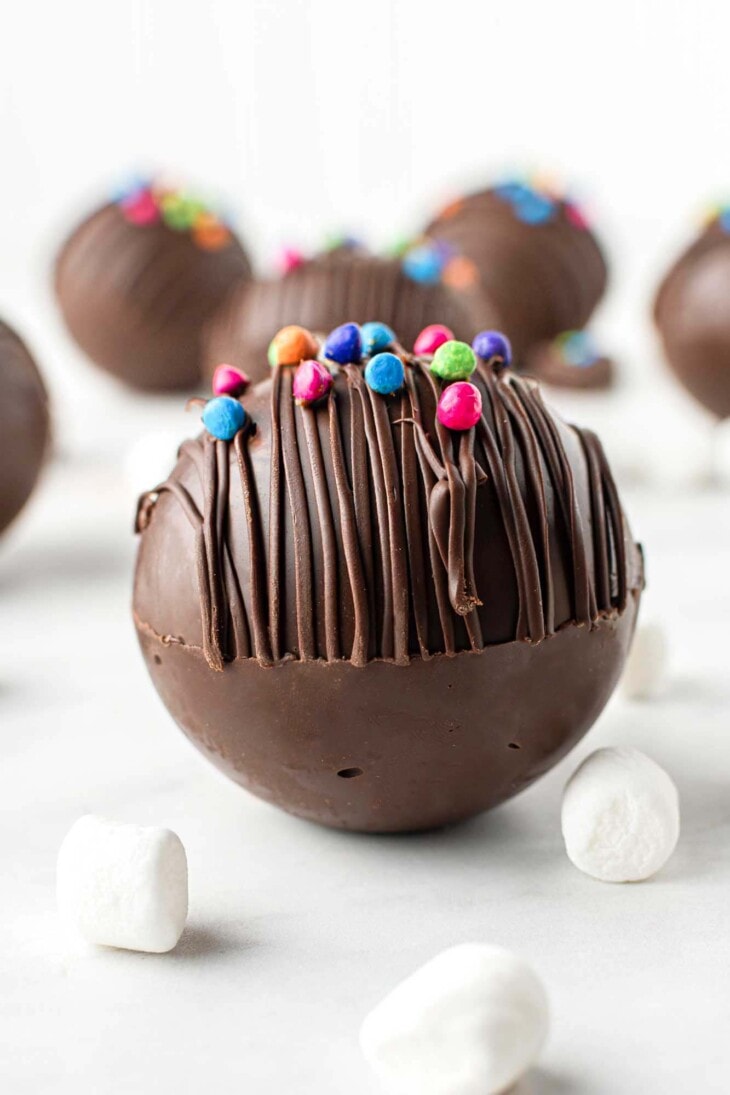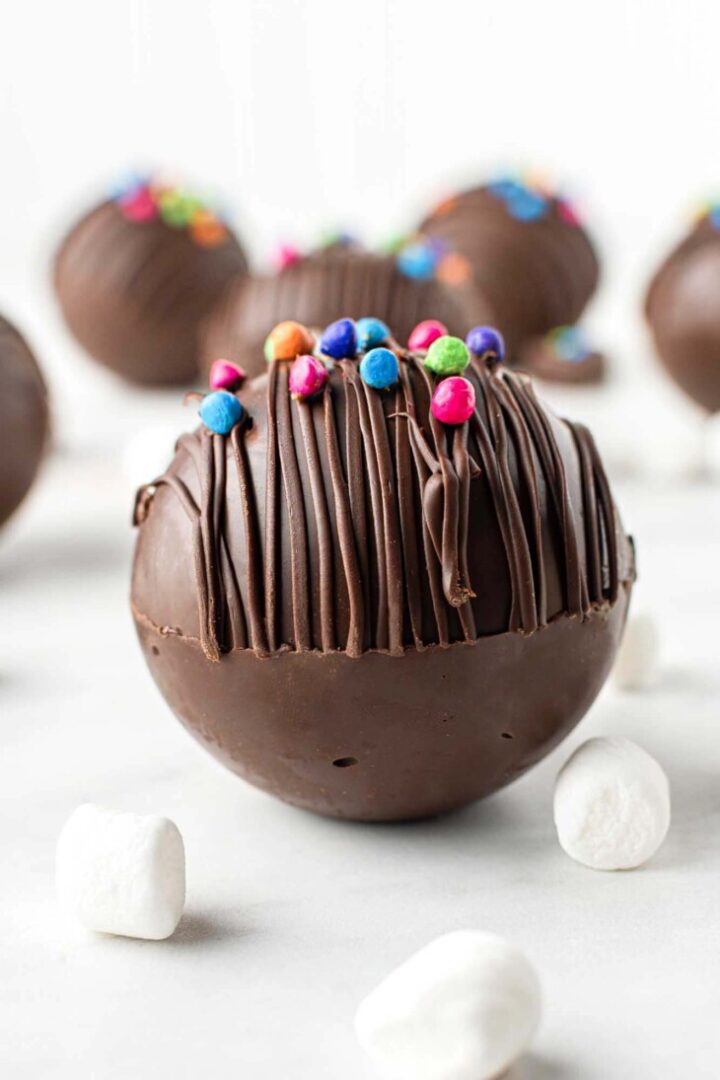 Diana at The Sunny Kitchen decorated her hot chocolate bombs in a way I love love love to see - with lots of color!
A HACK - How do you make a hot chocolate bomb without a mold?
The easiest way? A hack actually. You can use existing chocolate figurines - If you have kids, I'm sure you've got a few in your pantry left after the end of the Christmas gifting season - I usually need to hide a few, as the 'Santa season' is really really too generous on us with chocolate. Just make sure you use the small ones, the size will need to fit your mug.
Simple how-to: unwrap the figure, use a hot knife to cut it carefully in ahlf without breaking the chocolate into pieces, then fill. Once filled with your favorite mixture, heat up a pan and place the edge of the empty half of the figure on it. the edge will melt a bit, forming a temporary stitcky layer you need to place back onto the first half. Chocolate figure sealed, your hot chocolate bomb is ready!
Soooo tempting to stay in and just make hot chocolate bomb recipes! If you liked this list, let me know in teh comments which of these are your favorite, and add any tips and tricks you might have up your sleeve for these - I want to know! Enjoy these decadent chocolate balls recipes!