Make a perfect diy gift for baby using this diaper bag pattern. It's the perfect handmade gift every new mom would love to have and makes an excellent baby shower present. And it's totally adjustable: one pattern, many different options. Check it out!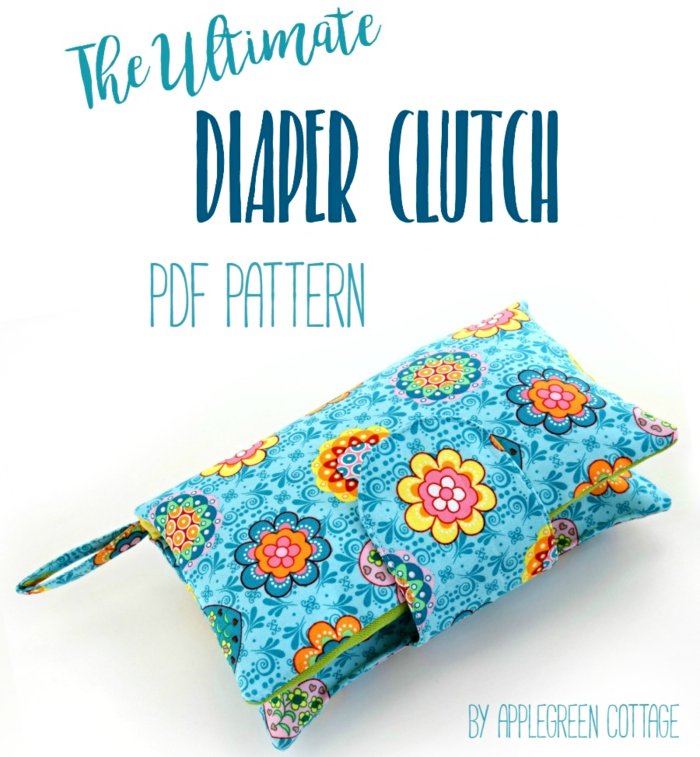 Diaper Clutch Pattern
I love this beauty so much! Because every new mom deserves this stylish accessory. And needs it, too.
Which makes it a perfect diy baby shower gift.
It's so stylish - yet convenient! This diaper clutch pattern (or do you call it a nappy wallet?) is a great solution for moms with babies on the go. It is all you need for a short trip to the grocery store or quick errands in the neighborhood. Super-handy for a quick diaper change!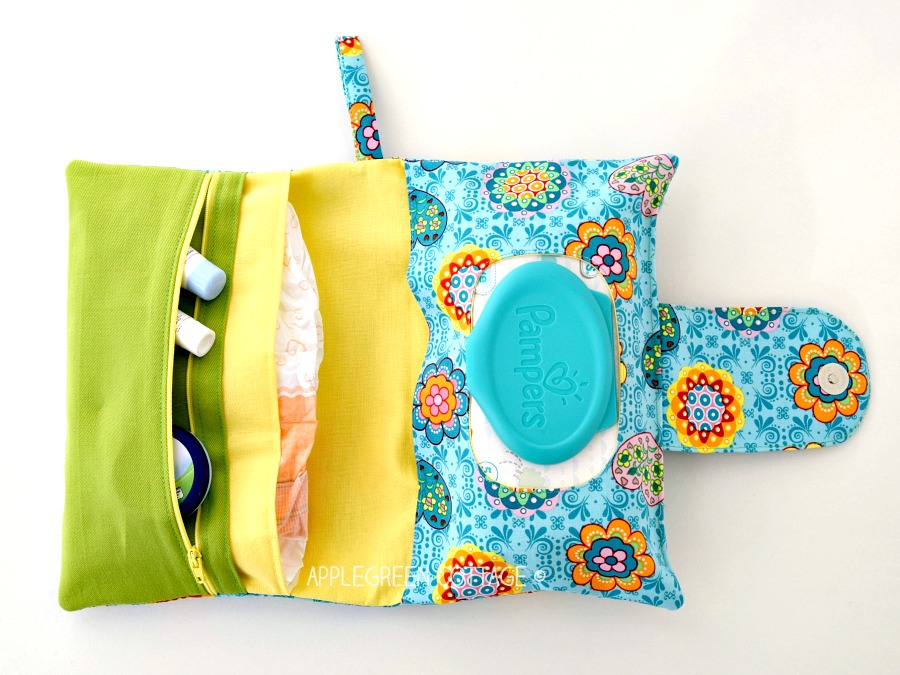 Every new mom deserves a little pampering. And if she already needs to carry around all the baby things, let it be in a stylish, good-looking clutch. Win-win!
FEATURES of the Ultimate Pattern for Diaper Clutch
This practical diaper clutch pattern gives you so many options: simple diaper pockets, zipper pockets, unique pocket for baby wipes - a must-see!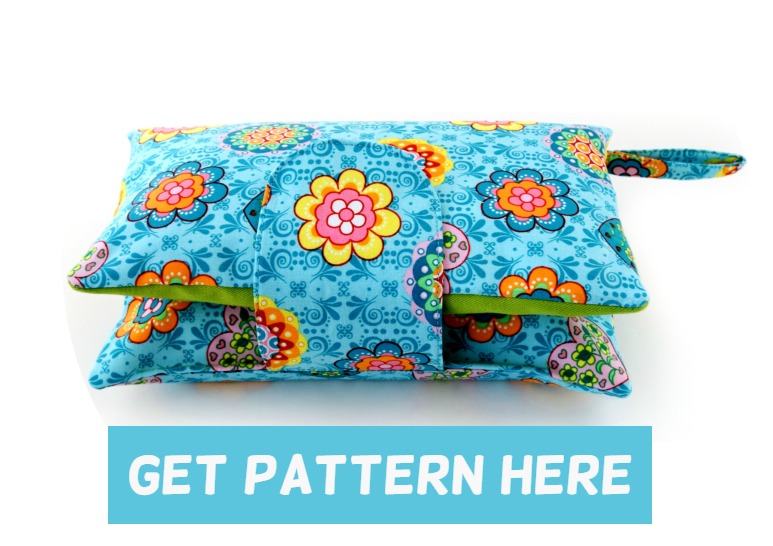 The easy-out wipes pocket with a window for easy removal of wet wipes – no need to take the pack out when in use!
Hidden velcro straps hold the wipes pack in place. No slipping out!
Several super convenient pockets on the left side. Wide or narrow, plain or zippered, up to 4. Your choice!
All options have pattern pieces and instructions included.
Fits nearly any type of wet wipes packs, regular and small. Works great with both resealable-window packets or easy-open popup lids, like Pampers. (Note: Easy-out window pocket not suitable for Huggies hardcase, but I've got you covered – use pattern piece #2 instead.)
Tutorial on inserting magnetic snaps included (the stylish version) but you can opt for easier and quicker alternatives: kam snaps, velcro, button.
3 versions of closure flaps. Totally your choice!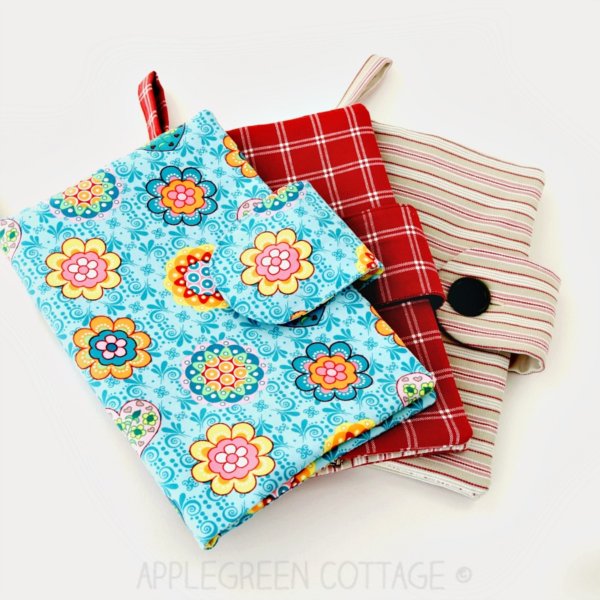 What about the PDF Sewing Pattern?
The pattern is available in our shop at this link. It's a full-size printable PDF pattern with a step-by-step tutorial and lots of photos and detailed, easy-to-follow instructions. I added a few bonus hints to make sewing even easier. Feel free to check it out here: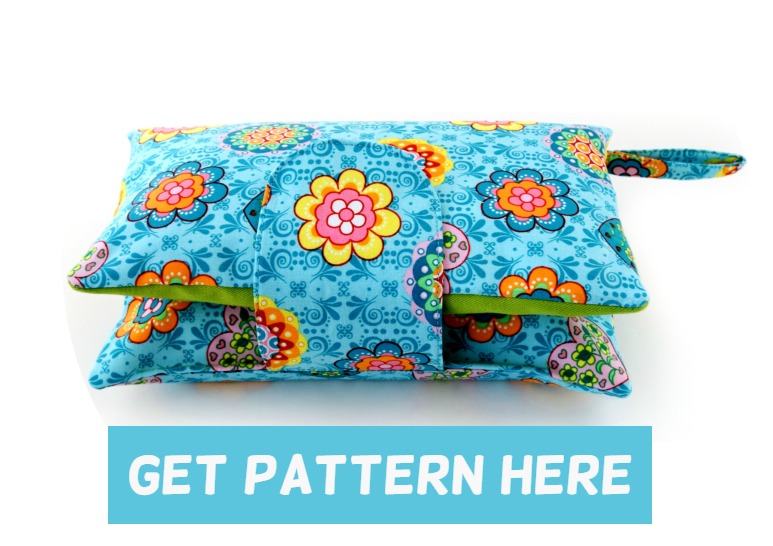 Beginner-Friendly? Yes!
When I say the diaper clutch bag pattern and tutorial are 'beginner-friendly and easy', I mean pictures and tips like these: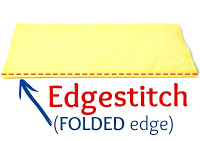 There are photos for each step, and clear instructions. Tips included. I want to make your project super easy and fun! And as usually, there's more. You also learn:
how to insert magnetic snaps
make an easy zipper closure and shorten zippers
how to add fusible interfacing.
Don't have a zipper foot for sewing zippers? No problem, I included a tip for using your regular foot with zippers too! Or are you afraid of zippers? I've included the simplest way to add a zipper to a pouch. Really, try it out. You'll love it! - or use the pattern option WITHOUT a zipper. (As I said: adjustable.)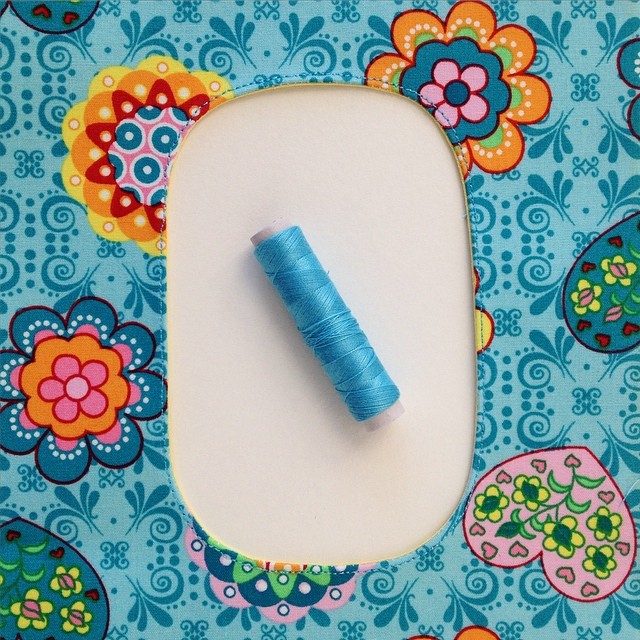 Finished Size Of the Diaper Bag Clutch
Oh, and before I forget, you need to know the finished size of this diaper clutch, don't you? when packed full and closed, it's approximately 6" wide, 10" tall, 3" deep (4" max depth). A generous size for all the diapering essentials.
This diaper Bag Clutch Is Designed To Fit A Regular pack of wet wipes - WHY?
And one thing more: this pattern is designed to fit a regular pack of, say, something like 50 wet wipes (different packaging across the continents!). Ok, a travel pack will fit too, of course, but mini packs like 18-pcs travel packs are more expensive. And I want moms to save money, so it's best to give them the option to use the large packs with these diaper clutches, especially because it's gonna be thousands of wet wipes until the baby outgrows diapers. Lots of saved money here 😉
And in situations when you really need to keep the diaper clutch slim, you can of course use a travel pack - and it won't fall out! Because there are hidden Velcro straps keeping it in place. How great is that?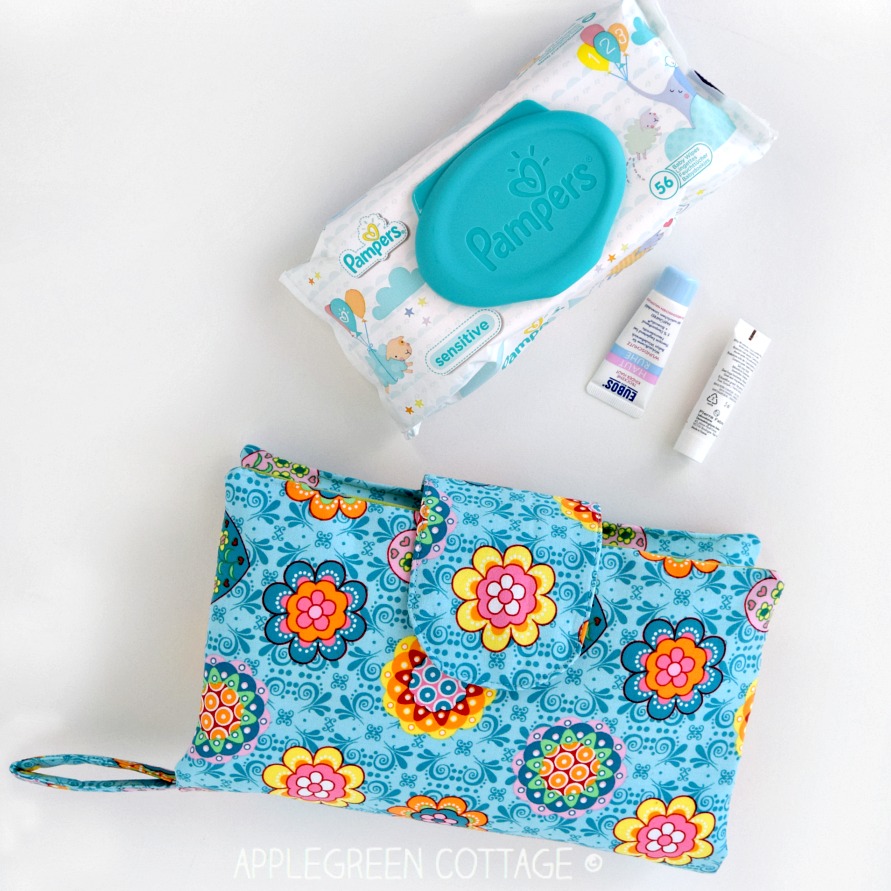 This diaper clutch makes the perfect handmade gift every new mom would love to have. An excellent baby shower present! So if you want to make something that would be used a lot, and something every mom would remember you by, try this one.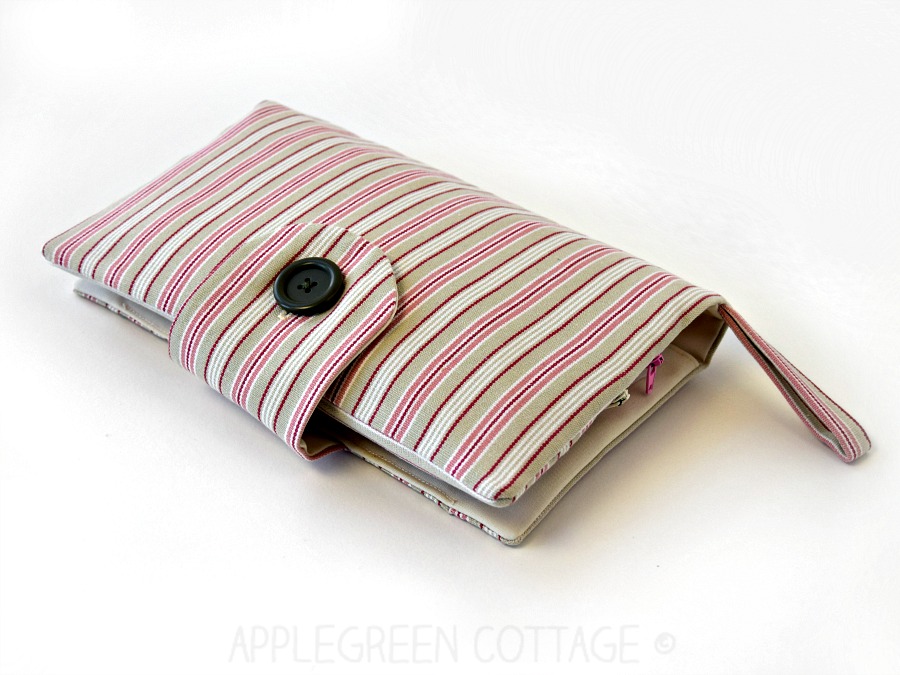 This is when a travel pack of wet wipes is used - the diaper clutch is quite slim, isn't it?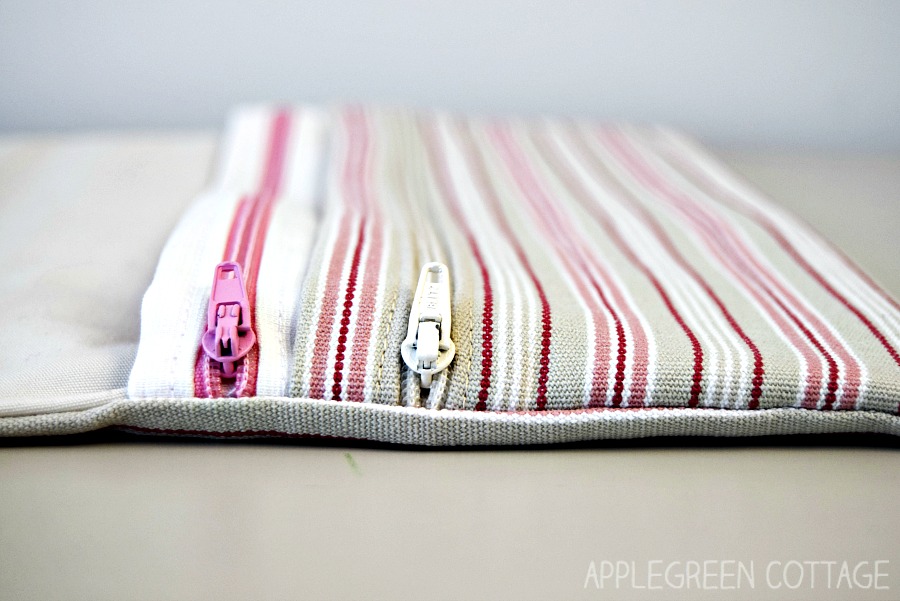 Totally adjustable. One pattern, many different options! Tailor the diaper clutch exactly to your likes and needs. You can opt for one zipper pocket, two, or none.
Customer Reviews of the Ultimate Diaper Clutch Pattern
I am so thrilled you love this pattern so much! So many readers have sent me photos of their own diaper clutches sewn with this pattern. And I'm so grateful it turned out to be one of the most popular patterns for diaper clutches online. Take a look at a few diaper clutches sewn with AppleGreen Cottage diaper clutch pattern: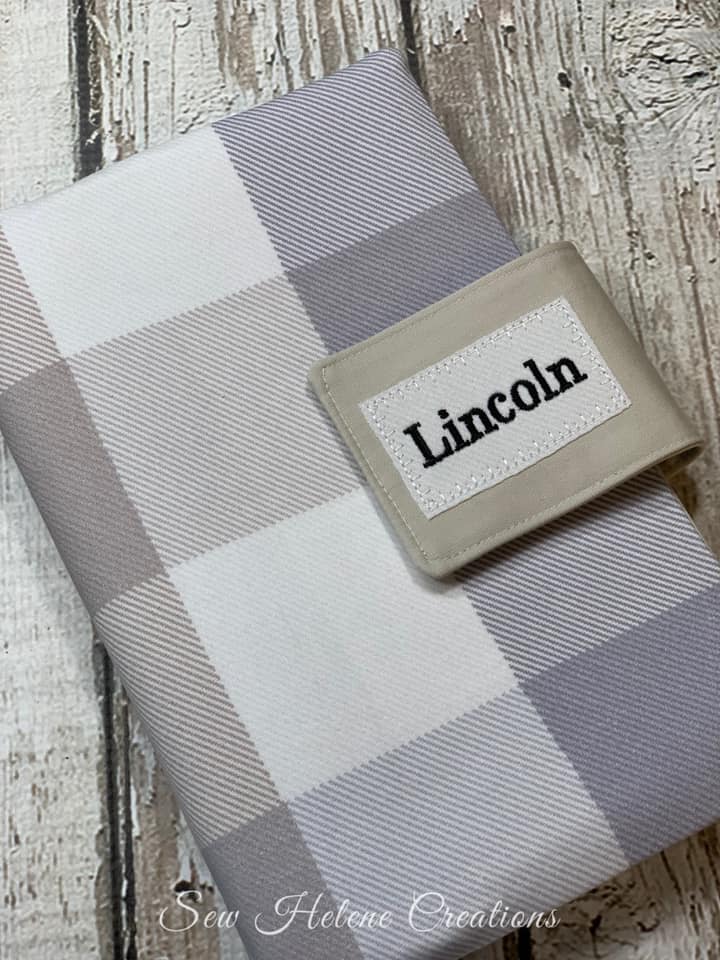 Helene posted this beautiful Ultimate Diaper Clutch in our FB group. So pretty, and I love how she personalized it by adding the baby's name. And how the squares match perfectly to the exterior dimensions. That's a brilliant fabric choice!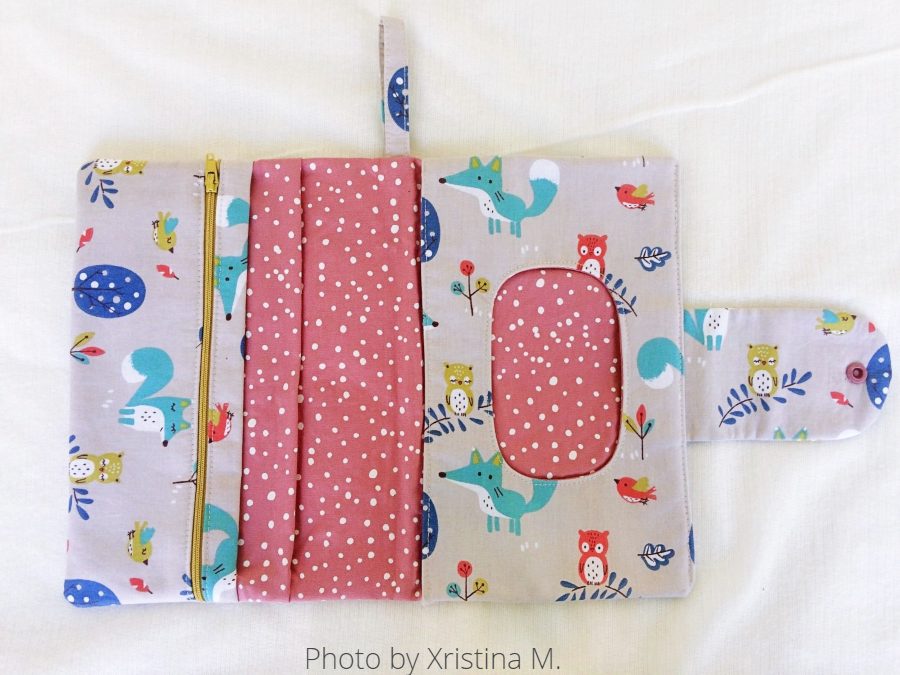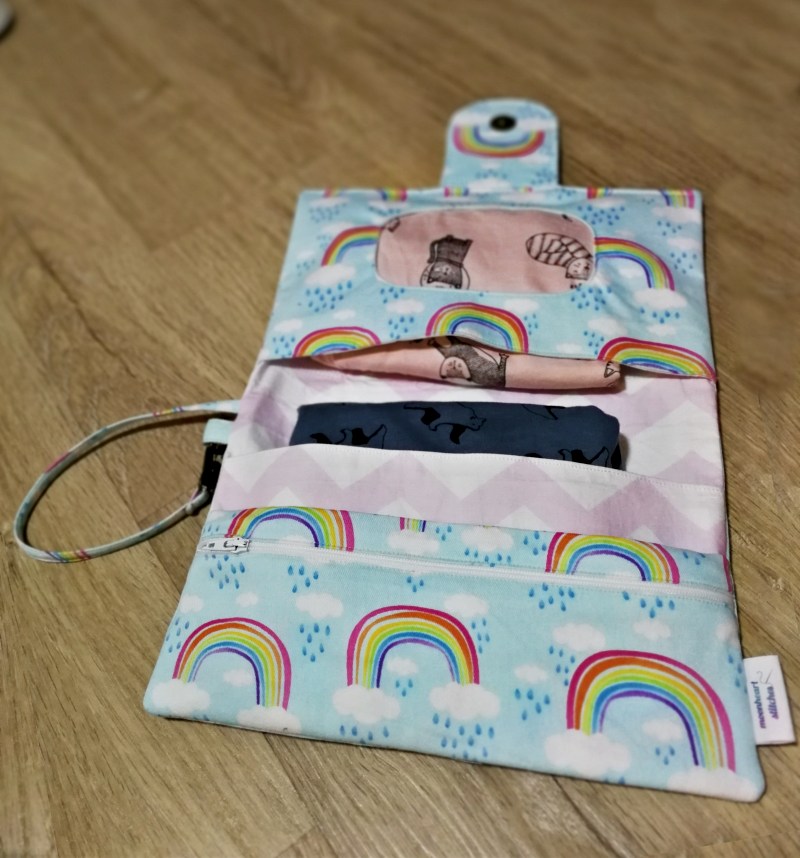 "I made this clutch as a custom order for a customer I had. The instructions were easy to follow for an amateur like me. I loved it and I will definitely look through and buy more patterns in the future if I need them!" says Sue Ann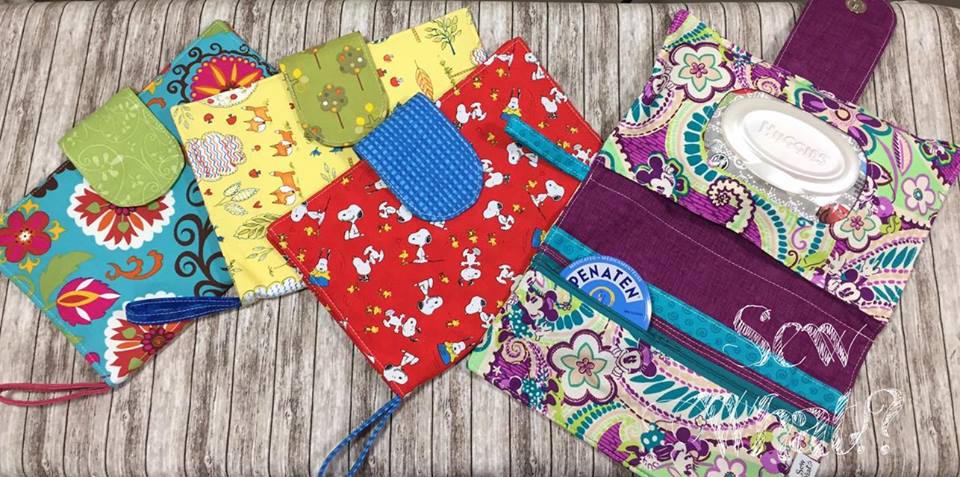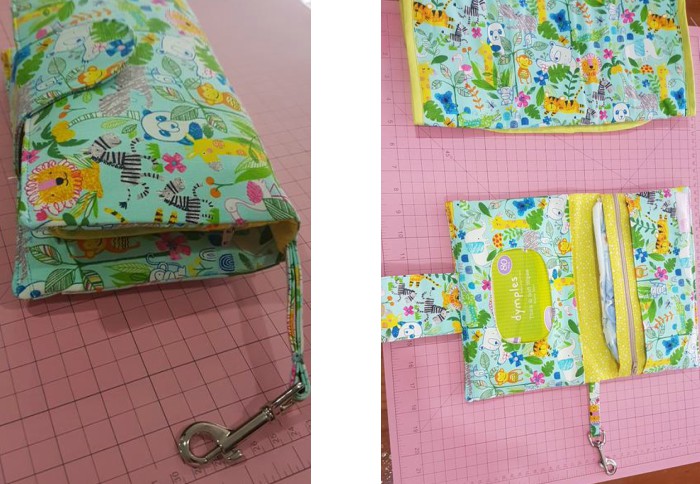 What Customers Say About the Pattern
'Super pattern! love the pattern, easy to sew. made it as gifts for friends and family, they LOVE it. everyone who receives it says that its the perfect diaper clutch.' says sarit8253156
'Great pattern! I bought this to make for my daughter as she has recently had a baby boy. She loves it and I really enjoyed making it!…' Madwomanlace, user on Craftsy
I enjoyed making this nappy clutch, it was made for my daughter's teacher as her end-of-year Thank-you gift. I added a pouch on the outside as well for a phone or any added things plus a spring clip on the handle so it can attach to a 'D' ring on her nappy bag. Also made a matching change mat to go with it. Pros: Beginner Friendly, Pattern Quality'

Beginner, user on Craftsy
"Very happy with this item, would buy this pattern again." Coleen10
Get Your Diaper Clutch Pattern:
If you like this diaper clutch pattern and think you know someone who could use it, feel free to check out this link to the pattern.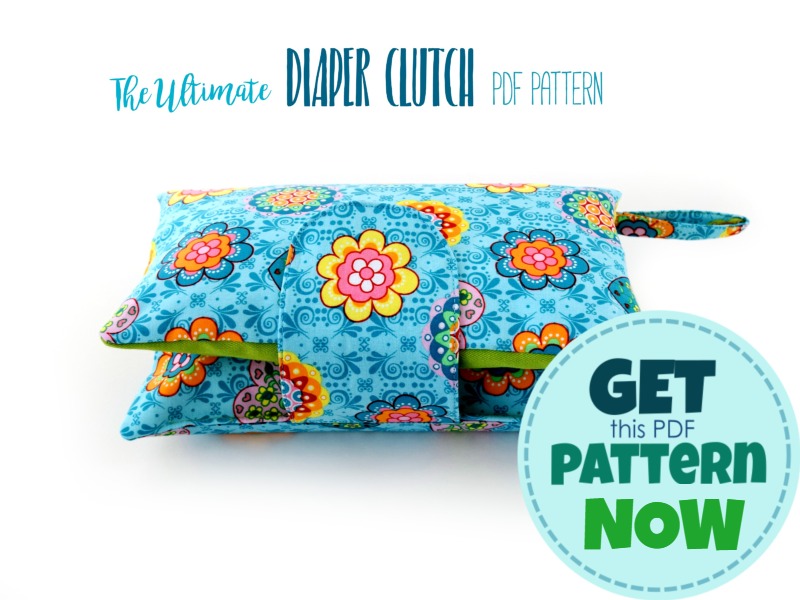 Have fun creating new things, and post a photo or two when you sew something out of my patterns!