Here's a good idea for what to do with leftover felt scraps - quick and fun color sorting activities for kids!

Any felt scraps left after a sewing project, like maybe making all this diy felt play food? Don't throw them away! Why? You can use them as a simple play activity for kids. This is how.
What To do With Felt Scraps
You can easily use them to engage your toddler in a color sorting activity. No sewing, no fuss. Just
cut two or three (or more, depending on the child's age) colors of leftover felt into shapes of your choice.
Add several containers or bowls or cups - as many as there are colors of felt - and that's it.
I used plastic Ikea Kalas bowls in the same color as felt, but any other will do just fine. You can even sew a few of the Kaia fabric bins, these will double as great pencil organizers for your kids room. If you use cups of the same color, make sure you mark which color goes into which cup. This can be done either by placing a piece of colored paper into the cup, attaching a clothespin (in the appropriate color), etc.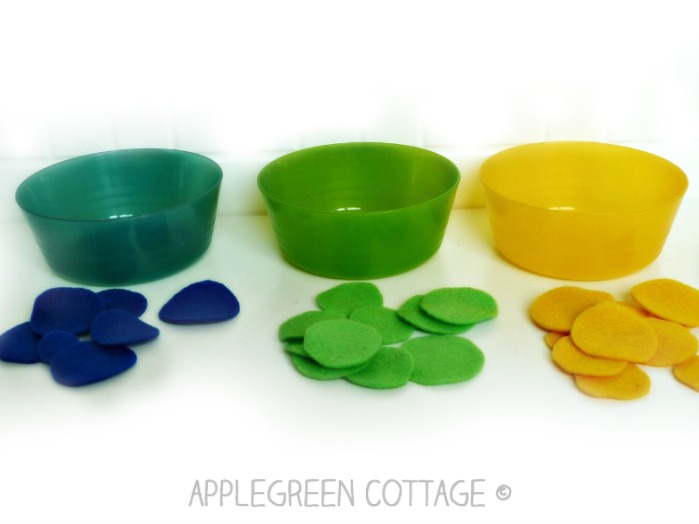 felt scraps
Sorting is one of the early math activities that can be used either with materials (loose parts, i.e. sorting buttons, beans, sticks, anything you might imagine) or even in combination with your kid's favorite toys (see one of my latest posts on sorting by size here). And it's a nice calming activity - both for you when cutting little shapes and the child when sorting the soft felt pieces.
More Activities With Felt scraps:
WANT MORE FREE TUTORIALS AND GOODIES?
Get email updates and never miss out on new patterns, printables, and tutorials:
Or …check out the Earwarmer Headband pattern in 8 Sizes in our shop: