A simple but attractive activity you can prepare in no time for your kids: creating felt board pictures. It's too easy to not try. Here's how: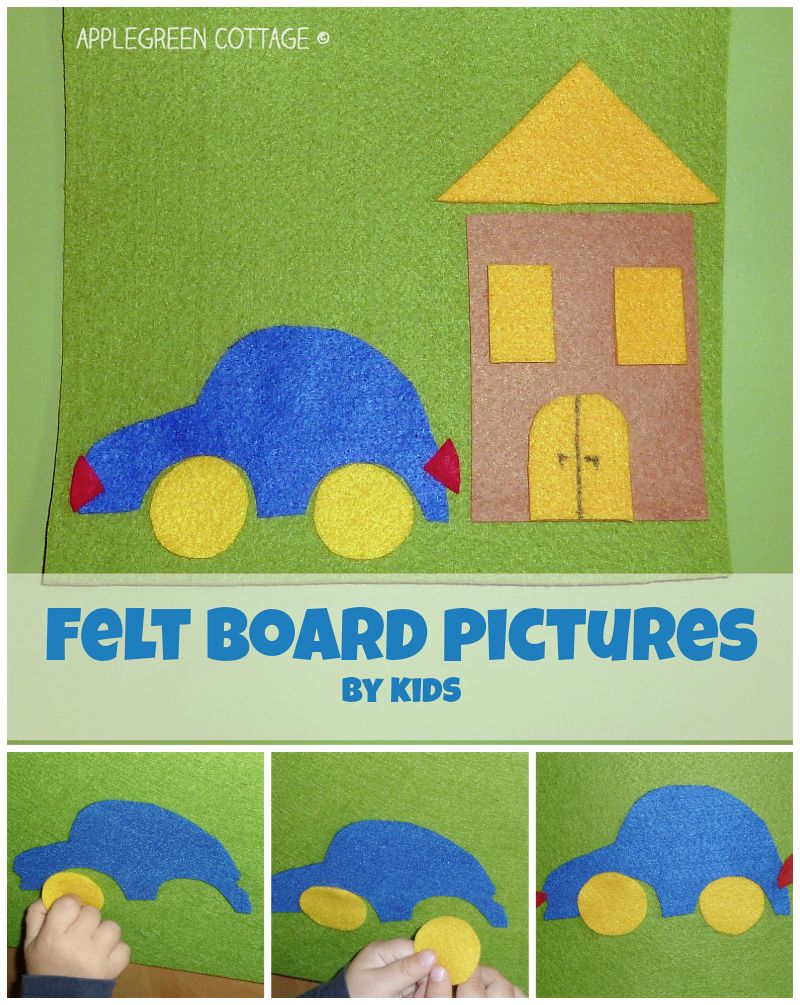 Diy Felt Board Pictures
You'll need several small pieces of felt and a larger piece for the background to act as a felt board.
How to Make Diy Felt Board Pictures
Cut car pieces from various colors of felt: wheels, chassis, lamps, even windows if you want. (or anything else you might want to make)
Attach the felt board to the wall or onto a closet door,
Ask your toddler if he/she'd like to make a car, and the play can start!
Felt board pictures - DIY kids activities:
You'll want to adjust the number of pieces to the kid's age, starting with fewer pieces will work better. You can add pieces and increase complexity later on. And secondly, the smaller the pieces, the more developed fine motor skills are required. You might want to start with bigger pieces for the first game, and then later add smaller items.
Truth be told, our toddler doesn't care about the felt house. But the car, oh that's another thing! He loves to assemble the pieces and to build it, again and again. And to take it apart, off course.
When he left the pieces scattered on the floor for the third time, it started bothering me. Something needed to be done, so after M went to bed, I assembled the car myself, putting the chassis upside-down, the wheels at the side, and the lights somewhere in the corner. And left it there until the morning.
'Huuuu, mom, it's not OK!' was his reaction, staring at the mess on his felt board.
Since then, he will put the pieces back together nearly every single time. I guess he figured he can't rely on his mother because she hasn't got a clue how to build a car, can he?
Happy playing!
Damjana