A simple but attractive activity you can prepare in no time for your kids: creating felt board pictures. This diy felt board is so easy to set up, and it does not take up much of your time. This simple felt project is a sure hit for kids of all ages. It's too easy to not try. Here's how: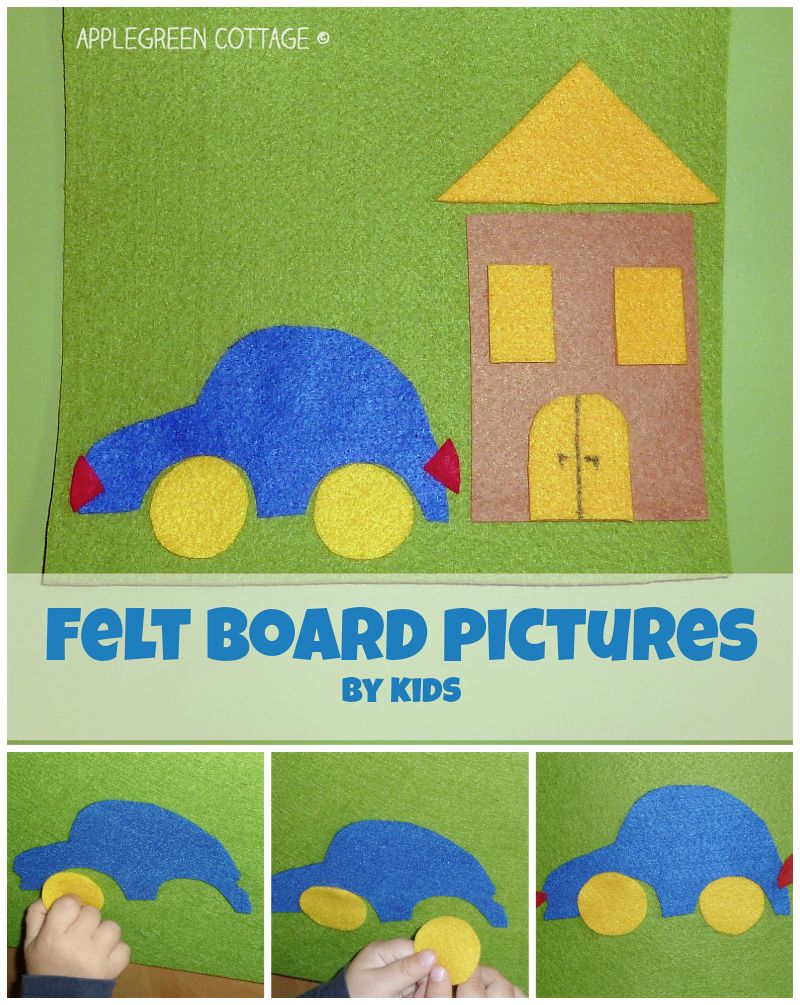 If you like creating with felt, you'll also like these diy felt board letters you can easily cut out of felt scraps. Get the template too!
How to make a diy felt board - in an instant!
A felt board is a board covered in felt - it allows you to place felt pieces on the board and the good thing is, they will stick without any adhesive. This opens a lot of room to creativity.
While creating a felt board with the frame might be the usual thought when one mentions a felt board, this is not what I was after - because of the lack of space. The solution: to create a small base, simply use a piece of thick, sturdy felt you find in some craft stores. Cut it to the size you need - and done.
Here are step-by-step instructions for making your own felt board. You'll need a larger piece for the background to act as a felt board. Read more about the type of felt you need for a diy felt board, in the tutorial about making felt letters.
I cut it to a size that fits a small closet door.
Attach the felt board to the wall or onto a closet door.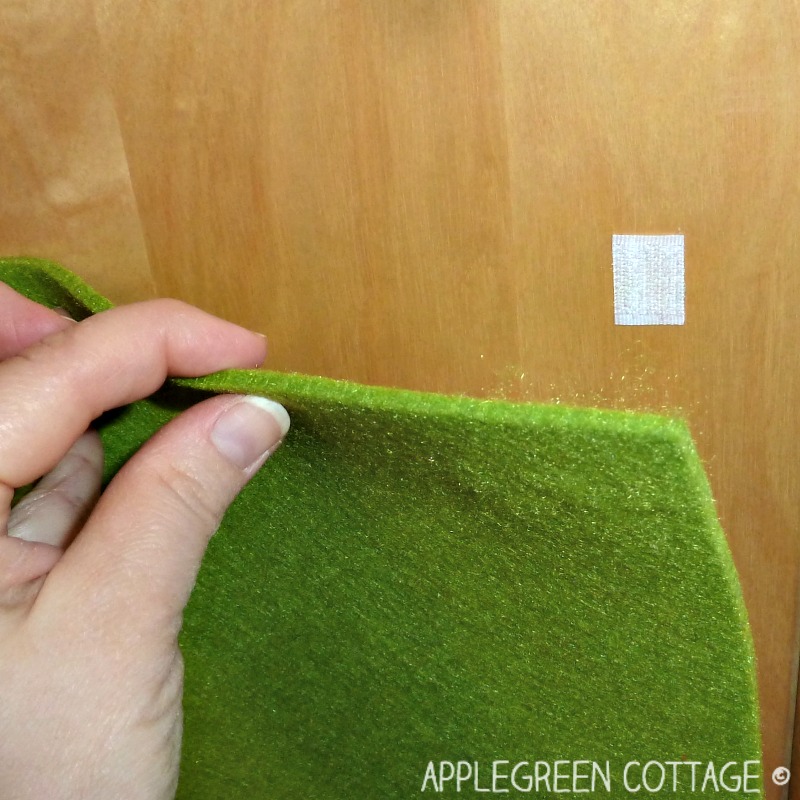 To attach it to the door, I simply used a piece of glue-backed velcro. I attached a small piece of the 'hook' part of the velcro tape on the door. Mind the height of the kids that will be playing with the diy felt board.
How to Make Diy Felt Board Pictures
To create the 'puzzle' pieces or rather pieces of a set, you'll need several small pieces of felt. Use the scrap bin!
Use a design of your choice. You can use a coloring book to get ideas on what could become a felt picture set for your child, depending on their preferences. This is what I did: I cut car pieces from various colors of felt: wheels, chassis, lamps, even windows -skip if you want.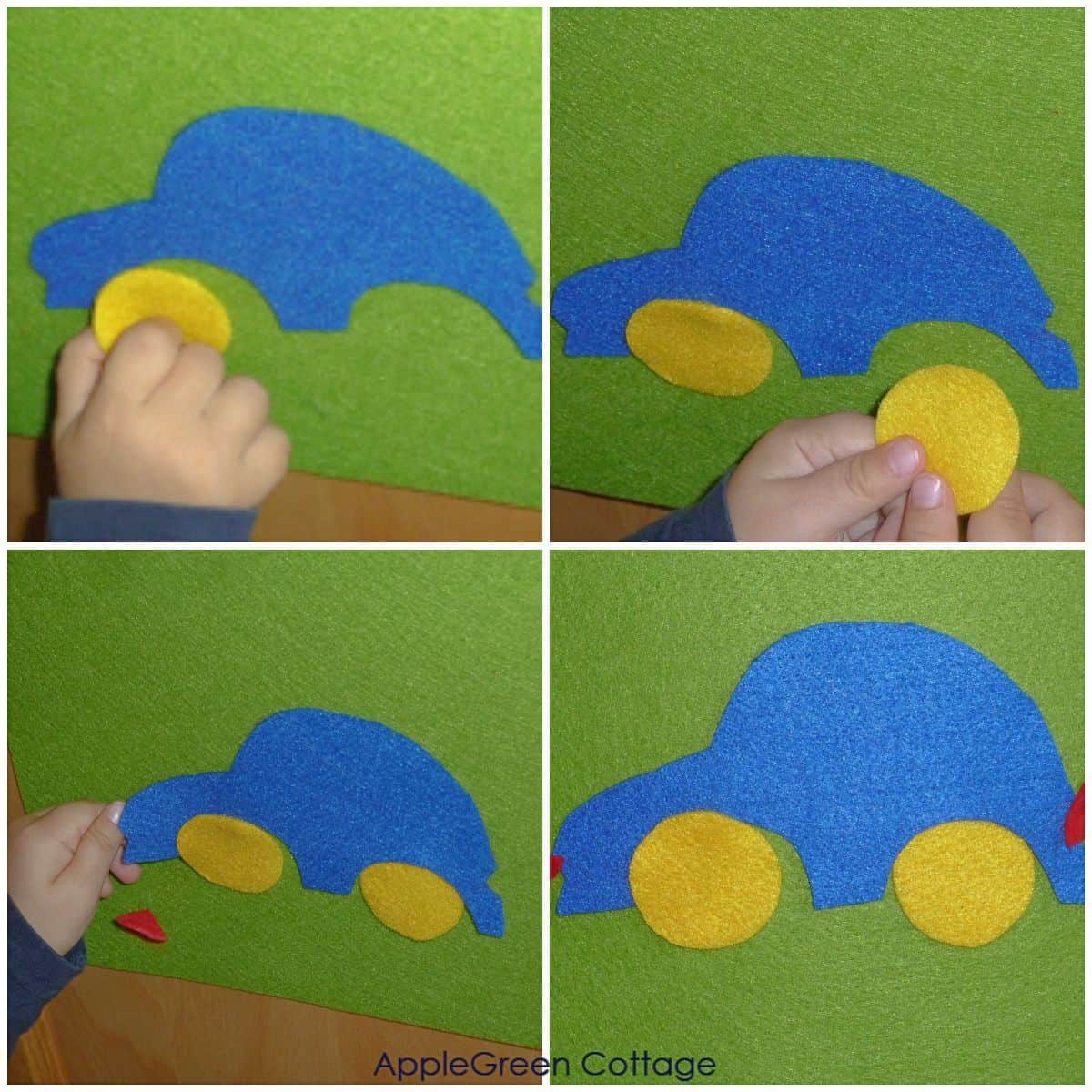 Tips on creating a set for felt pictures
Use sharp scissors. And to make cutting designs easier, use freezer paper!
How To Transfer an Image to felt?
There's an easy way to do it using iron-on transfer paper, or simply freezer paper. First, draw any shape(s) onto a piece of paper for a pattern. For example, draw car pieces wheels, chassis, and lamps. Keep it simple.
Then trace the design on the freezer paper, with the waxed side down. Using paper scissors, cut around each shape on your freezer paper about ¼" away from your tracing. Lay your new freezer paper pattern pieces on top of your felt. Iron the freezer paper to your felt using a warm/medium iron (no steam) and press lightly.
Now use your scissors (embroidery scissors work great!) or an exacto knife to cut your felt into the perfect shape.
How to Play with diy board Pictures
Ask your toddler if they'd like to create a car (or anything you've come up with), and the play can start!
You'll want to adjust the number of pieces to the kid's age, starting with fewer pieces will work better. You can add pieces and increase complexity later on. And secondly, the smaller the pieces, the more developed fine motor skills are required. You might want to start with bigger pieces for the first game, and then later add smaller items.
In addition to the felt car, I also created a felt house for our toddler to play with. Truth be told, our toddler doesn't care about the felt house. But the car, oh that's another thing! He loves to assemble the pieces and build them, again and again. And to take it apart, of course.
How to store felt board image pieces? Here's how to make a simple felt piece holder really quickly!
Other uses of diy felt board.
Since these are small pieces, you can also use diy felt board pictures to educate and entertain kids during long car rides.
Happy playing!
Damjana