Walking water experiment is one of the best color changing experiments for kids - fun, easy to do, and you've already got all the supplies. Check out this easy diy version - your kids will love it!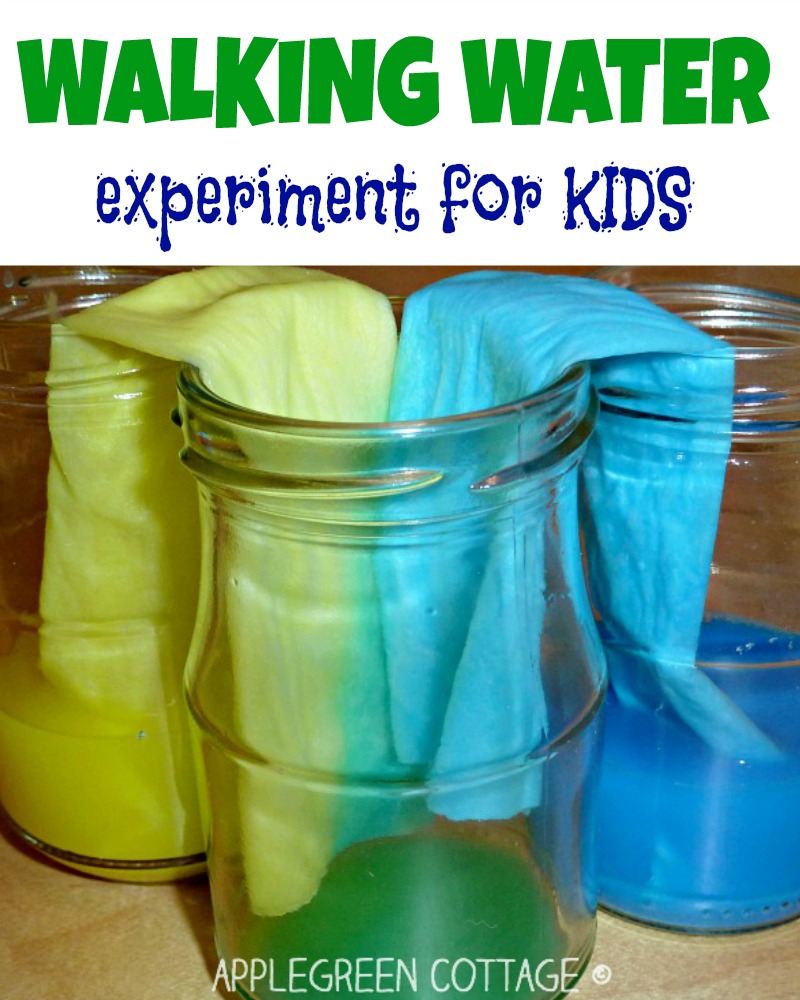 This post includes affiliate links. Thanks for your support. If you are looking for fun kids activities, check out these too:
Walking Water Experiment
This is an interesting way to teach your child about colors and the 'walking water' effect. Mix two colors and watch them change!
Two colors will slowly come together, mix and your kid will be able to observe how a new color emerges from two basic ones. An exciting learning experience!
Materials For the Walking Water Experiment
three empty glass jars
two pieces of paper towel
coloring of your choice
some water
Steps For the Walking water Experiment For Kids: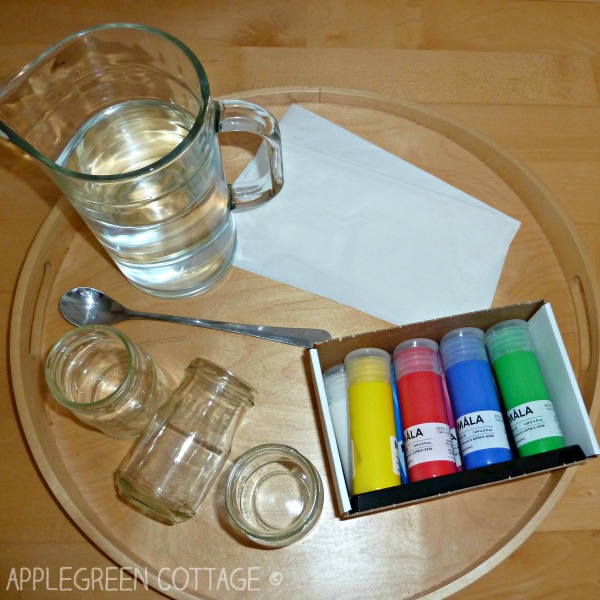 1) Choose which two colors you'll mix. Fill two jars with water and add the colors, one in each. (If you'd like transparent colors, use food coloring, we used simple water-soluble colors for kids from Ikea.) You will leave the third glass of the same size empty - for the third color to form in the process.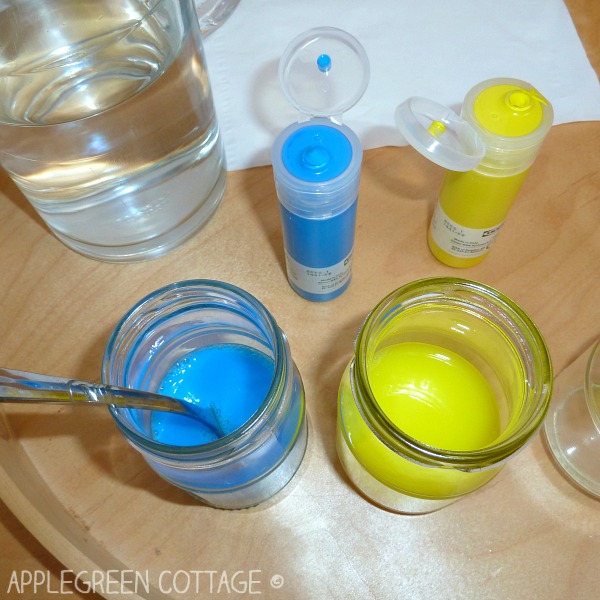 2) Take a paper towel and fold it twice to get a wide 'ribbon'. Put one end of the paper ribbon into the colored water (let it dive). The other end should be placed into the empty jar.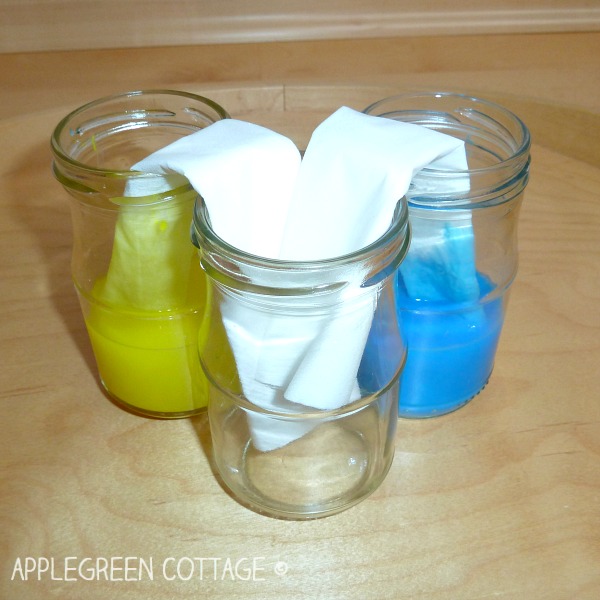 3) OBSERVE! The paper towel absorbs the colored water and the water slowly crawls up the paper towels into the third jar. The empty jar slowly fills with water. Because the water is colored, it's easier to see the transition of liquid from the full glass of water into the empty one.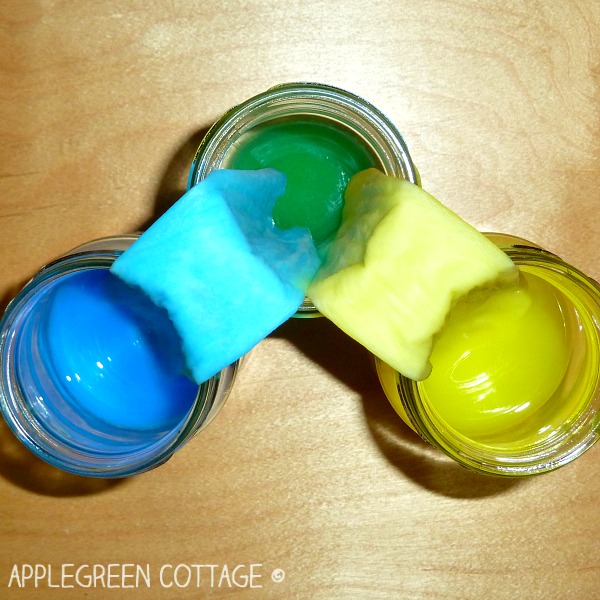 4) With older kids, you might want to talk about the physics of capillarity - in our case the movement of water along with the fiber of paper, where the forces cause the liquid to go against gravity. (You'll surely find a better explanation on wikipedia.) The same process can be seen in plants where moisture travels from the roots to the rest of the plant.
Color Changing Experiment: Takeaway
And as to our water walking science experiment, it was pure fun! Messing with colors was equally interesting to the kid as it was to me. (OK OK I admit it might have even been a tiny bitsy more fun to the mom than to the child... but let's leave it at that 😉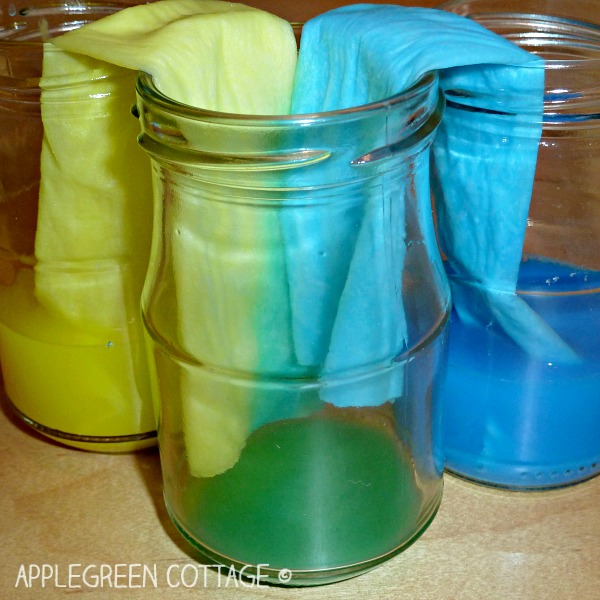 Our toddler was excited and wanted to repeat the experiment, to see if the water will surely turn green again... So we did it again in the evening. 🙂
Try it out and enjoy!