See how to make summer pajama pants for kids. These diy pajama pants are easy to sew and require no pattern. I've also added the two things you really need to know about jersey, and a bonus tip - check it out!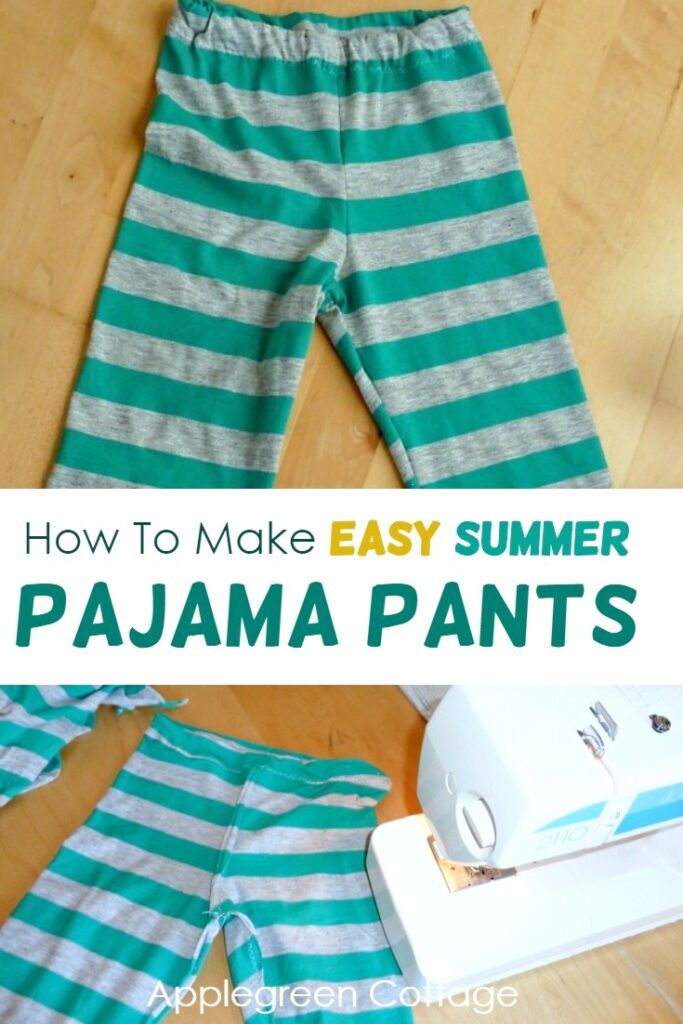 First off, this post includes affiliate links. Thanks for your support! Interested in sewing clothes? Check out the page for how to sew clothes.
Diy Pajama Pants For The Summer
Does your kid need a pair of super comfortable summer pajama pants? You've come to the right place! I've got a free pajama pants tutorial for you, so you can sew pajamas for kids yourself. This pajama pant tutorial is intended for hobby sewists, so it's simple, clear, and easy to follow.
Back to the pajama pants. These pants in the photo are the first summer pajama pants I made for our kid, followed by a lot more. And there are several additional ones to follow soon...
I actually wasn't planning to make them, but when I was hijacking my sewing fabrics stash last time, I came across this incredibly soft, comfortable jersey stuff I had forgotten about long ago, and couldn't help but start making something out of it. (Happens to you, too?)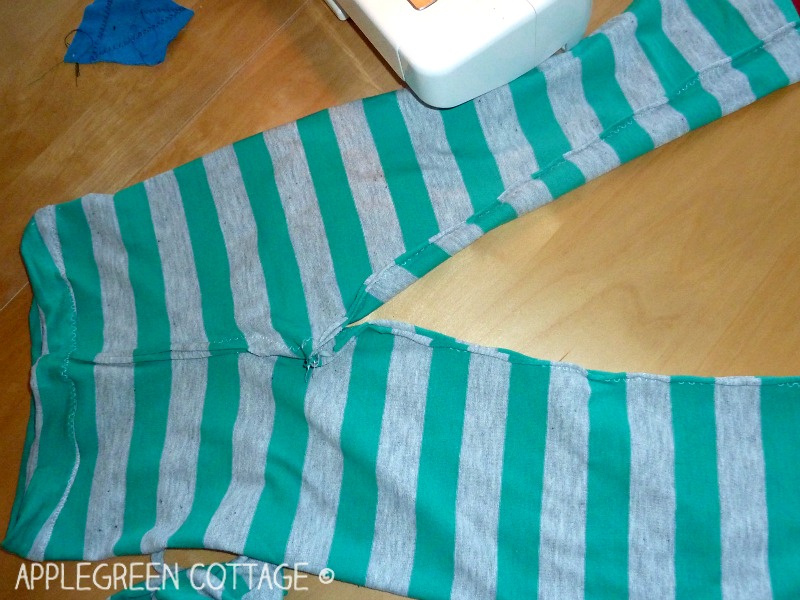 Why Make Your Own Jersey Pajama Pants
Why I love making these kids pajama pants (and why you might too):
they are simple,
the cutting and sewing part easy and above all,
you can sew these pajama pants REALLY QUICKLY! And with busy moms, that's what often matters most 🙂
So let's get down to work, as promised.
Supplies To Sew Diy Pajama Pants for the Summer
You'll need:
approx. 0.5 yard x 1.5 yard of jersey in your favorite color (see below for TIPS regarding type and weight of jersey!)
sewing machine, scissors, some sewing thread
some elastic for the waistband
optional: a tiny square piece of fabrics to mark the back side of the pants
how to make summer pajama pants
Click here for simple, step-by-step instruction for HOW TO SEW SIMPLE PAJAMA PANTS for toddlers, kids or yourself.
You'll see I've already made a ton of toddler pajama pants from warm minky for the winter, and as they turned out to be so much more comfortable and flexible than the purchased ones, I'd be totally happy if you make use of the free tutorial. The free pajama pants tutorial is so easy everyone can use it to make their own pajama pants. Happy sewing!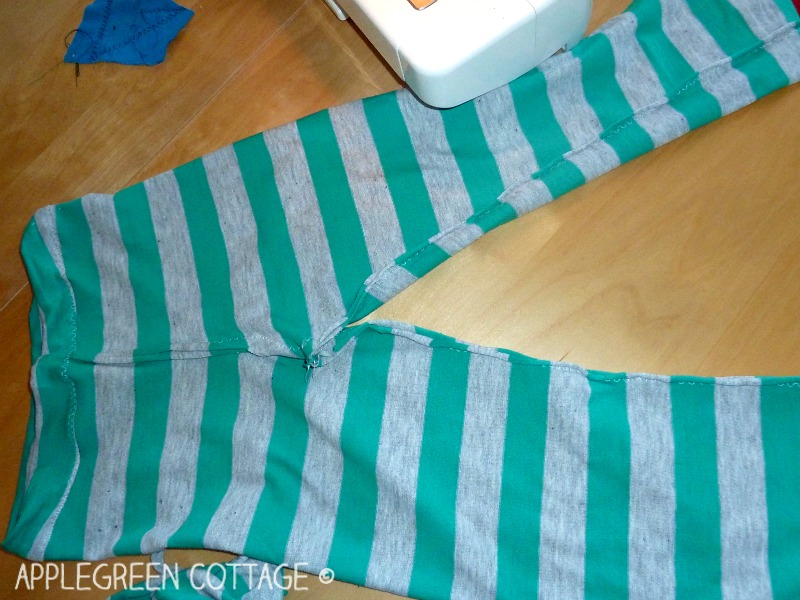 Admittedly, I initially wanted to sew something for myself (finally again!), but when I opened my sewing pattern folder (you can DIY it incredibly quickly and for free, too - have a look at this how-to!), there it was, at the very top of the folder - my toddler's pajama pattern I drafted some time ago. And pajamas they are. Luckily, there is some jersey left. So I'm thinking to make something for me out of this gorgeously comfortable material. (Any ideas on easy tops for moms?)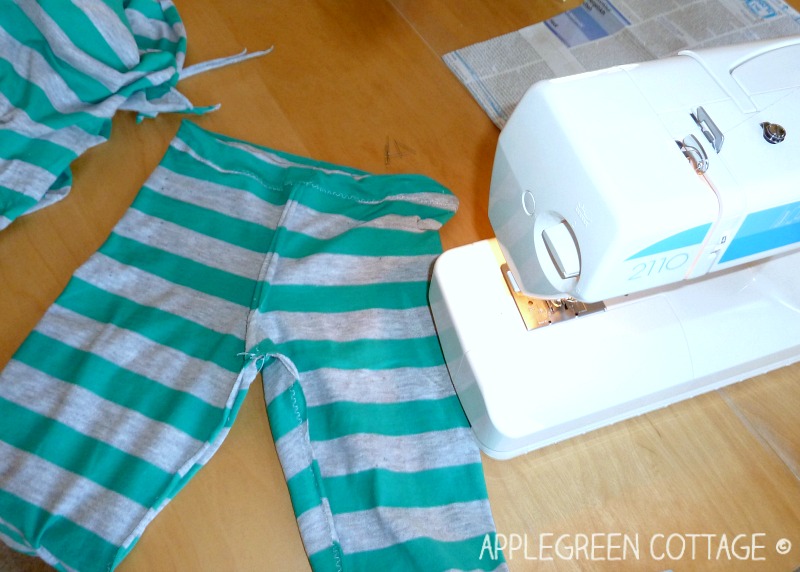 BONUS TIP: Hemming Pajama Pants
Of course, you'll want to hem the pants. Jersey does not fray, so you could skip hemming. However, these diy jersey pjs will be useful for a much longer time than the warm winter minky pajamas (spring, summer, autumn!). So I opted for a wide hem here - I simply cut the pants approximately 3 inches longer than I'd need to and made a wider hem.
This way, your kid's pajama pants will be used not only until the next winter but also next spring - and I really love things that can be worn for a long time - especially with toddlers who usually outgrow every piece of clothes so quickly!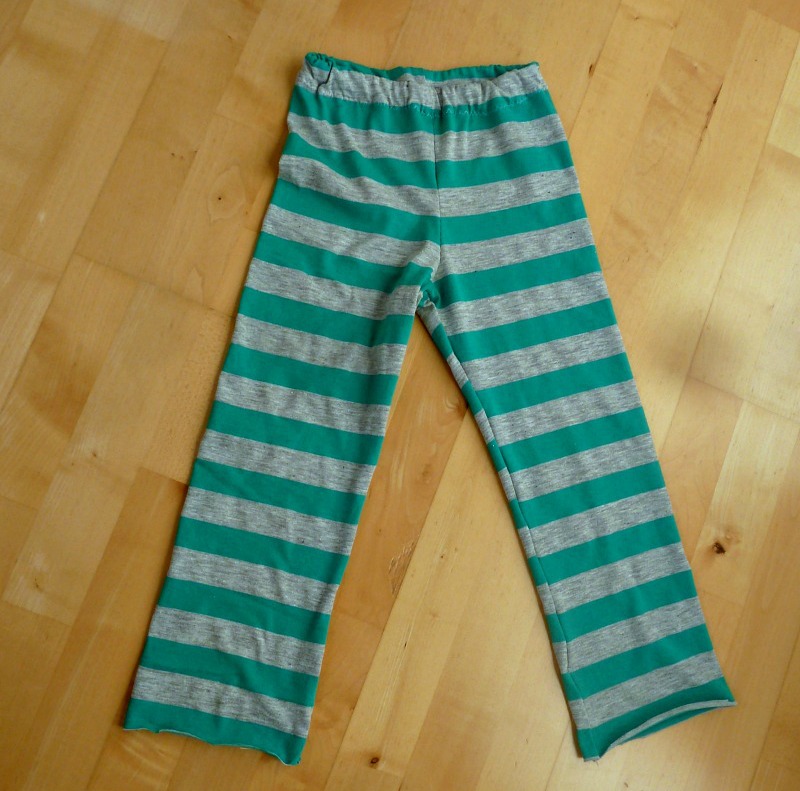 What fabric For Sewing Diy Pajama Pants For The Summer
For me, nothing beats jersey. Soft, stretch, comfortable. And here's another tip on how to choose fabrics type and weight of jersey. You might want to get your hands on a variety of jersey fabrics - I know for sure I'll make some of the pajama pants from the heavier and some of the midweight jersey. Without the need to go into jersey study here, let me tell you just the basic two things you need to know if you'll go buy some jersey:
1) As for materials, I usually use plain or printed COTTON JERSEY KNITS, as they are really pleasant to the skin.
They are the most common type of knit, so it should be really easy for you to get one. If you are a hobby sewist, then it's safe to stick to cotton knits. I tend to avoid other, e.g. spandex blends, similar to cotton jersey but lighter and a bit more stretchy. And, for example, you would never want to use lycra spandex for pants (it's for swimsuits!)
What Weight Of Jersey To Use for Diy Pajama Pants?
What you need to pay attention to is the WEIGHT of jersey:
for example, you really want to use midweight jersey for the summer (numbers vary vastly but I'd say for this, the jerseys should be somewhere at 8 to 9 oz). It could also be thinner, i.e. lightweight (5 to 7 oz.) or even lighter, but at the beginning, it's good to shy away from those because sewing those nearly see-through knits is no piece of cake. (And I'm talking about making it easy for beginner sewists, so - midweight it is!)
3) I wouldn't bore you with cotton interlock knit, if it weren't for the fact that it's easier to sew with (the edges don't curl up, the stretching is more even due to the special weave technique) - but if you are not comfortable with sewing with jersey, this is the type you might want to start with. But you should know it's heavier, more appropriate for spring/autumn and it will be too warm for the summer.
Want MORE FREE TUTORIALS And Patterns?
Get email updates and never miss out on new patterns, printables, and tutorials:
Or …check out this popular PDF pattern – the Kalina Mini Wallet in our shop. So practical!