Make a fun fidget toy to keep your kids' or your own hands busy and your mind relaxed.
It's an easy, pocket-size fabric marble maze and a popular diy fidget toy for all ages. Scroll down to get your free marble maze template!
This post includes affiliate links. Thanks for your support. If you like this fidget toy, you'll love my other diy toy patterns - check them out here: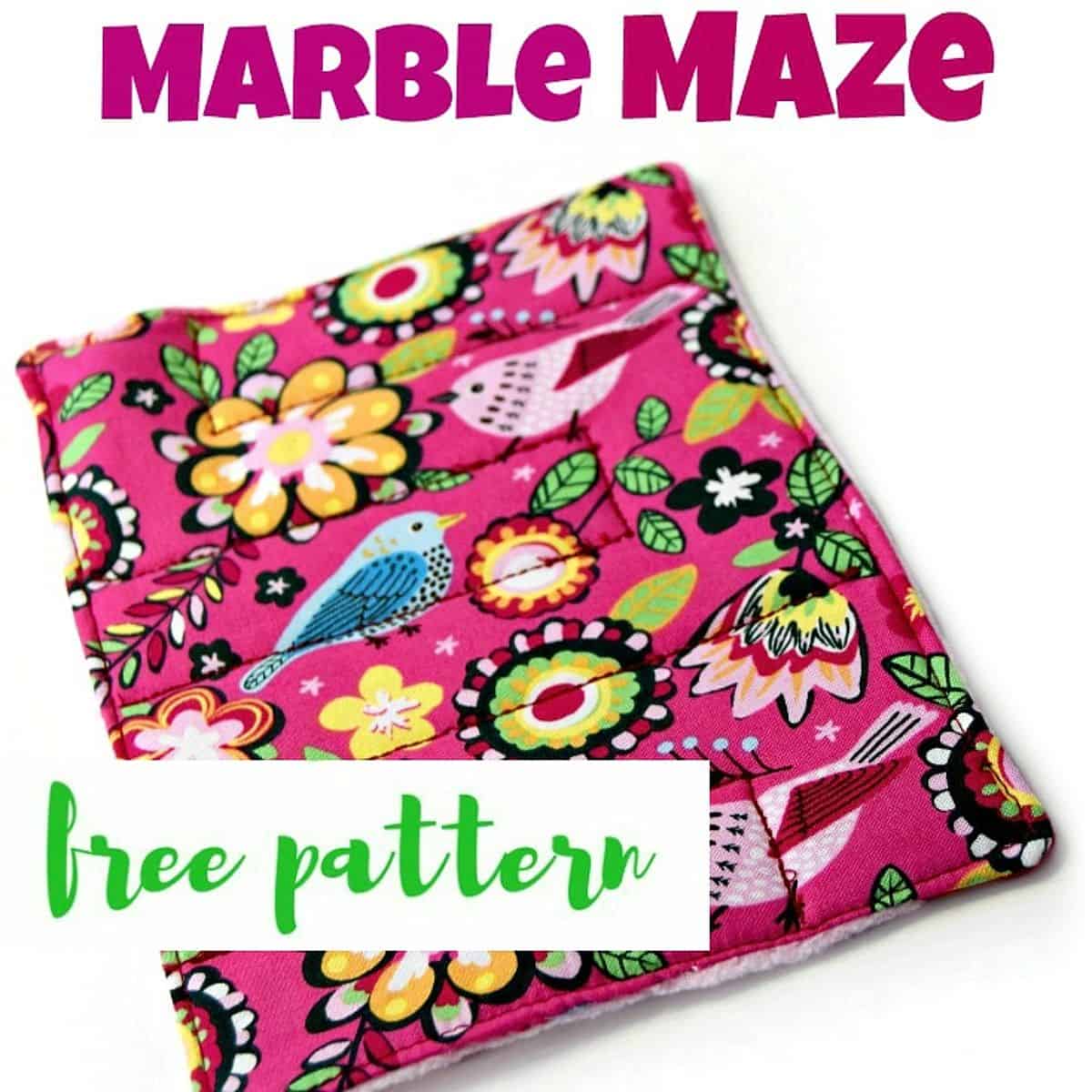 OR do you want a printable copy of the WHOLE tutorial? Scroll to the bottom of this tutorial for more details!
Diy Marble Maze Tutorial
Use the free template and sew a few from fabric scraps. You'll sew it in no time, and it's a great scrap buster. I've received many, many emails from readers loving this calming fidget. A great diy fiddle toy!
GOOD AS:
quiet play for toddlers
good fidget object for the elderly, or for Alzheimer patients
a good sensory toy for autistic children
calming fidget toy for all ages
By now, you know I love drafting my own designs, so I thought I'd give it a go and create my own marble maze template for everybody to use. The tutorial might go a little unconventional way, but fear not - everything is explained and simple! I wanted to make sure the sewing is super easy for you, while still showing you every little step, so nobody gets lost.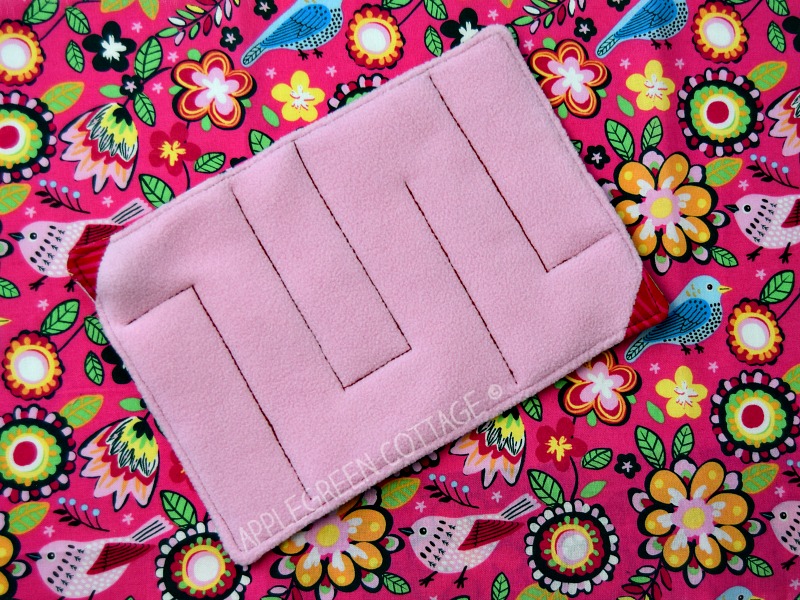 A perfect road trip toy. Or a great toy to keep in your purse for when you go to the doctor, or another place where you'd like your child (or grandchild) to sit still for some time.
Diy Marble Maze Features:
Easy to sew and doesn't take a lot of time to complete.
It requires little material to sew. A great scrap buster!
Safety: has a double outer seam, so the marble is prevented from accidentally slipping out, should one of the seams give in.
Makes an excellent handmade present for your children or grandchildren (think Christmas!)
The 5.5 by 8 inch size is a fun and convenient pocket size you can roll and easily tuck in a purse.
First, for those of you who like video tutorials, I've made a video slide-show to get the feeling of what the sewing process will be like. (Spoiler alert: easy!)

Supplies
Shop my personal favorite sewing supplies on Amazon HERE.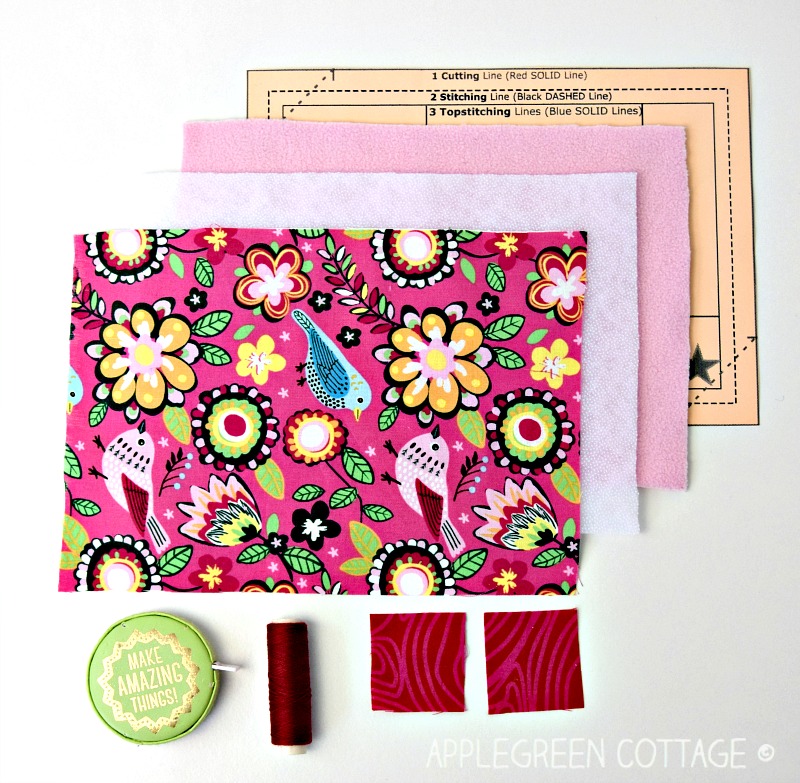 6.5 " x 9" scrap of fabric for the back
same size soft fusible polyester interfacing (stabilizer)
same size fleece for the front (choose a solid, no prints for the front!)
contrasting thread, pins orwonder clips
a marble***
optional: two pieces of fabric (1.5" squares) in a contrasting color to mark the start/end of the marble maze.
Sewing Steps
And now the photo step-by-step tutorial.
2 - Cutting Instructions
Using your free PDF template, cut rectangles along the Cutting Line (marked: RED SOLID LINE):
one piece out of your backing fabrics,
one piece of soft fusible interfacing for the back and
one piece out of fleece (solid is best).
optional: cut 2 tiny squares of contrasting fabrics (1.5 inches by 1.5 inches)
3 - Add interfacing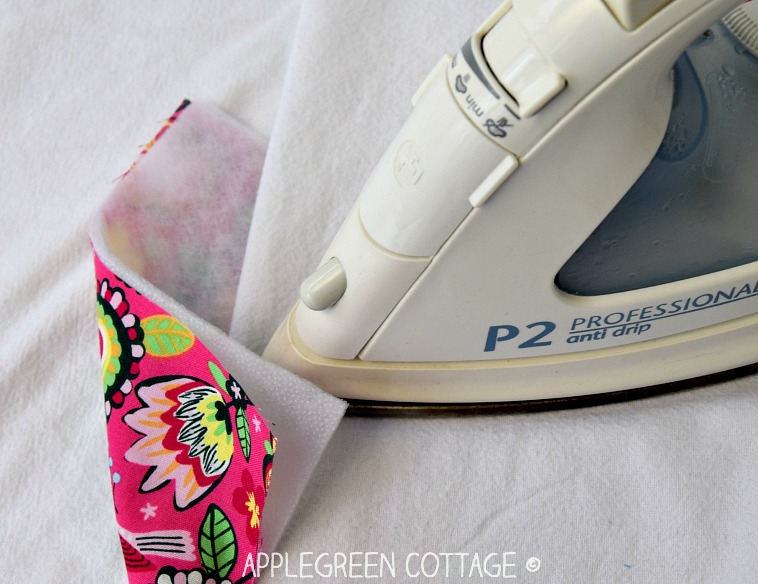 Apply interfacing to the back of the backing fabric:
4 - Mark Corners
Take the front piece and place the 2 tiny squares in the opposing corners, on the green dotted mark (see the diagonal green dotted lines in the opposing corners? Those.) It will look like this: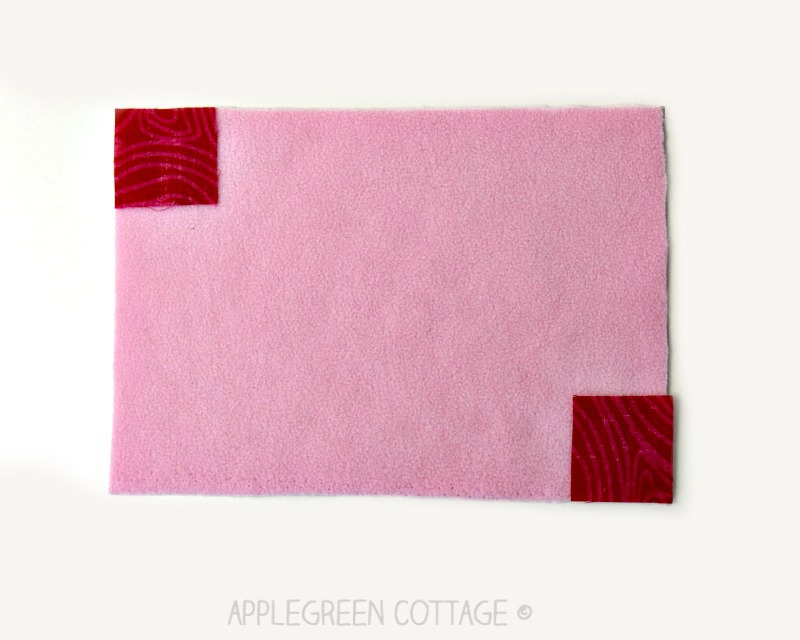 Then sew diagonally over the tiny squares. Press to the outer side, so you've got tiny triangles now.
Though helpful in playing the game, these markings are not totally necessary, you can safely skip the tiny squares and the entire step two if you don't have the time.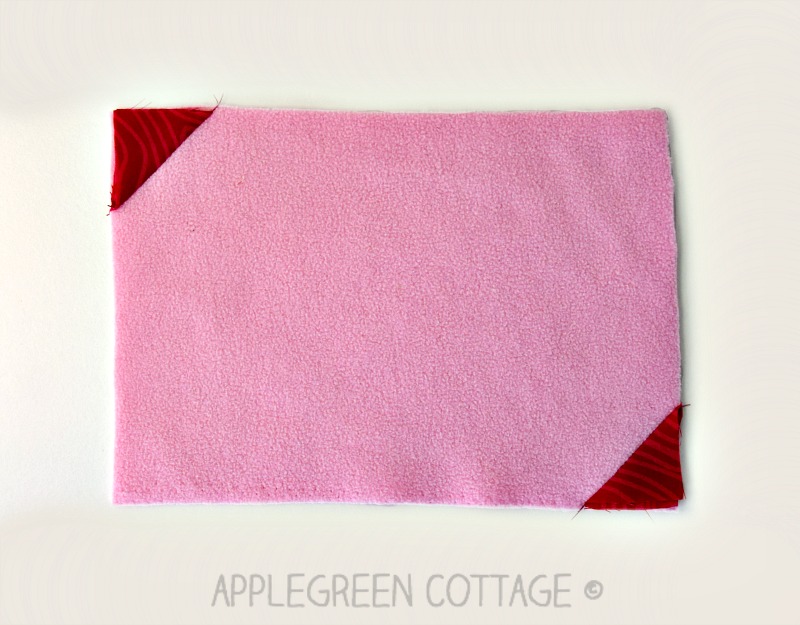 PRO TIP: when you add the triangles, snip off a bit of the fleece at the back side to reduce bulk.
5 - Assemble Back And Front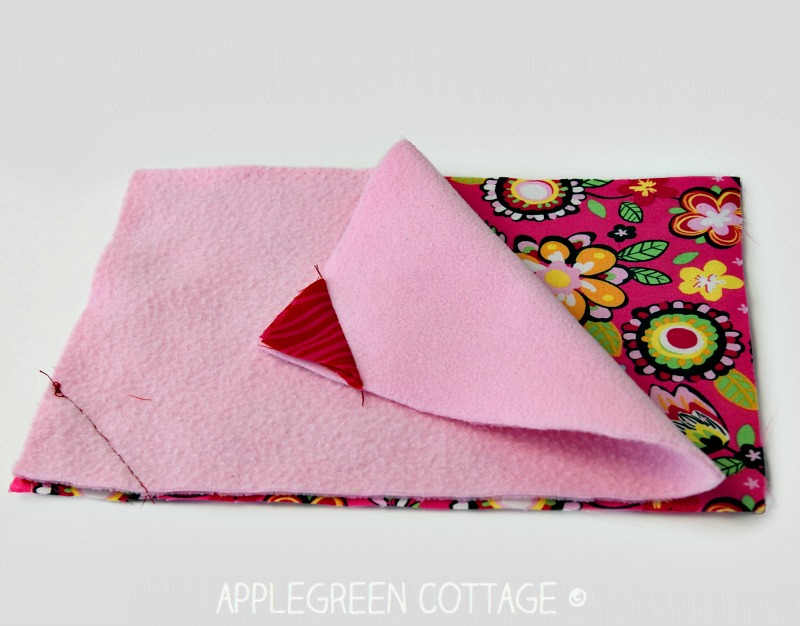 Put the two main pieces of fabric right sides together. Sew all around the pieces, using a ⅜" seam allowance (on the template, it is marked by a black DASHED line (stitching line). Don't forget to leave a gap for turning and inserting the marble, just as marked on the PDF template.
6 - Trim corners and turn right-side-out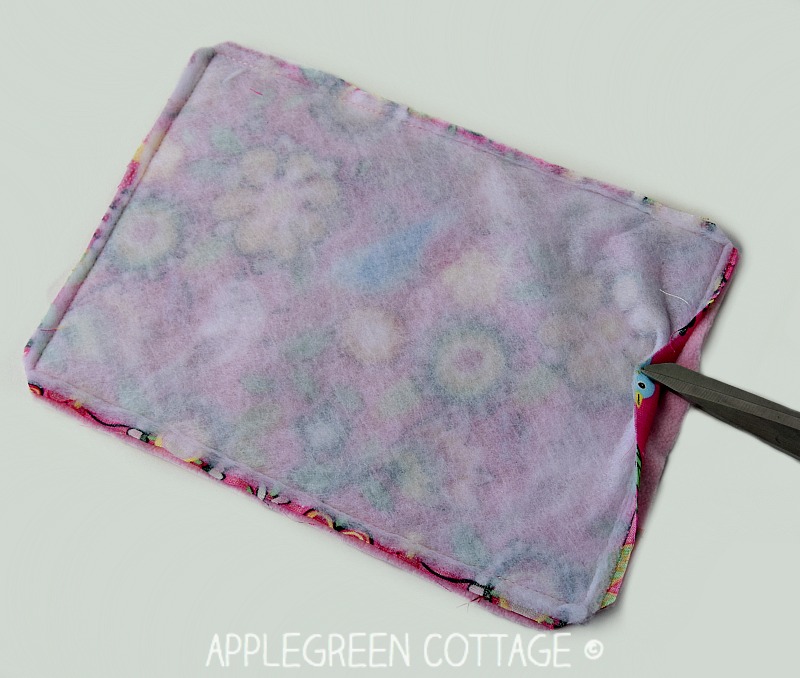 Clip the corners and any excess fabric on the seam allowance for a good fit and to reduce bulk on edges. (But be careful not to snip into any stitches!)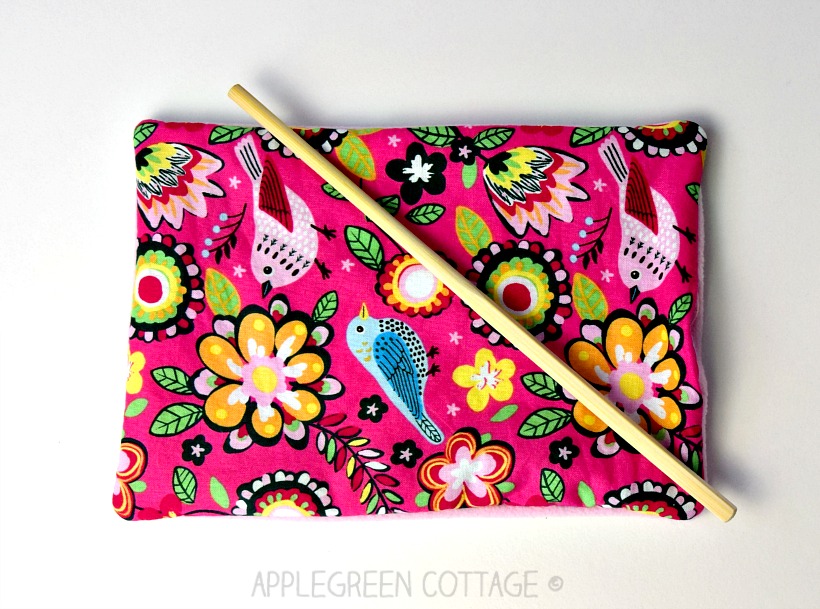 Turn right side out. Push the corners out using a point turner tool, a knitting needle, or a chopstick.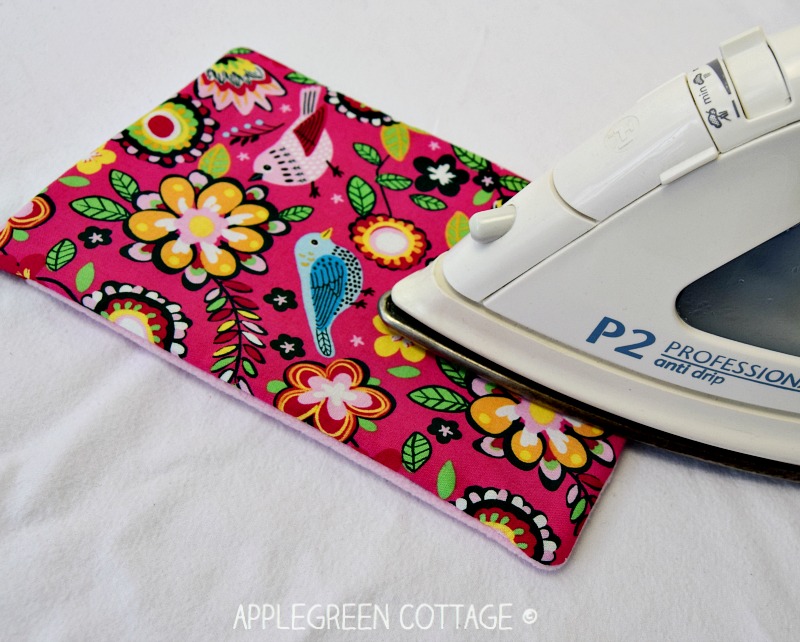 Then press the piece flat. (Only iron over cotton, never directly over fleece!)
7 -  Insert the marble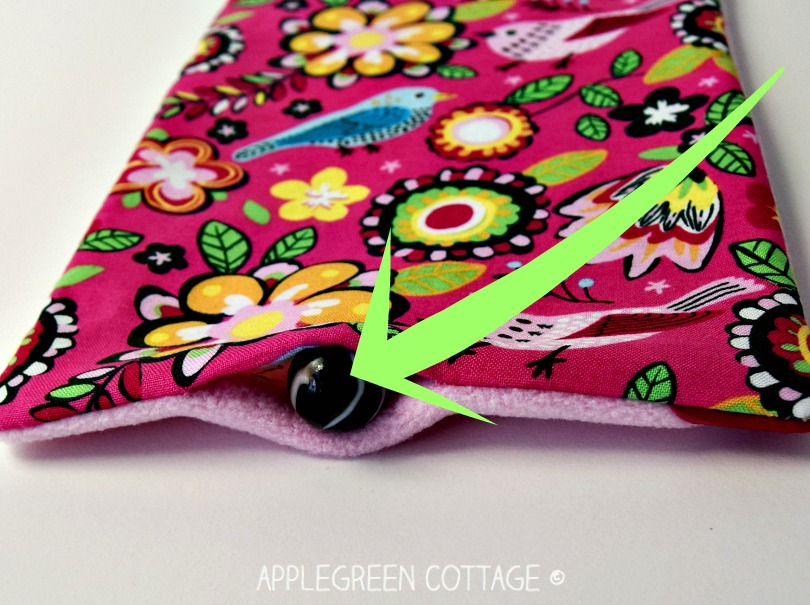 Insert the marble through the opening, and move it away from it (check out the area marked by the green star in the PDF template.) You can secure it using pins, so it won't move to where you don't need it to.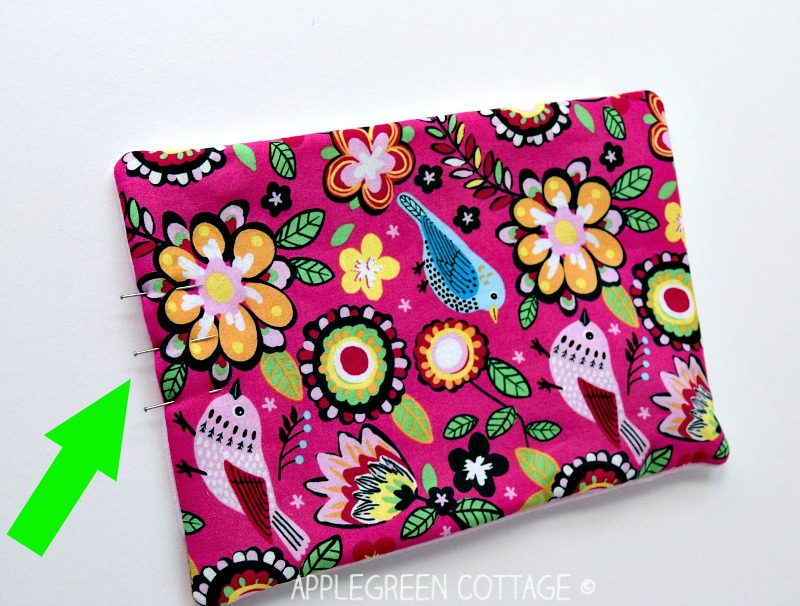 Then stitch the opening closed, by machine or by hand.
8 - Stitch The Marble Maze Lines 
Now, you'll sew the internal lines of the maze. To transfer the topstitching SOLID blue line onto the FRONT fabric, simply cut off the frame of the printed PDF template (= the ⅜" seam allowance area), then place the paper template onto the front fabric, secure with a few pins to let it stay in place. Like this: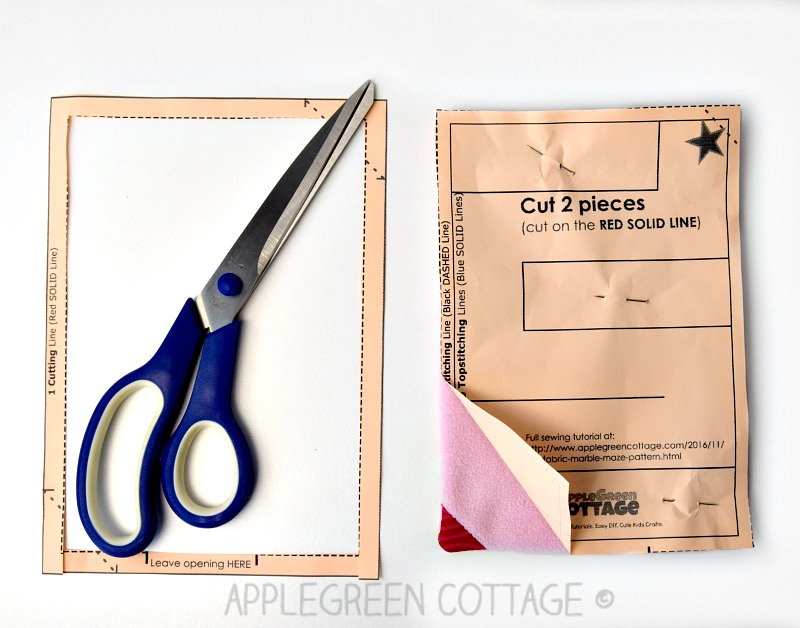 Now, stitch over paper. You'll remove it later. As simple as that!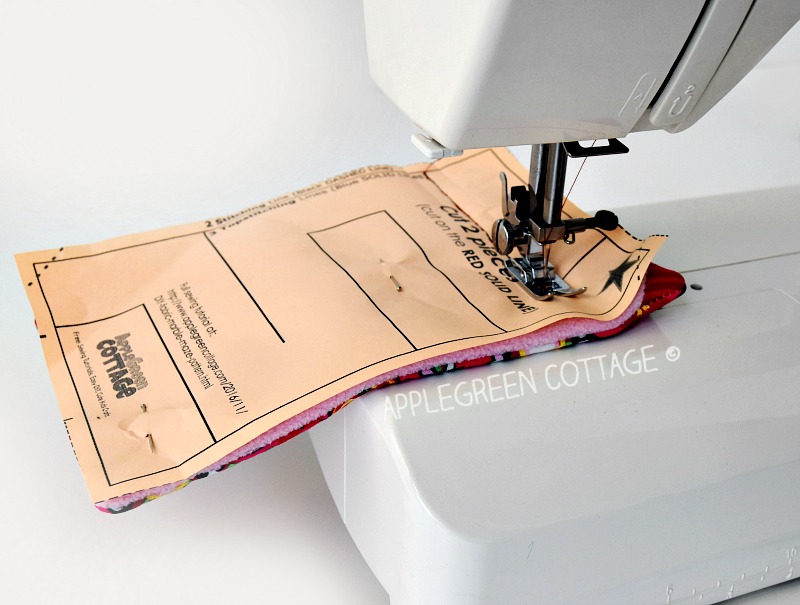 IMPORTANT Sewing tips
VISIBILITY: Use a contrasting thread to make it visible. When playing, it's good to see the lines!
SAFETY: Secure all stitches well (backstitching) if you're using the simple straight-line stitch. Or even better, use a triple stitch. It's safer, too, because there will be even less possibility for the marble to break through (toddlers are well known for persistence, and if there's a way to get the marble out at a place where the simple stitch has given in, --- Well, it's better to either backstitch or use a strong, reliable stitch.
9 - Remove Paper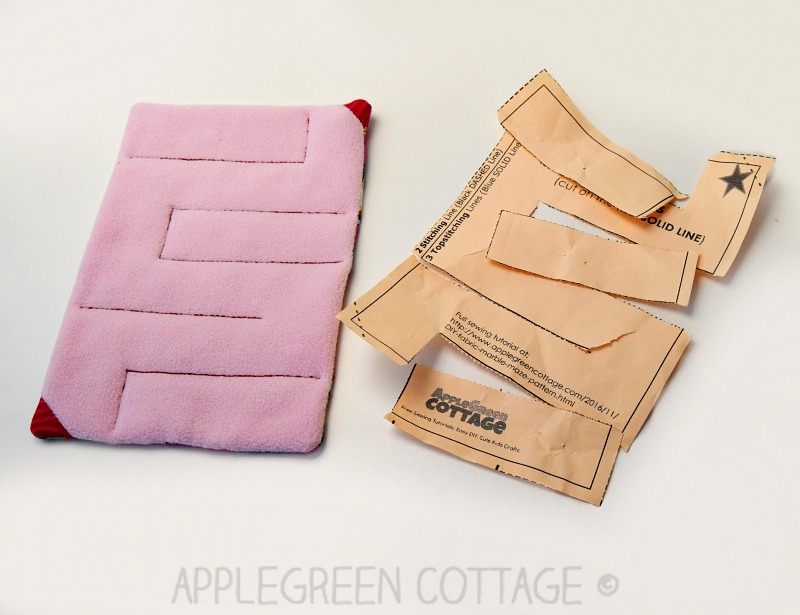 Remove the paper template. An easy task!
10 - Topstitch Around
The only thing left: topstitching around the border. Move the marble to a central position so it won't be in the way, you can secure it using pins, so it won't move. See the photo below: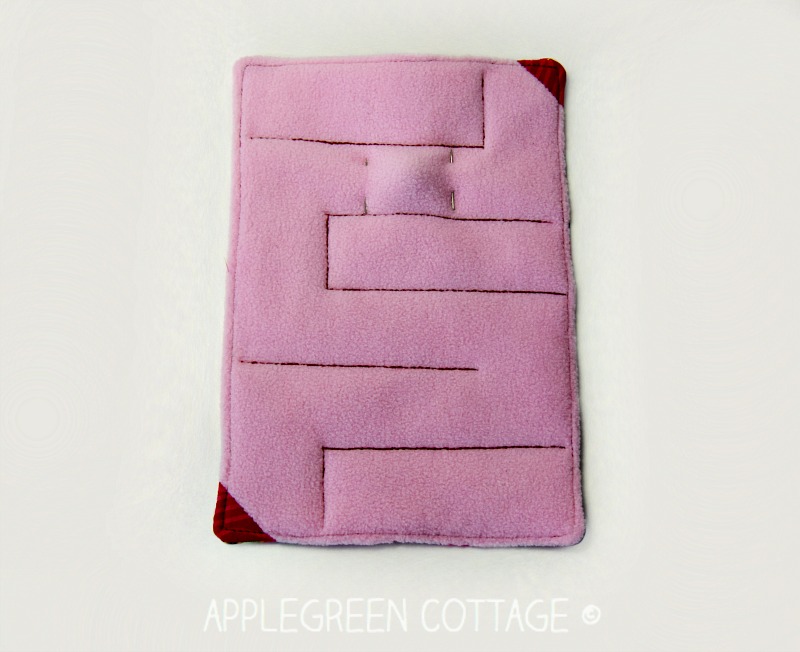 Topstitch around the maze using an approximately ¼" seam allowance. You don't need the paper template for that, though I marked it on the template to give you a feeling how to proceed. Remember to keep the marble out of the way when sewing.
Done!
A great DIY present that's easy and quick to make.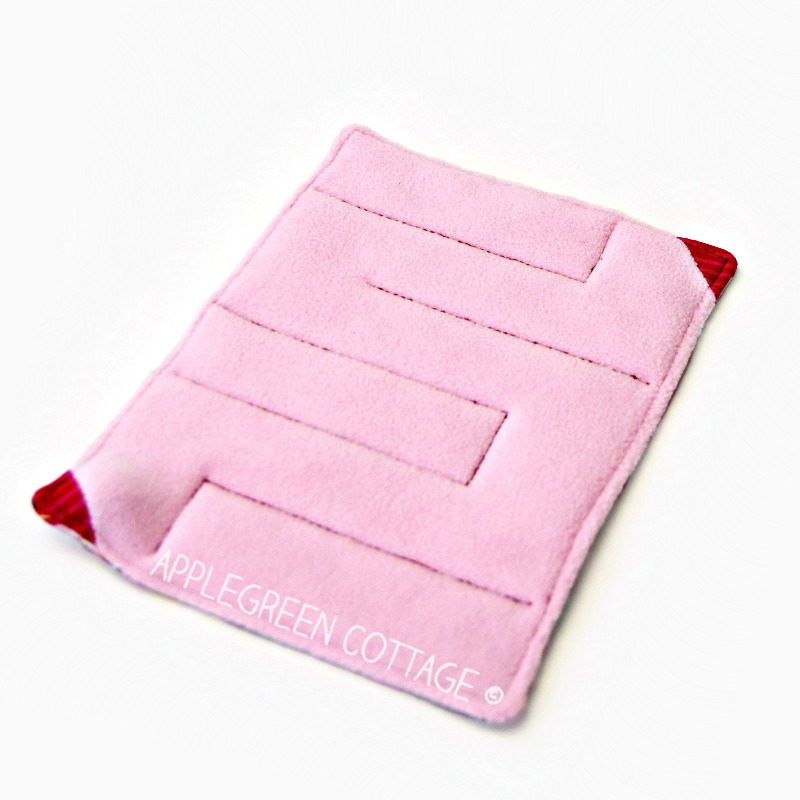 BONUS TIPS
If you are making your own maze template, always make sure to make the seams wide apart, to enable the marble to move between the layers smoothly. When making the maze stitches, leave enough room for the marble to go through.
What material should I use to sew a marble maze?
When creating this practical diy fabric fidget, I tried out three versions, fleece, felt, and (interfaced) quilting cotton. Here are some pros and cons:
PRO FLEECE: You get the desired thickness without any interfacing. And it's so soft!
PRO FELT: easy to sew. No turning needed. Just sew straight over the stuff! Don't use the thin felt though!
PRO FABRIC: soo cute! Easy turning and topstitching. But take care to use thicker fabric - or use soft fusible interfacing.
When making your own marble maze run,
You can use FLEECE on both sides of the marble maze: follow the same steps as with the fabric marble maze. The only difference is, you don't need any interfacing.
FELT MARBLE MAZE: even easier to make, you don't even need to turn the material right side out.
 Happy crafting! Damjana
WANT A PRINTABLE COPY OF THE WHOLE TUTORIAL?