I got to play with gorgeous fabric again. And a wristlet pattern version. Have you met the Enya Wallet Pattern yet? Brand new and it's a great pattern to show off pretty fabric, even the tiniest details. Also, a great project for fussy cutting, which makes it perfect for the Rhapsody prints. Come take a look!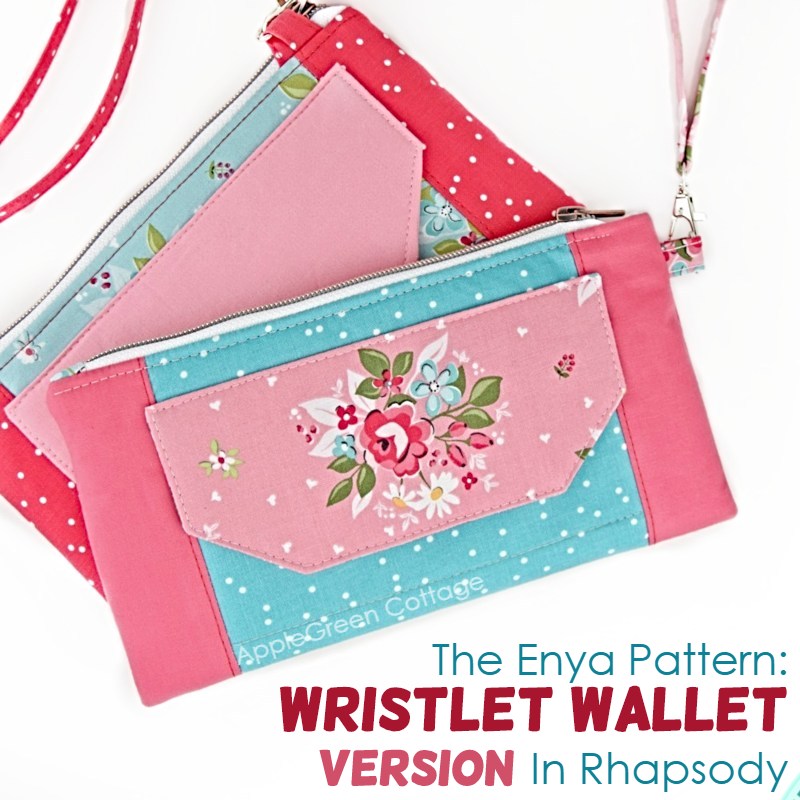 This post may contain affiliate links. Thanks for your support.
The Enya pattern now has a video!
Sewing with cute fabric is my favorite way of spending some me-time. Also, designing new sewing patterns! I saw both of my passions coming together perfectly when I found out about Sedef's new fabric collection for Riley Blake Designs, Rhapsody. Time to play!
I decided to test how my brand new pattern, the Enya Wallet would work in these pretty florals. Now, you tell me!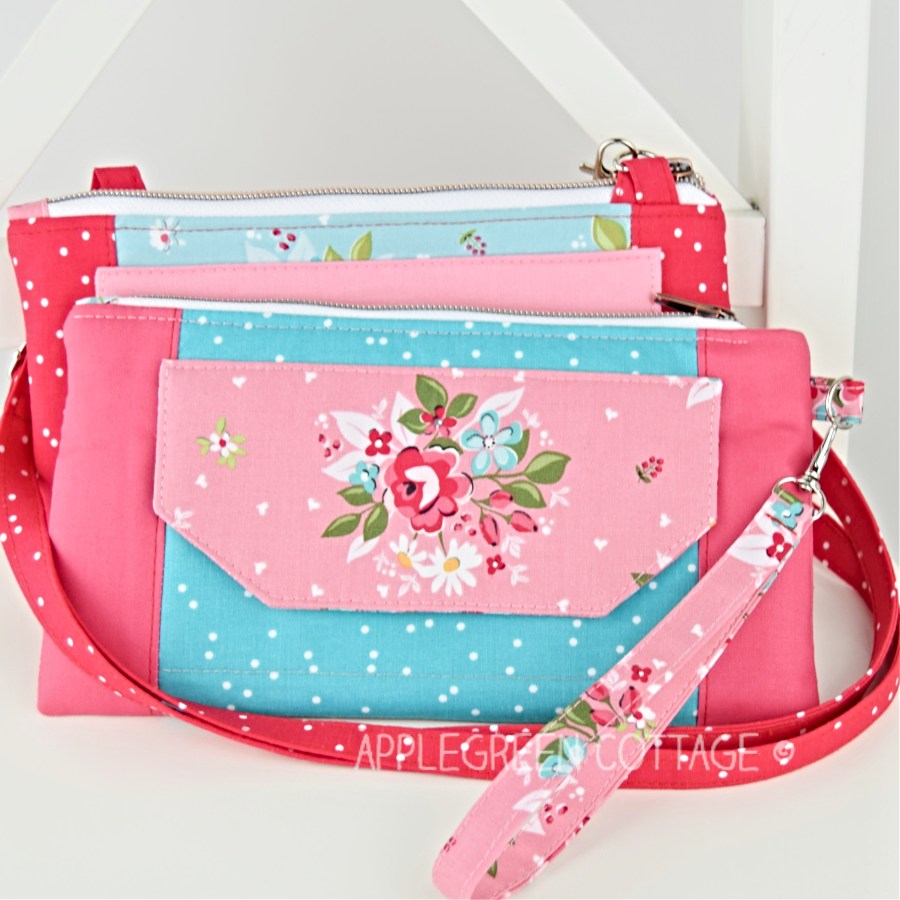 Fabric: the Rhapsody Collection by Sedef Immer
Pattern: My Brand Enya Wallet Pattern
I really really love the happy colors used in the prints, and the vintage touch of Sedef's florals. Her collections are such an inspiration, always.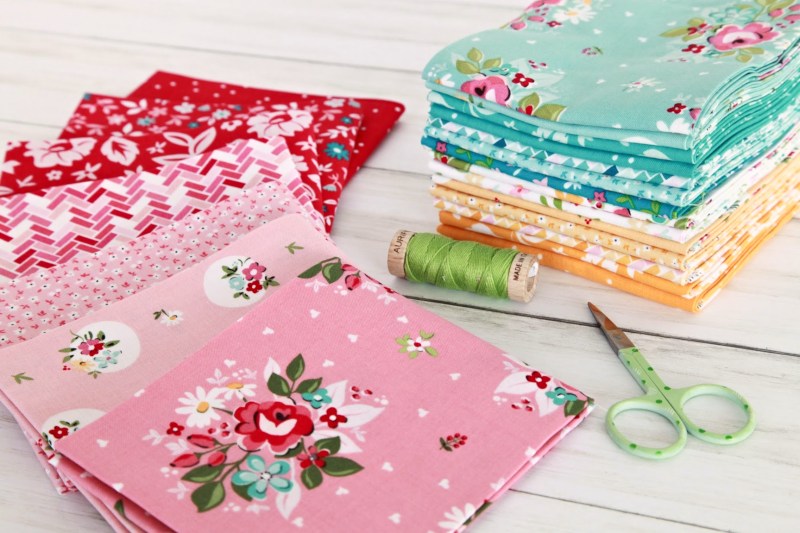 I've decided to do a little fussy cutting and centered a bouquet of flowers from the Rhapsody Main Pink on the front flap of my wristlet wallet. The perfect place for it! I loved where this was going, and decided to play with the Rhapsody Dots in teal, and the combo turned out beautiful!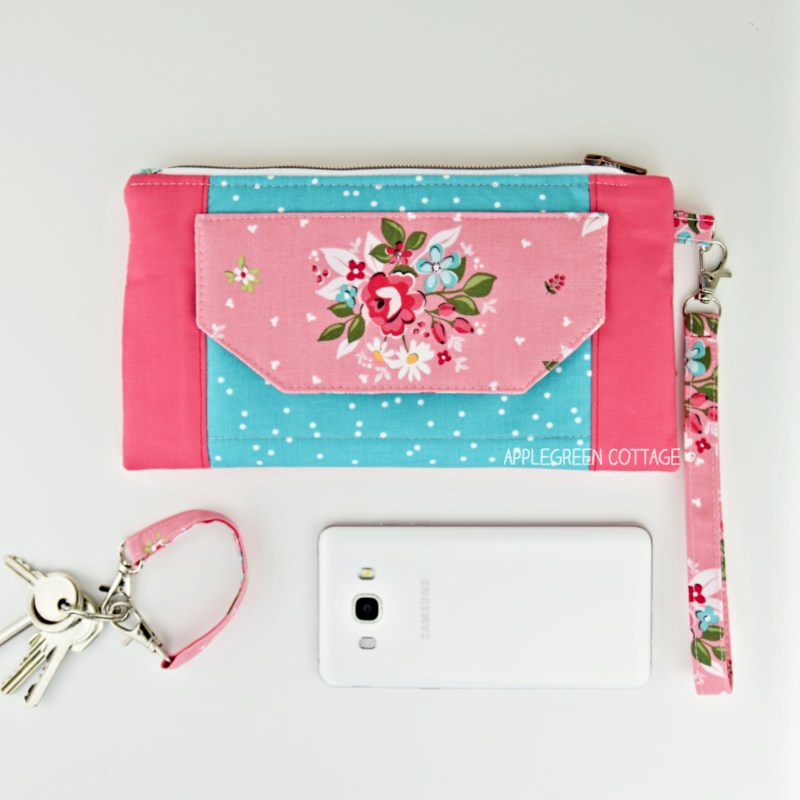 This wallet size is perfect for anyone who likes convenience and is tired of losing their phone, wallet and keys in their purse! (Even a detachable keyholder option - check out more features here) It's also the perfect pattern to show off your favorite fabric, just the project I was looking for!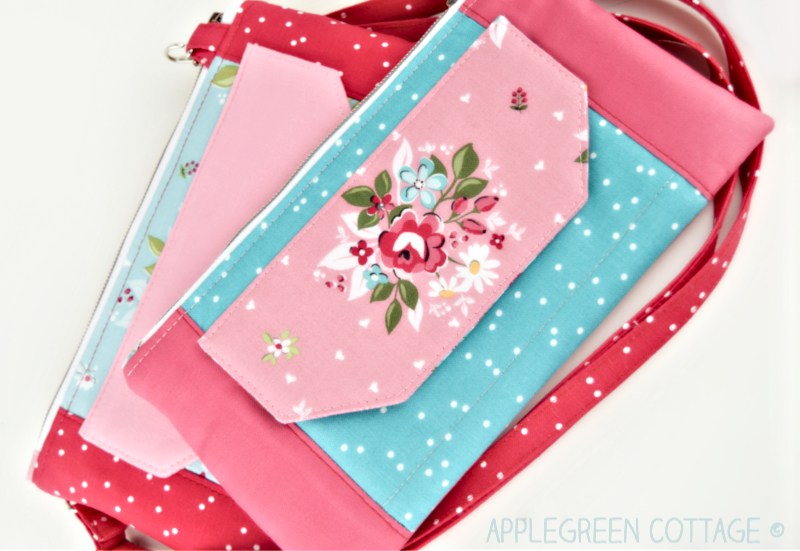 The Enya pattern is large enough to carry all your wallet necessities including your phone, but is small enough to slip into a larger bag (say, the large size of this Sophia Fold-Over Bag). You can use it with the original removable crossbody strap that's included in the pattern, or you can exchange it for a wristlet strap like I did here (use this tutorial) and that turns it into a cute wristlet.
And here's some of the 'inner life' of the wristlet wallet, where I used the Rhapsody Main in white colorway, with Riley Peony solid from the Confetti Cottons collection.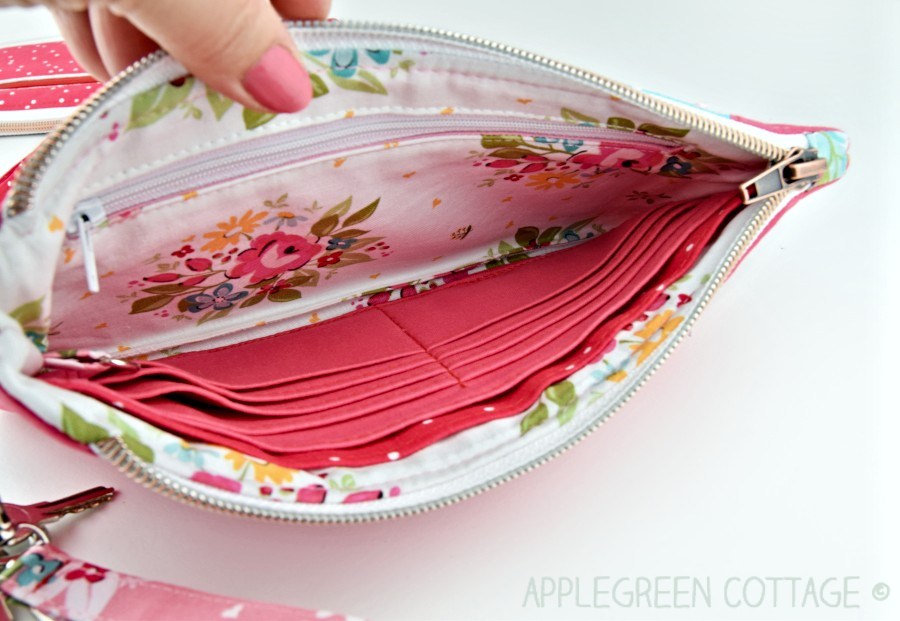 I'm completely in love with these florals, and so is my 3-yr old daughter who wanted me to sew one for her, too. Allegedly she urgently needed it for her tiny fairy figures collection. 🙂 So I made one with a full crossbody strap for her, too, to have her hands free when playing and running around the house: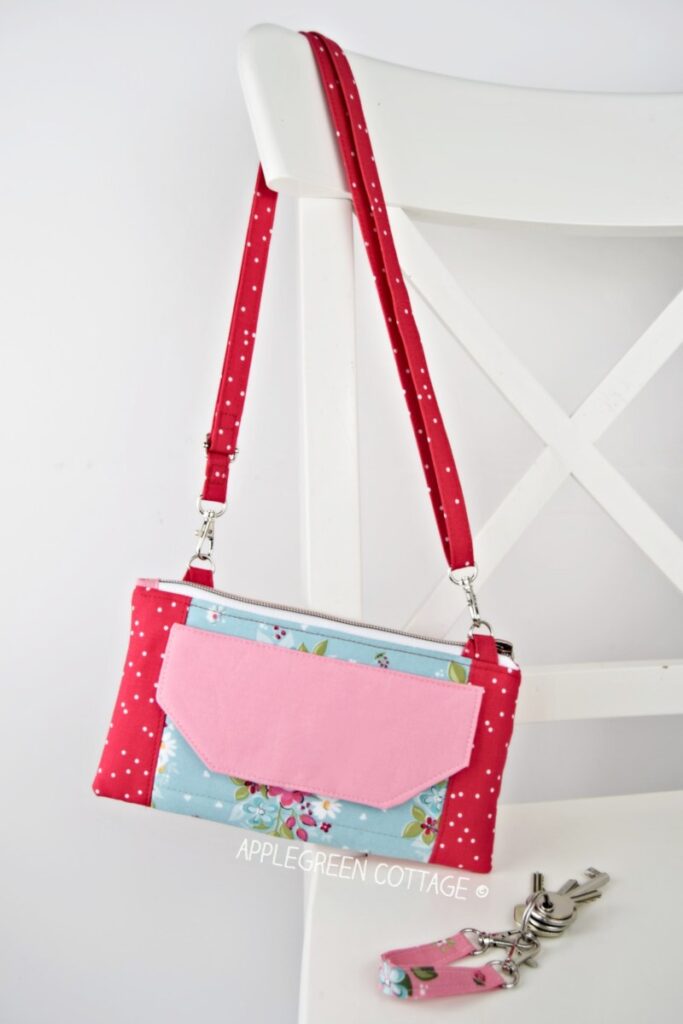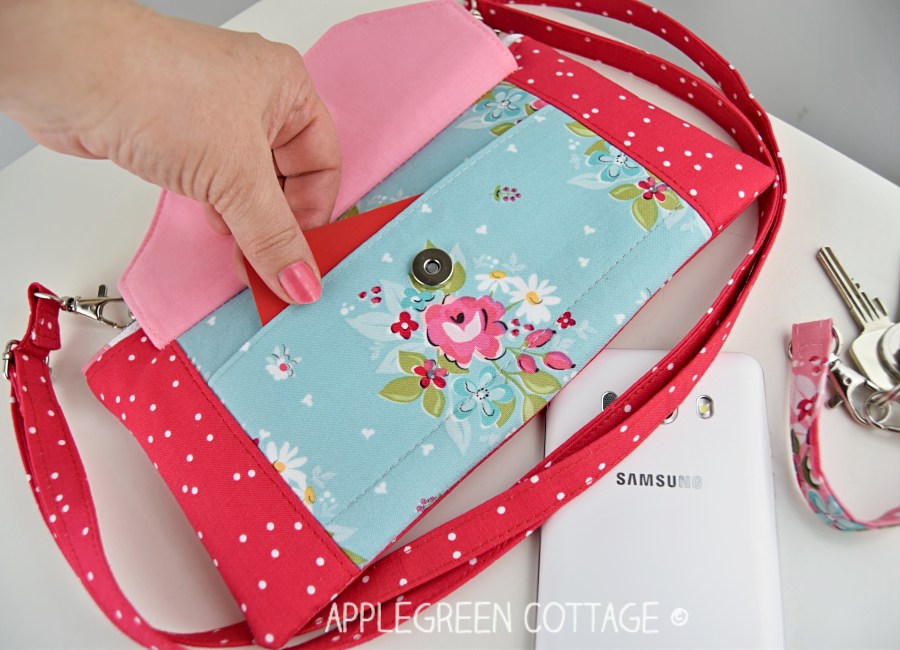 The front...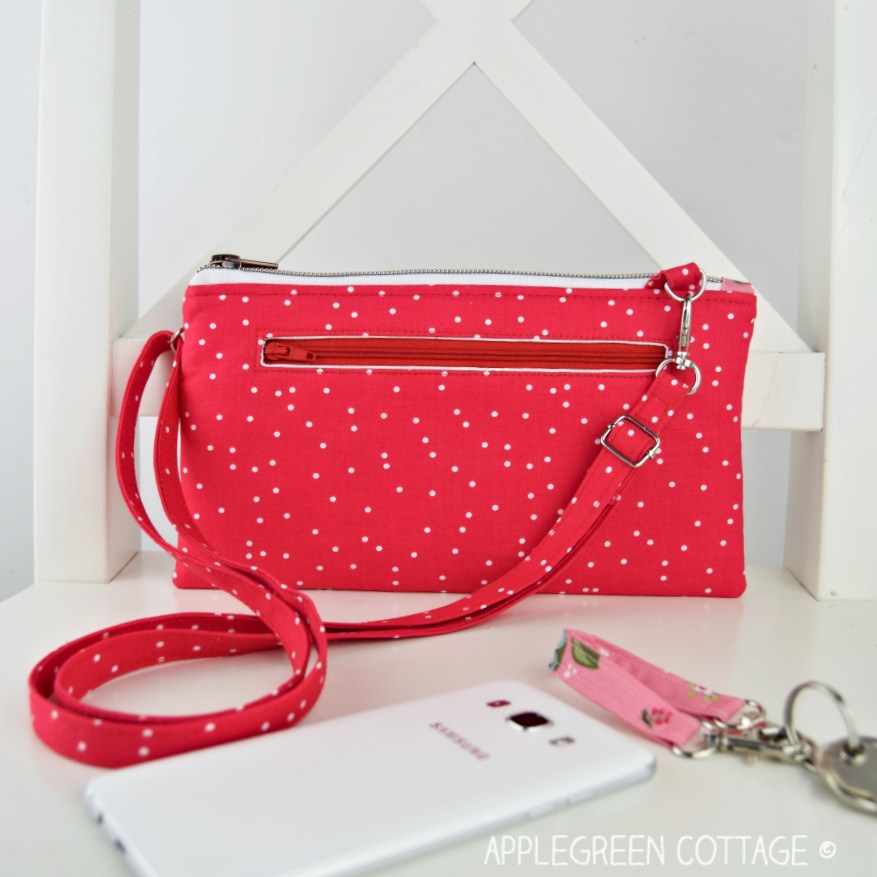 And the back.
For this, crossbody version of the wallet, I used the Rhapsody Main fabric in teal colorway, along with the fun Rhapsody Dots in hot pink, and the Peony and Riley Raspberry solids from RBD's Confetti Cottons collection. Love love love!
You can find my new Enya Wallet Pattern (HERE). Happy sewing!