Sidewalk paint is easy to make and fun! Do you know the book 101 Kids Activities That Are the Bestest, Funnest Ever!, by Holly Homer and Rachel Miller, from Kids Activities Blog? Yes, THE one! Today, I'm showing you one of the crazy cool and fun activities from the book, making fizzing sidewalk paint. We've had a blast!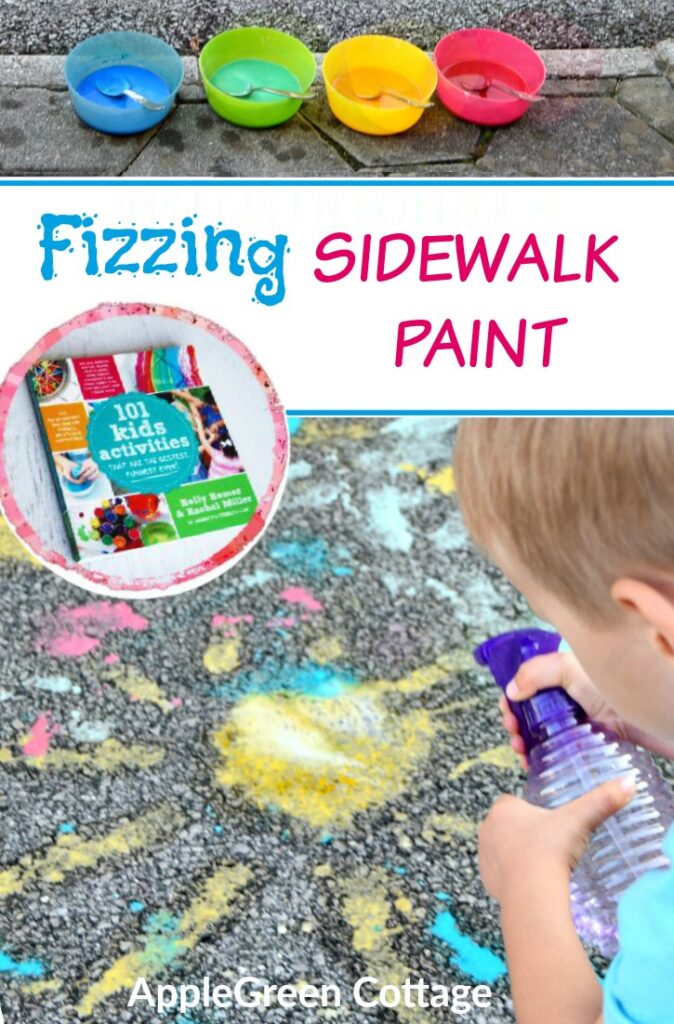 This post also includes affiliate links. Thanks for your support.If you are looking for fun kids activities, check out these too:
Take a sneak peek into one of the activities we had so much fun with - fizzing sidewalk paint! 
Sidewalk Paint Activity
Fizzing sidewalk paint. Yep! Colors and fizz! We had to try out making fizzing sidewalk paint like immediately after our son saw the image in the book. It was quick and easy to make. I loved it too!
A few sneak peeks into our family's Saturday afternoon: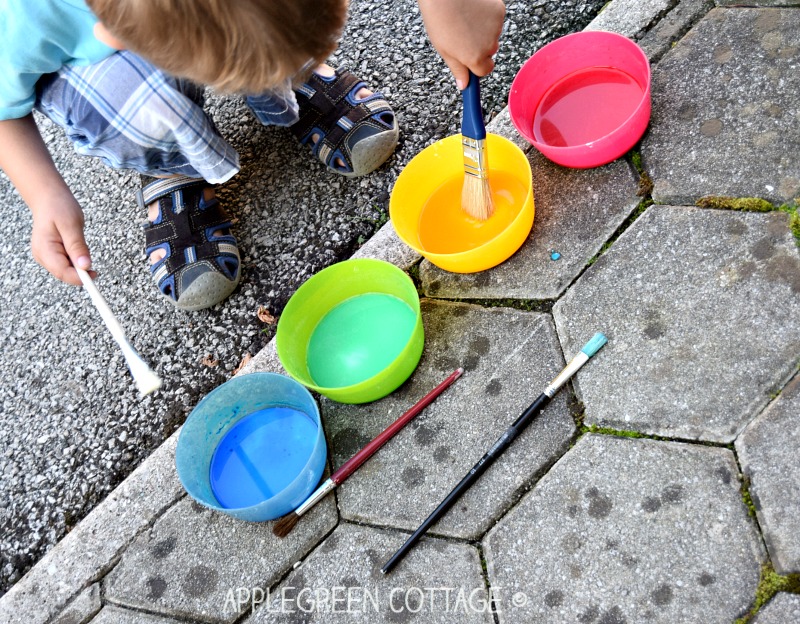 Using various paintbrushes, our 4-year old painted the sidewalk.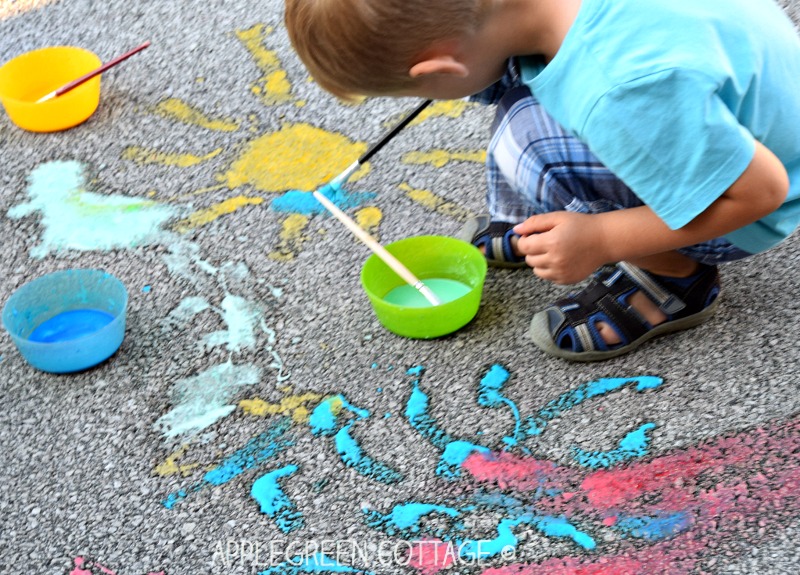 Now the kid's favorite part: spraying vinegar over the paint and watching it fizz. Amazing!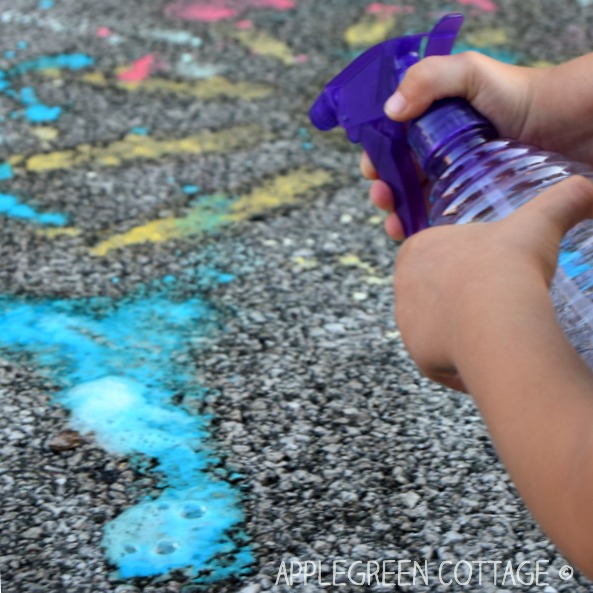 The experience with fizzing sidewalk paint was amazing! Our son is still a fan of fizzing stuff, even after a whole summer of homemade volcanos and sizzling lemons! I might have gotten so much used to making these fun experiments that there's a package of sodium bicarbonate ready at all times 😉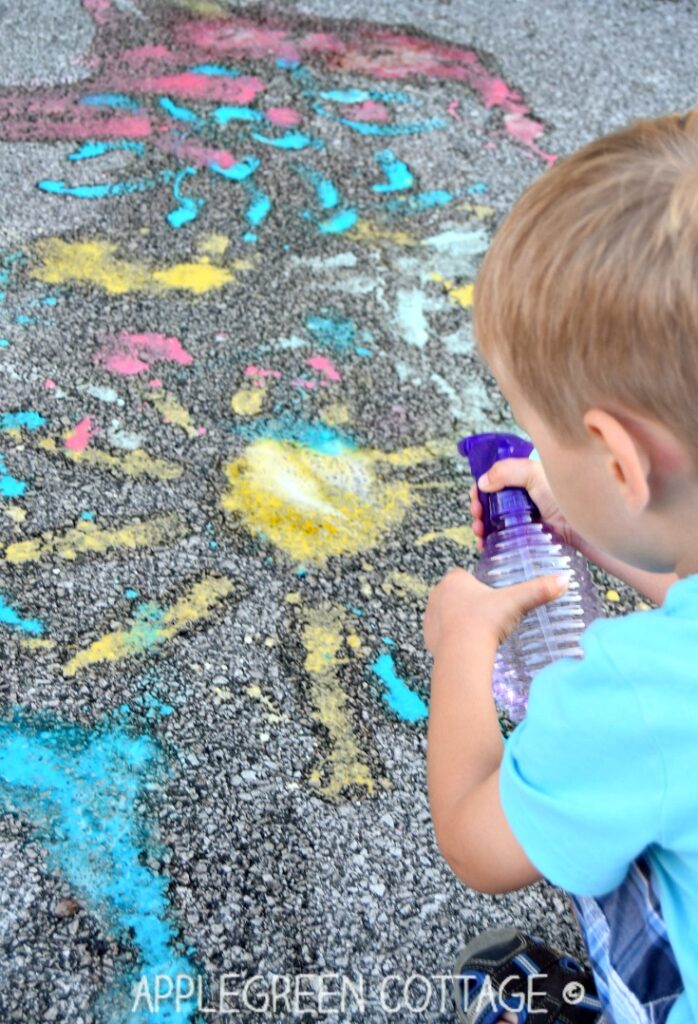 I'm sure you've got baking soda at home too, and unless you've been making volcanos all summer long, you haven't run out of vinegar and food coloring either. Basically that's what you need, and a bit of corn starch. Then, ready-steady-go! (For full instructions, see below)
I'd like to make it easy for you to make this fun and easy kids activity, too!
For this reason I'm adding the full instructions for this activity from the 101 Kids Activities book by Holly Homer and Rachel Miller below, for your convenience - and with permission by the authors of the book, off course:
This activity trumps ordinary sidewalk chalk with a little science magic by creating a chalk-based paint and then spritzing on a little fizz. It all starts with pH. When solutions that are pH base mix with an acid, action happens!

Materials
+ Large mixing bowl
+ 1 (1-pound [454 g]) box baking soda
+ ½ cup (63 g) cornstarch
+ Warm water
+ Several containers to hold the paint
+ Food coloring
+ Paintbrush(es)
+ Spray bottle filled with vinegar—1 per child
+ Buckets for cleanup

DIRECTIONS:
In a large mixing bowl, mix the baking soda and the cornstarch together. Add the warm (almost hot) water, stirring until it is the consistency of pancake batter. Split the recipe into several containers, adding the food coloring color of your choice to each.

Use the homemade paint to create a scene or flick it with a paintbrush into a modern masterpiece. It is best to work fast because the paint dries quickly (but can always be diluted with the addition of more warm water).

Once the painting is in place, it is time for something a little extra. Spray the artwork with the vinegar-filled bottle and watch what happens. Your artwork will sizzle and pop!

About Cleanup
A bucketful of water splashed across the art can make it disappear. Because that is fun, too, you might not want to wait for rain.

Modifications for Younger Kids 
If a paintbrush is hard to negotiate in the paint, give your children a spoon and let them drip or drop spoonfuls of paint onto the pavement. For the little ones, be sure to fully supervise when they spray vinegar. It can sting little eyes.

Modifications for Older Kids 
This activity is an easy way to work in a lesson on reactions between acids and base chemicals and talk about why this works. Maybe you can have your budding scientists adapt the recipe to see whether they can get bigger bubbles and more fizz in their next batch of paint.

TIP 
Do you have a prewriting preschooler? Use a turkey baster to squirt vinegar at the paint. The grasping and squeezing helps strengthen finger muscles they will use when they are writing.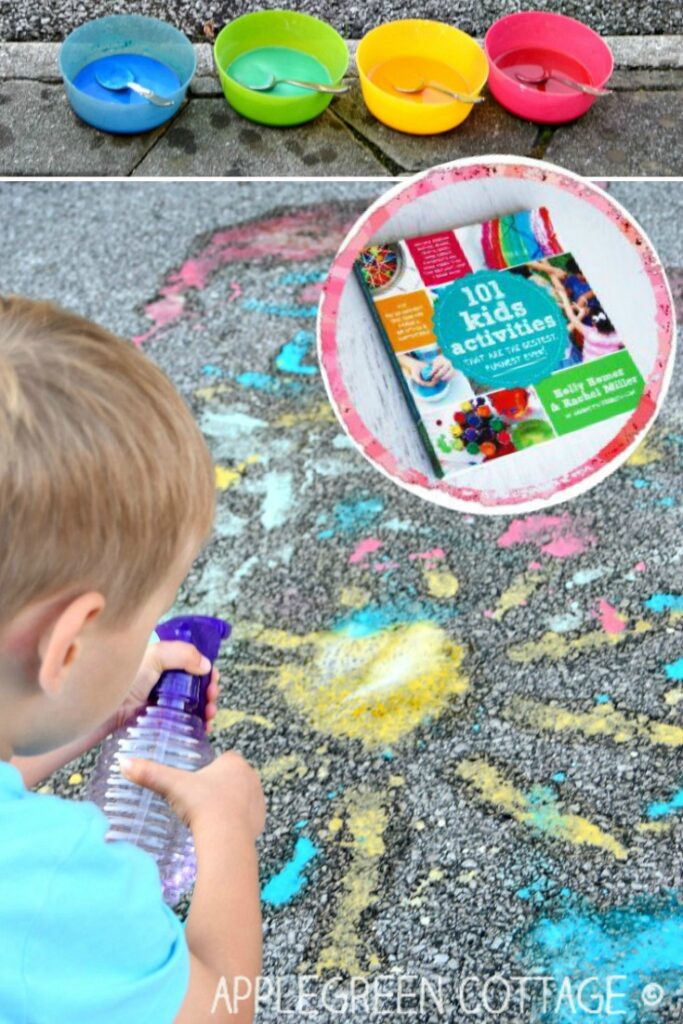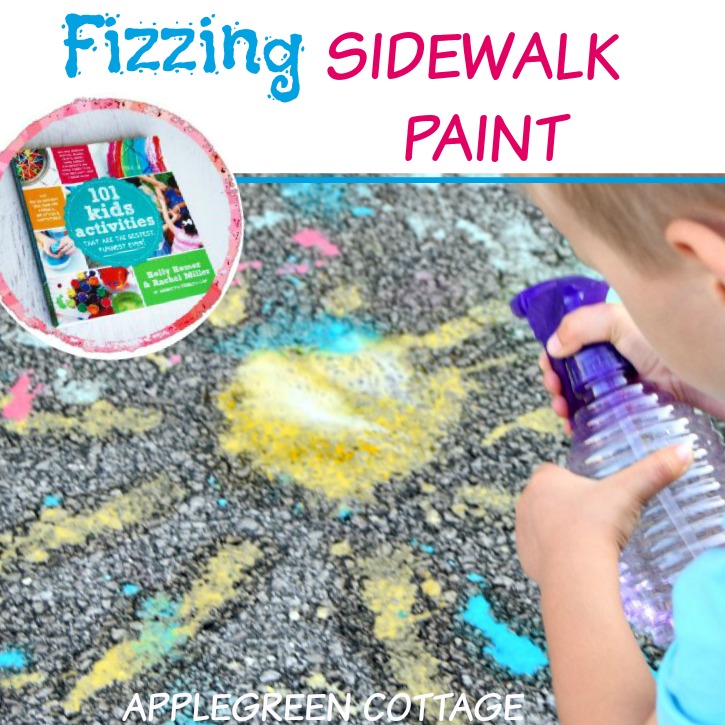 Now, one of you will win a copy of the book 101 Kids Activities That Are the Bestest, Funnest Ever!, by Holly Homer and Rachel Miller. Are you in? Enter the giveaway here:
a Rafflecopter giveaway
UPDATE: The giveaway has now ended. Thanks to everyone who entered, and congratulations to the winner! See you back soon. Have a great day!
WANT MORE FREE TUTORIALS AND GOODIES?
Get email updates and never miss out on new patterns, printables, and tutorials:
Or …check out the Earwarmer Headband pattern in 8 Sizes in our shop: