Diy Wallet - Enya wallet pattern versions. This is our most popular diy wallet pattern with options for every need and style. Want to see which of the many options of the Enya would be best for you? You're at the right place - here's a gallery of the different Enya wallets made by me and my amazing pattern testers. Also, a few details you don't want to miss out - scroll down for more!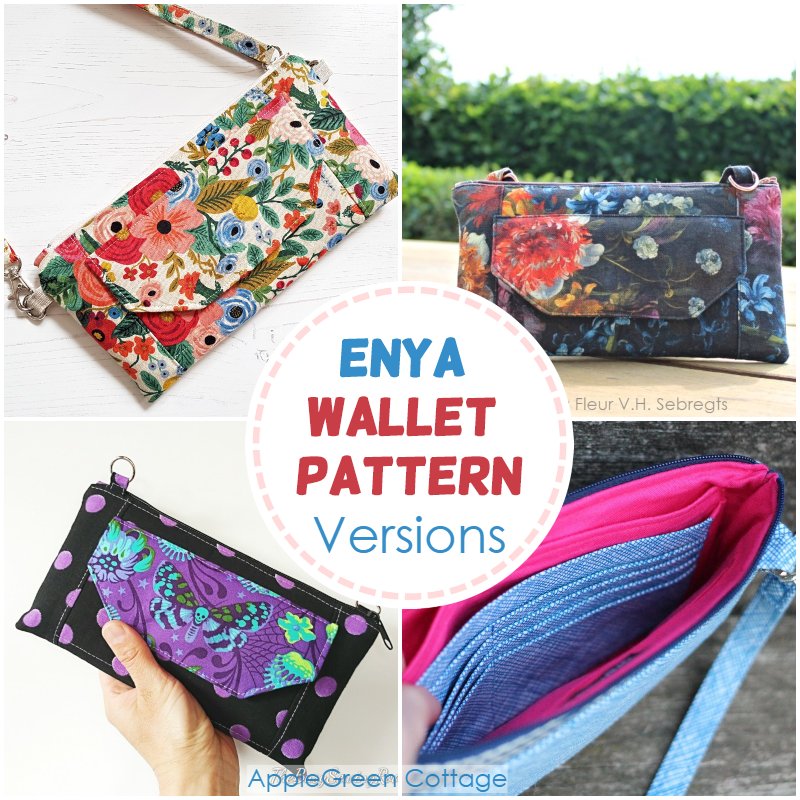 By now, you've probably met my new diy wallet: the Enya Wallet pattern. Its popularity right since launch day (!) has left me speechless and at first not really ready how to handle all the skyrocketing, but also grateful, to all my followers, readers and sewers who've embraced the new pattern with such enthusiasm I couldn't have imagined it was possible. Meet my new best-seller, the Enya wallet.
Enya Diy Wallet Features Showcase
Here, I want to show you the many different takes on the Enya wallet pattern by the amazing pattern testers, their brilliant solutions and their creative fabric combinations. Also, I'd like to thank all the pattern test team members from all my heart. Pattern design world would be so much different without excellent pattern testers like you!
Not just showcasing - these photos will also help you decide on what version of the Enya Wallet you want to make.
For example, the ways you can go when deciding on the straps of this diy wallet: one, a strapless, regular wallet. Perfect as purse insert! Check out Genevieve's version below. Second, the original, crossbody wallet bag. My daughter loves it! Or, if you don't like long straps, you can make a wristlet purse. Scroll below for these options, and more. Check them out here:
First, relax and watch all of them here in this video:
CROSSBODY VERSIONS of the DIY WALLET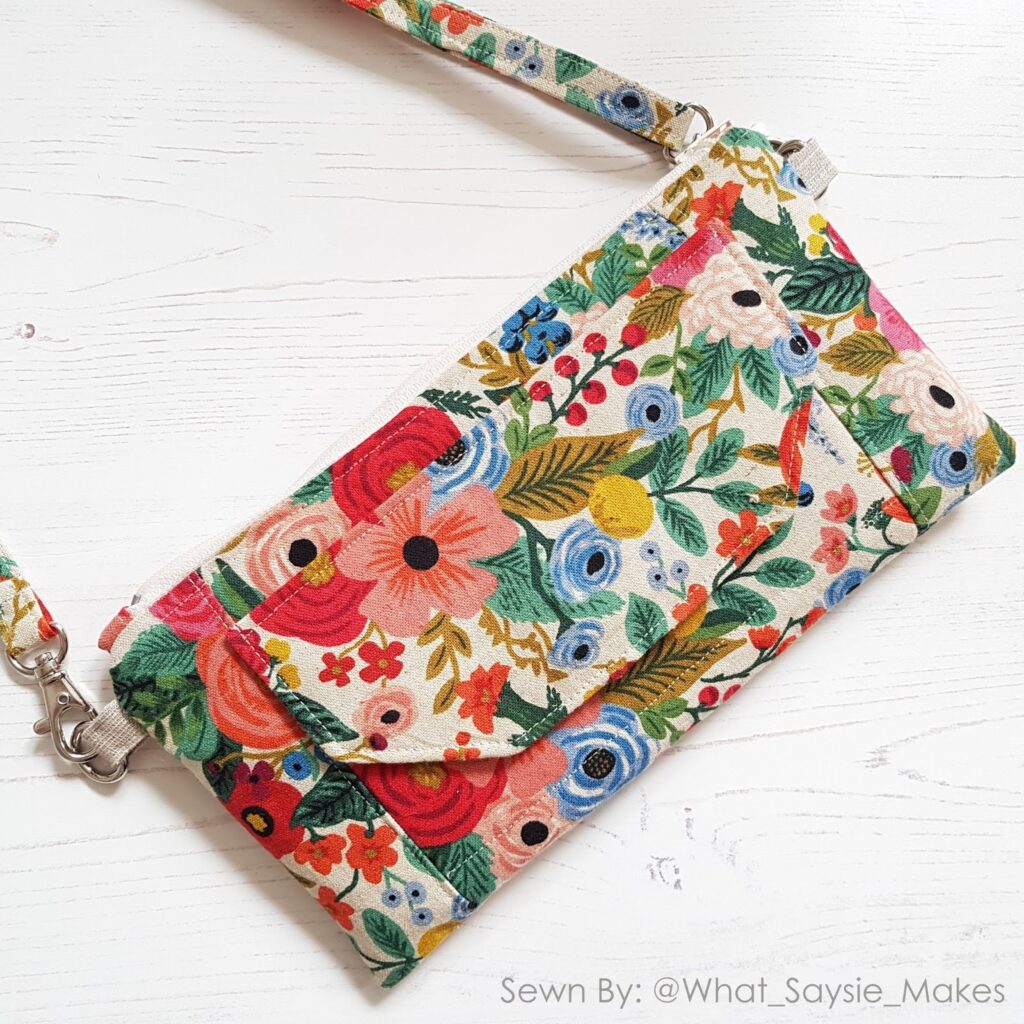 Sarah at @what_saysie_makes has made a beautiful crossbody-style wallet purse, using the gorgeous Wildwood by Rifle Paper Co. Amazing! And she even wrote a blog post about it, how cool is that! Read it here at What Saysie Makes.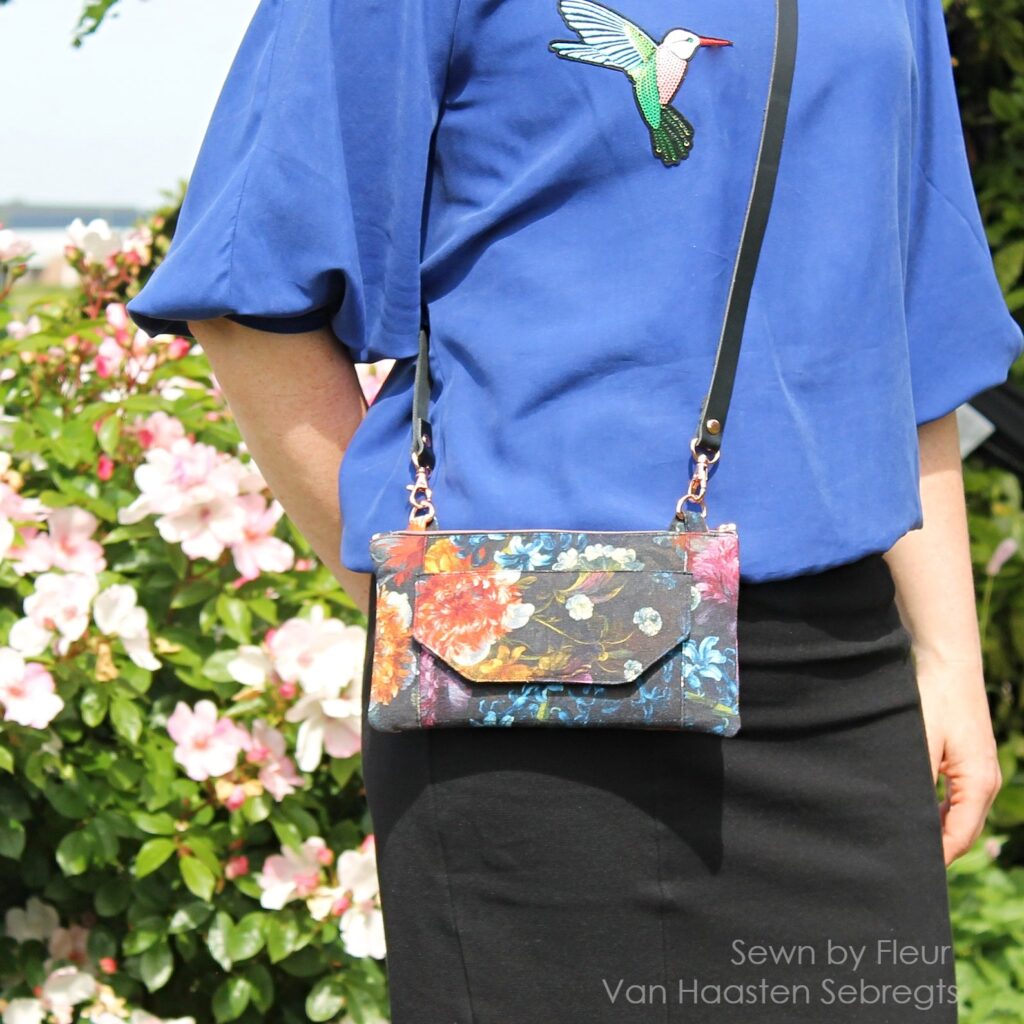 Fleur has made a stunning floral Enya crossbody wallet. Also, the best modeling photo! Visit her on Instagram at @fleursebregts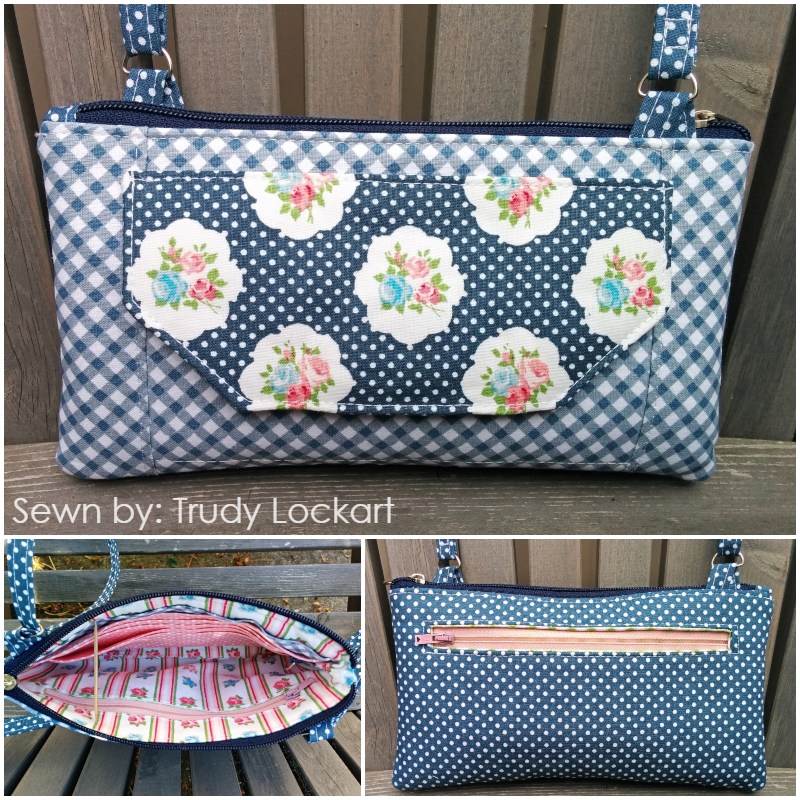 This is the Enya wallet sewn by Trudy Lockhart. So cute with polkadots, gingham and florals! Find more photos here on her Instagram account @trudylockahrt. I love the combination, and her take on the pattern. And guys, did you know it was Trudy who came up with the brilliant top-strap-connectors idea? Perfect for all quilting-cotton Enyas out there!
Yep, even the strap connectors come in two options with this diy wallet 🙂 Scroll down to find out more about that, but first check out a few more beautiful Enya versions by the amazing pattern testers: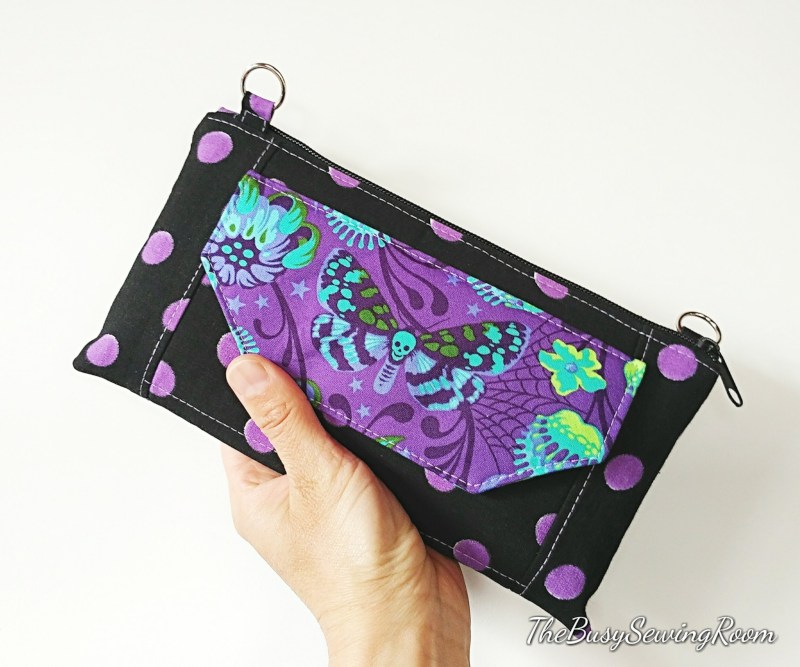 Ulrike has sewn up a beautiful black-and-purple combination with Tula Pink fabric. Fantastic fussy cutting on the flap! Follow her on Instagram at @thebusysewingroom and make sure to visit her handmade shop (link).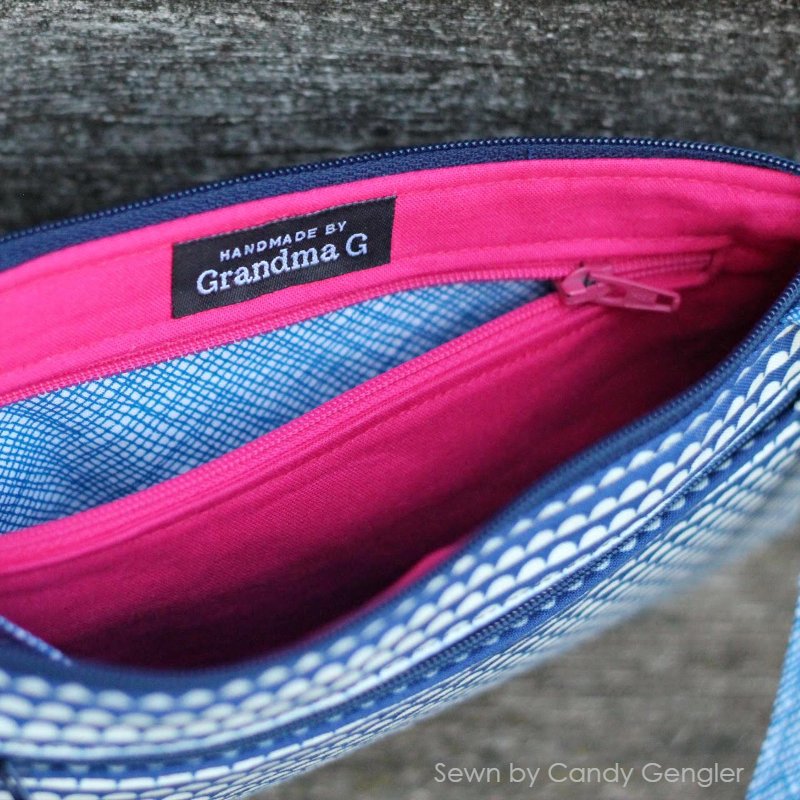 Candy made this beauty. I love everything about it, in particular the smart use of a diagonal print, and perfectly aligned zippers on this diy wallet. All elements match perfectly! See more of her photos on Instagram at @grandma_g415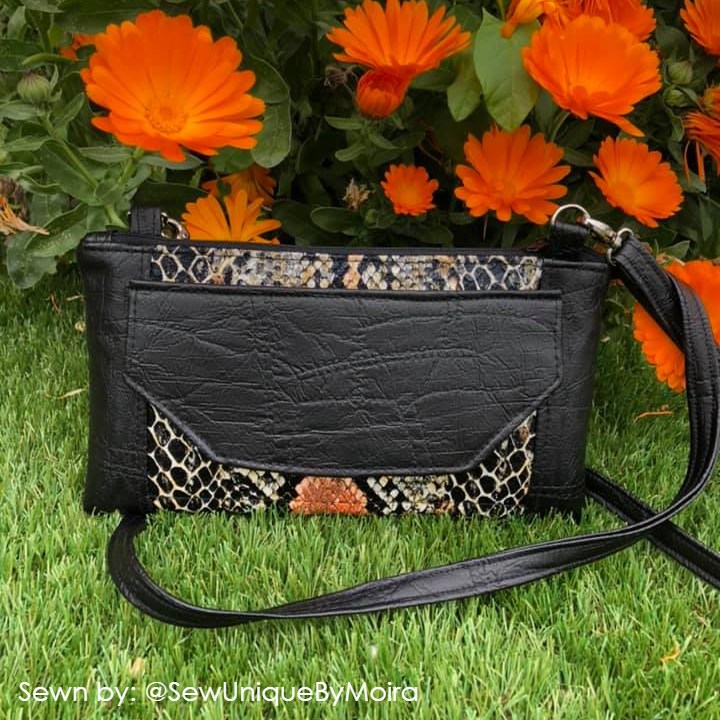 Moira made this pretty little jewel in black. Visit her FB page SewUniqueByMoira to see what else she is working on. When testing, she appreciated the option to cut the pieces without the need to print the pattern - true, if you use the Cutting Instructions, you don't need to print a single page of the Enya file!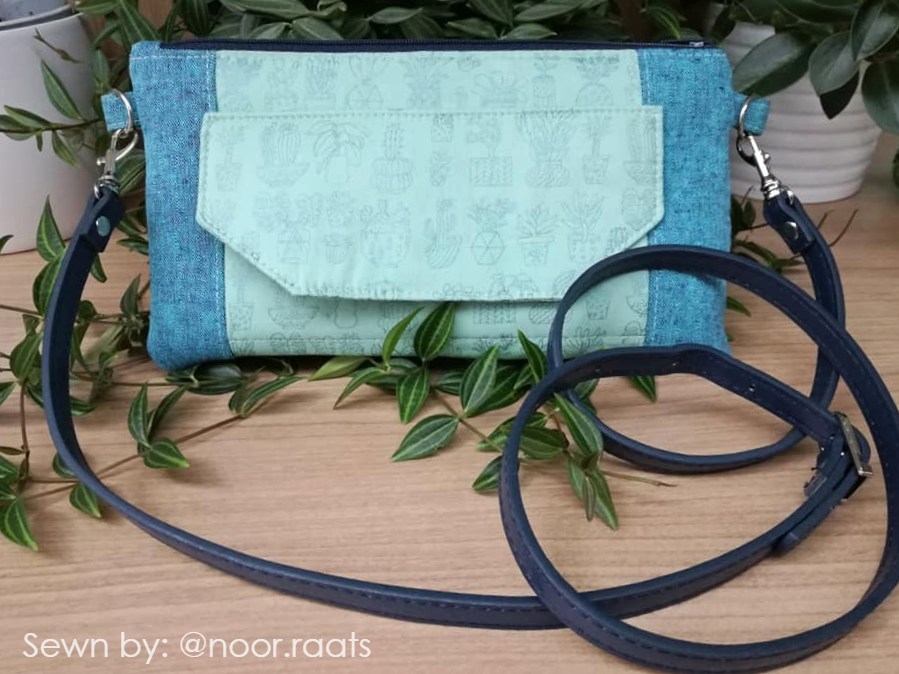 Noor. She made a crossbody-style Enya wallet made with a metallic print and Essex linen. Beautiful! She loved the abundance of pockets! You'll find her on Instagram as @noor.raats.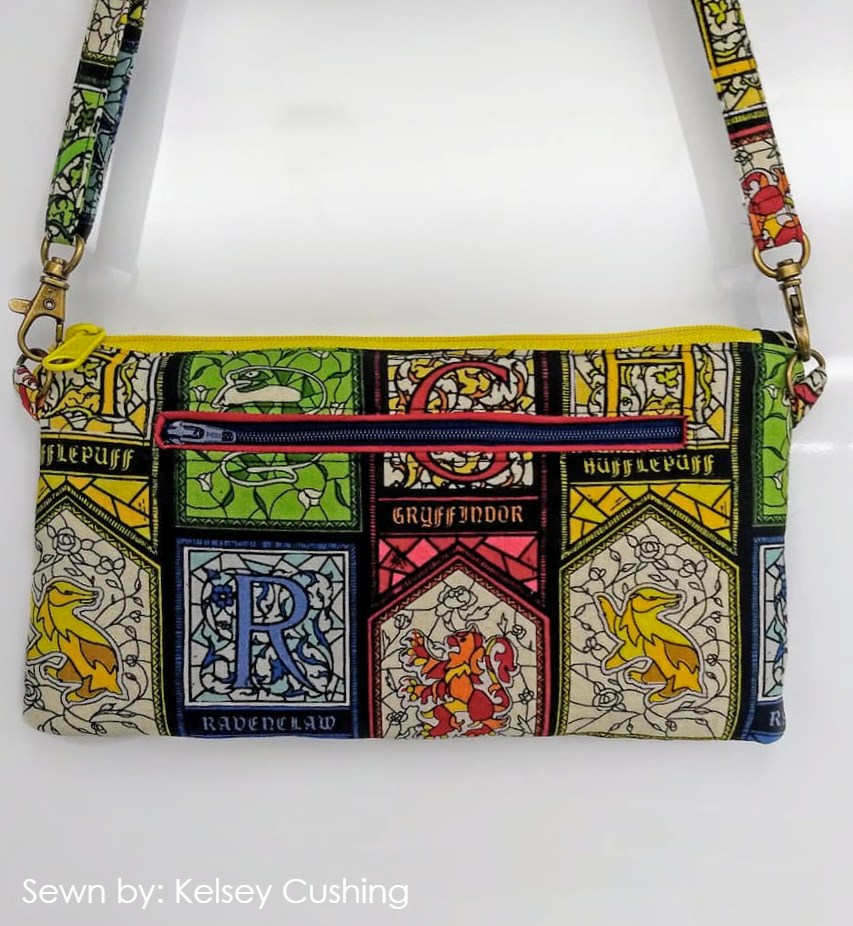 Any Harry Potter fans out there?
Kelsey made this Enya as a gift for her cousin. You'd never guess that this one was her FIRST bag! She loves the pattern so much she wants to make another one ASAP. So she is doing an ENYA Sew-A-Long in her popular FB Group, 52 Week Sewing Challenge. That's so exciting! Everybody who finishes an Enya wallet will be entered for a giveaway to win a free pattern from my shop. If you haven't yet, join Kelsey's FB Group here and find out more about the ENYA Sew-A-Long!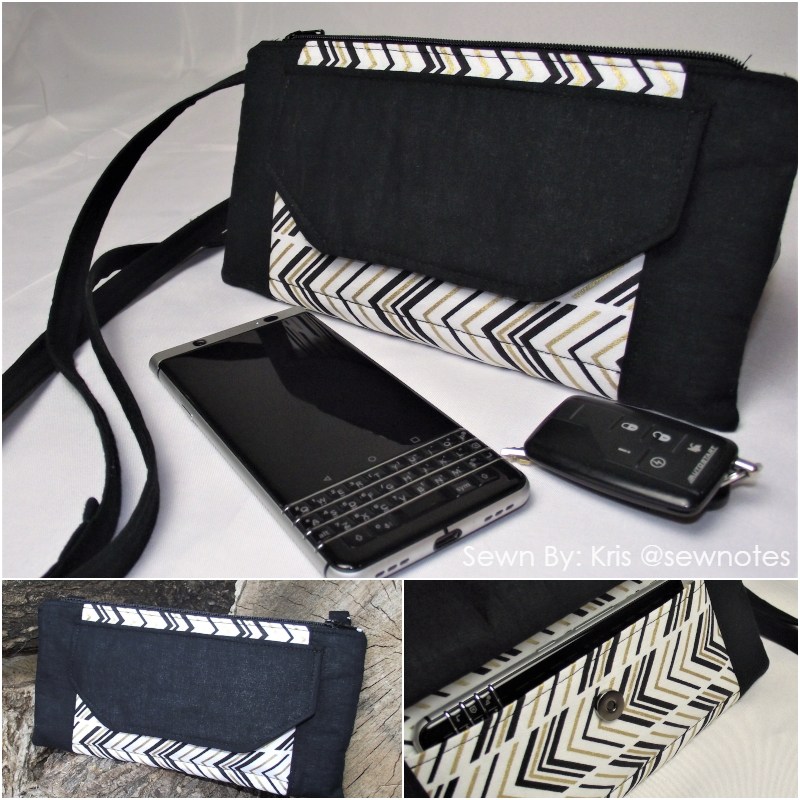 Kris made this beautiful Enya with gold print. Visit her on Instagram @SewNotes to see more photos. She's a blogger too, and she was so kind to write a pattern review on her blog - check it out here on Sew Notes.
Thank you for this amazing post, and for being ready to test my pattern. <3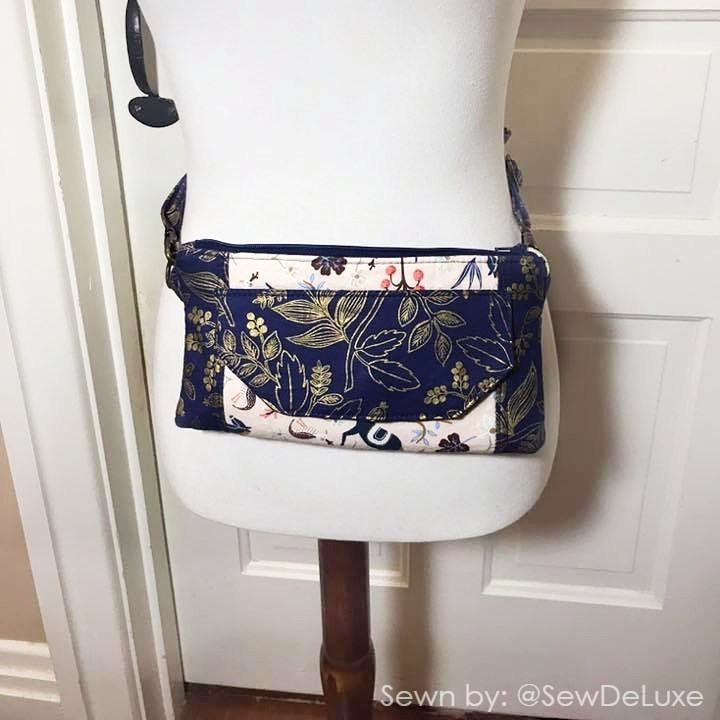 Laura made this lovely floral Enya crossbody bag, and she showed us that this diy wallet pattern can be made into a fanny pack, because of the removable+adjustable strap. Why didn't I think of that! Visit her Instagram profile at @sewDeLuxe
NO-STRAP VERSION of the enya diy wallet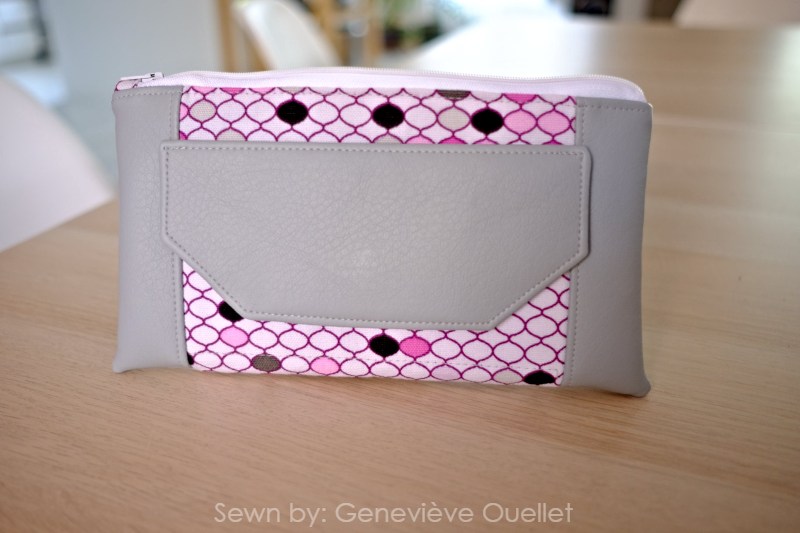 A strapless version of the diy wallet by Genevieve Ouellet. Perfect if you want to use your Enya as a purse insert, or a regular wallet. Take a sneak peek at her pattern version on Instagram at @genevieve__o I've yet to make a strapless version, I need one for my everyday bag!
WRISTLET wallet VERSION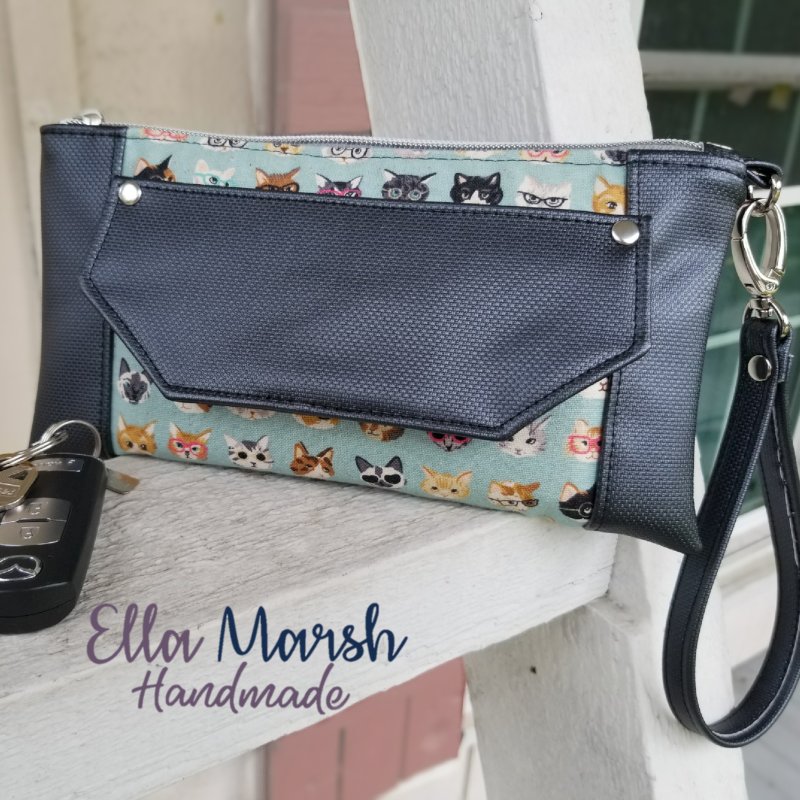 Lorna made her version as a wristlet and she says it's the perfect size for just the essentials. Find her on Instagram at @ella.marsh.handmade You can't go wrong with these cute cats!
INTERIOR PEEKS: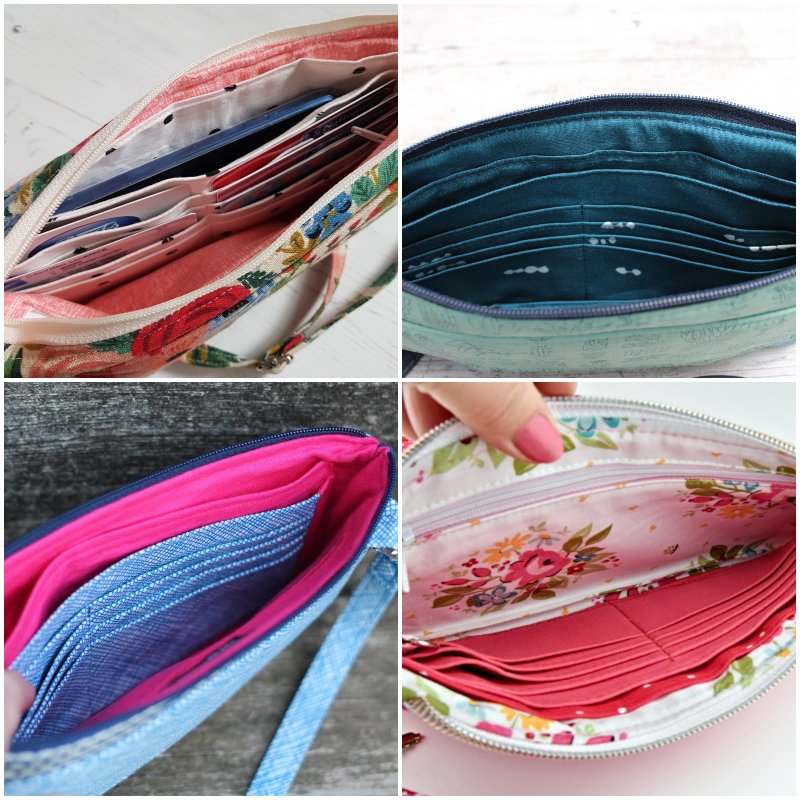 You'll never run out of pockets! 8 card slots, a bill pocket, a phone slip pocket and a detachable key strap inside, and a zippered pocket for coins. These are the inside pockets only, two more are on the outer side.
Strap Connector Options for Enya
Yep, even the strap connectors of this diy wallet have two options. These two: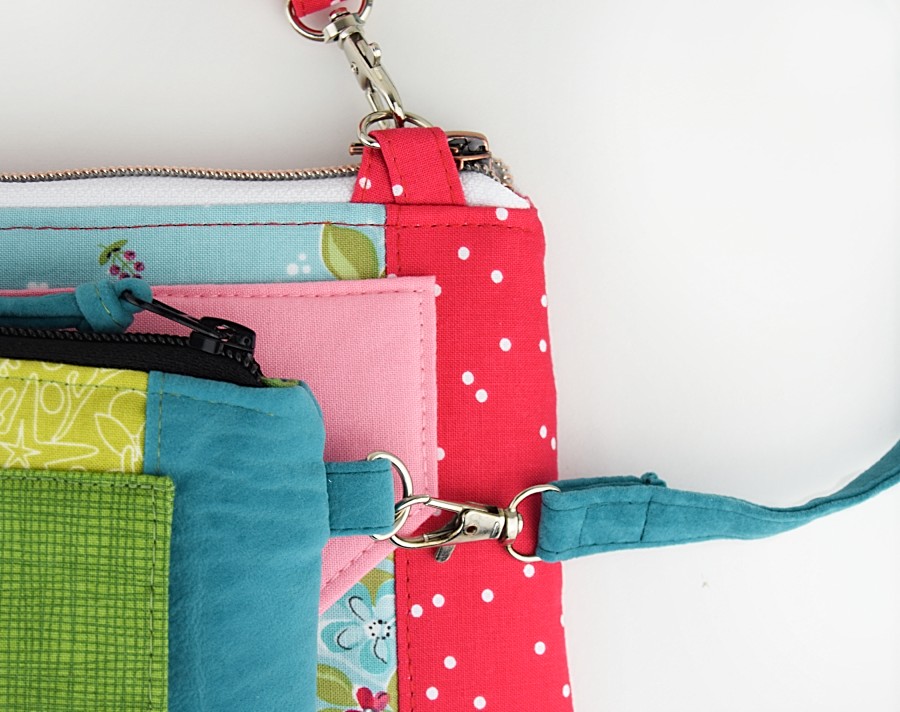 The Enya Wallet is perfect for anyone who likes convenience - I love the freedom a hands-free crossbody bag brings!This is why you get not just one, but TWO options to attach the strap:
1) Heavy-weight material
If you make your straps (and strap connectors) with material heavier than quilting-weight cotton, you'll want to use the side-strap option. See the blue-green version above.
2) Quilting Cotton
However, we love Enyas with quilting cotton too, so if you are making your Enya with that one, the strap connectors will have an ideal place when connecting from the top edge, right behind the zipper. This version is called 'top strap tab' in the pattern. Beautiful drop, functional too: the strap slides perfectly out-of-the-way when you open the top zipper, looking for a credit card or some cash.
Two Different Enya Wallet Strap Options
So, here's a good place to show off two of my own Enyas, I guess 🙂 The first one is in AppleGreenCottage 'signature' colorway, with side strap connectors - the material is heavier, very close to a faux-leather-like weight.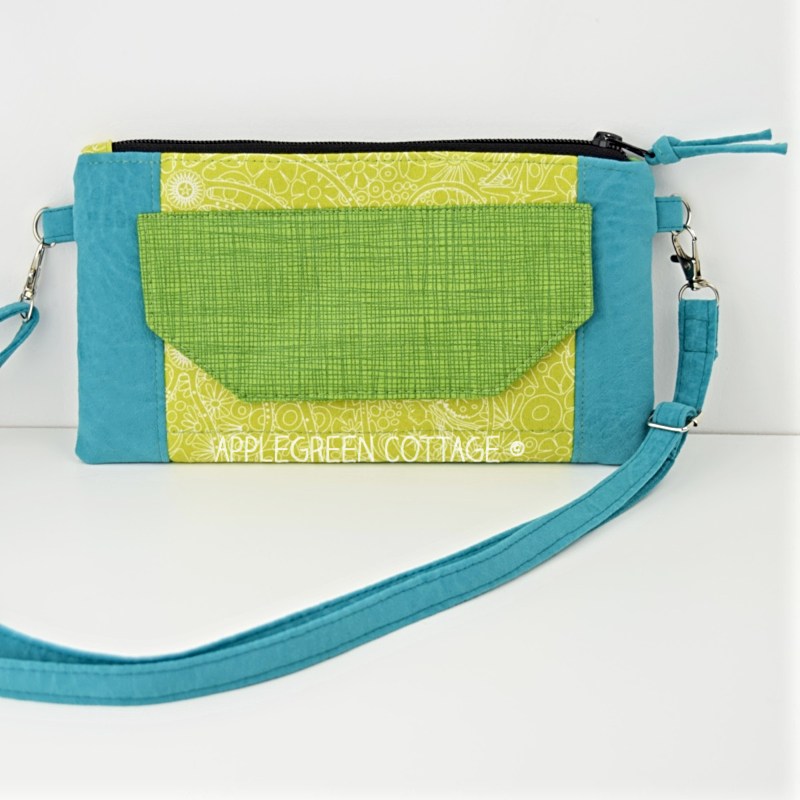 And the other one, in the beautiful Rhapsody fabric designed by Sedef Imer, with straps attached from the top. Perfect.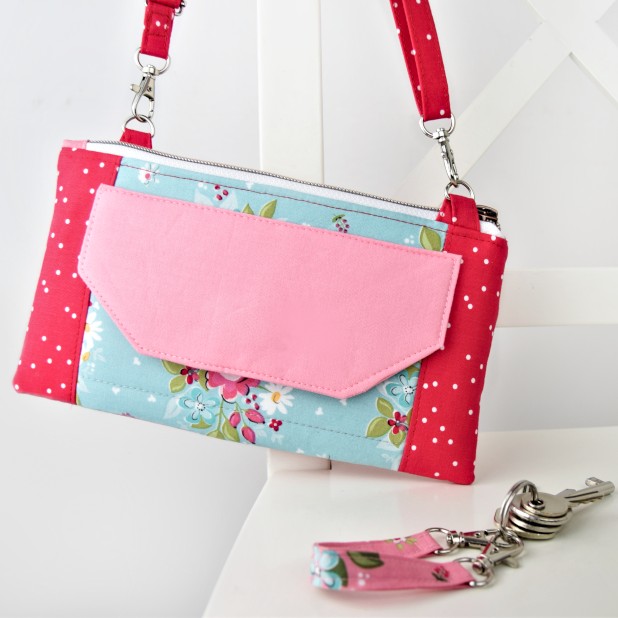 Removable Key Strap
There are other details that will make your Enya the go-to diy wallet pattern, like this removable keyholder strap: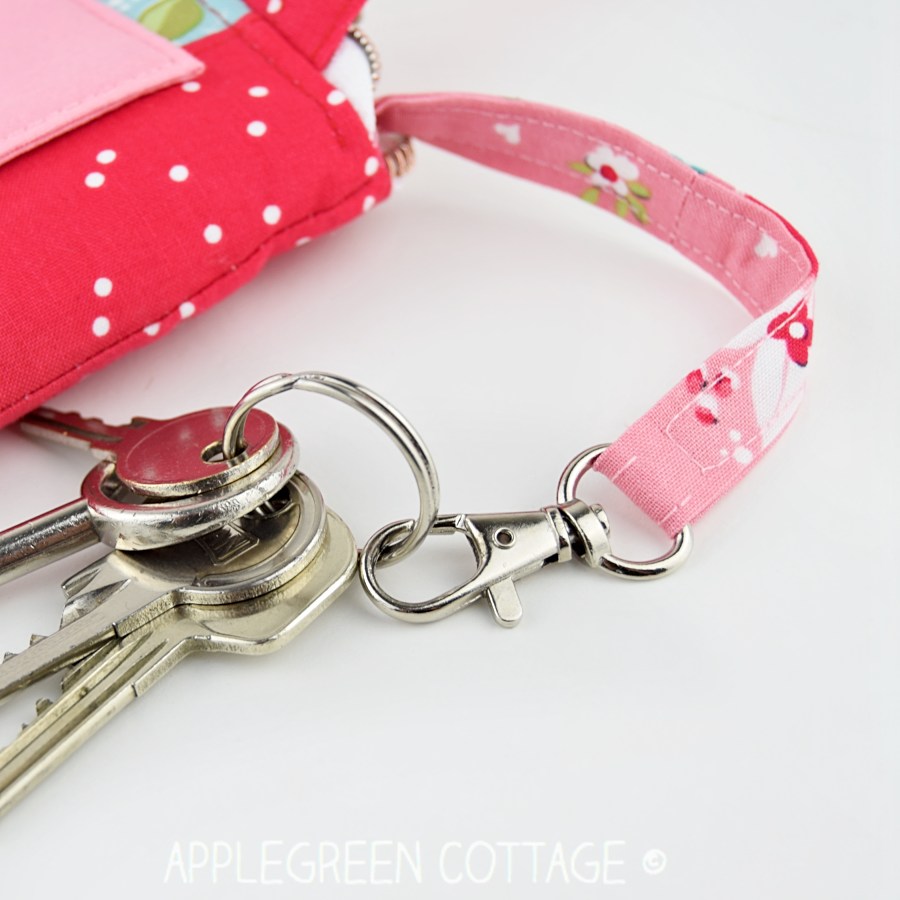 Soo practical, and I might have already found an additional use for these! (Make sure to sign up for my weekly newsletter - here- so you don't miss out on a new tutorial I have in mind. Some-time soon. 🙂
So, I hope you liked the Enya pattern as much as I do. It wouldn't be as good as it is without a dedicated team of pattern testers who have invested quite a few hours, even days into testing the pattern. Thank you for helping me make the pattern for this diy wallet the best it can be!
Save for Later: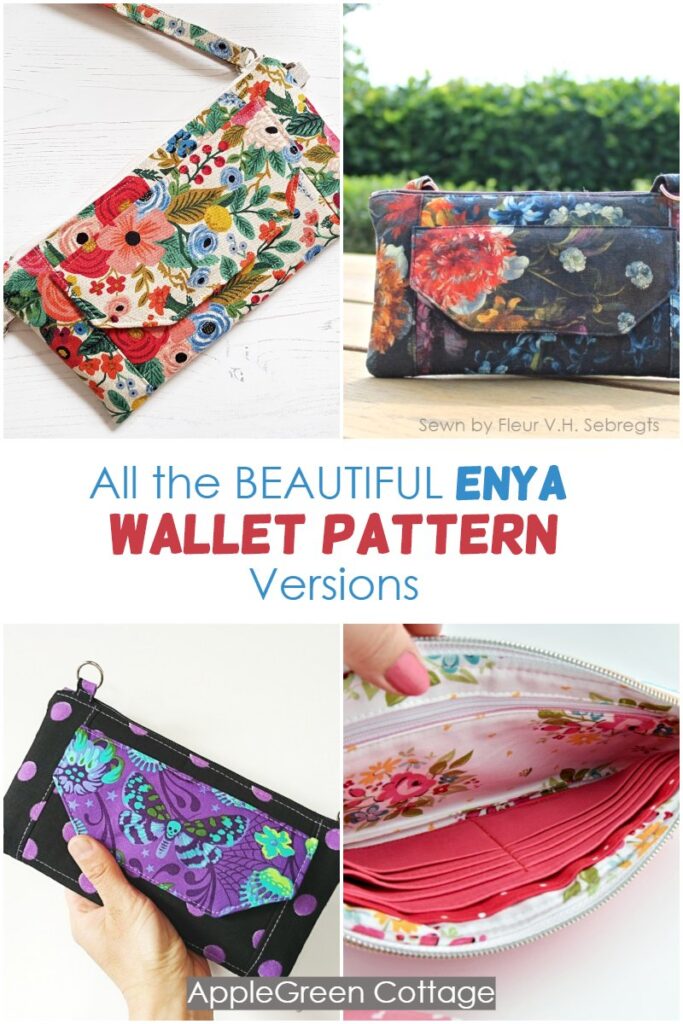 WANT MORE FREE TUTORIALS AND GOODIES?
Get email updates and never miss out on new patterns, printables, and tutorials:
Or …check out the popular Enya Wallet Bag in our shop - use it as a crossbody, clutch, or regular wallet, it has everything a big bag has!