Make a sponge cake for kids - and with their help. An easy baking activity with kids that's so rewarding!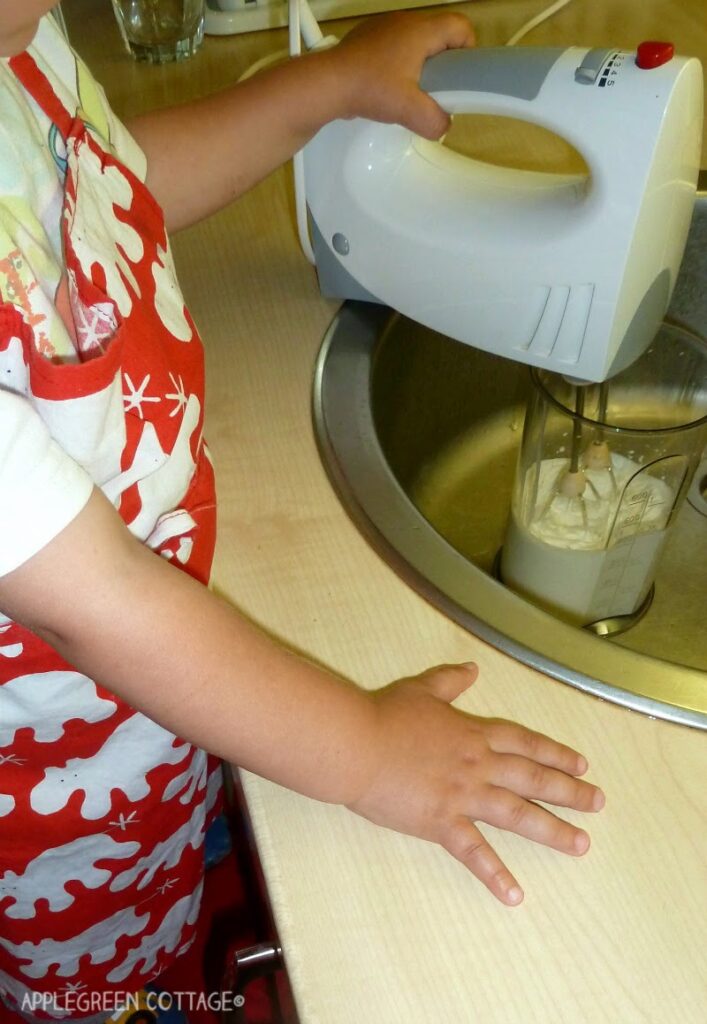 Sponge Cake For Kids
A simple sponge cake baking activity like this one can mean one really happy afternoon. Especially if you don't care so much about some yolk or whipped cream ending up on the kitchen backsplash. Or elsewhere 🙂
The child can take part either in baking the sponge cake (Step 1) or only in decorating it (Step 2). It's fine either way.
 Step one...
...is baking a sponge cake. I suggest you prepare all ingredients in advance so it will be easier to enjoy the process.
I'm really bad at the exact following of recipes, but this one is simple as ...cake. I'm sure you've got it covered, the ingredients and all, but for those who want to hear my version the recipe, scroll down to the end of this post. Super simple, no fuss, and you don't need to be super exact about the ingredients.
M mixed the egg whites and then the yolks. Much will be left to the imagination because I only managed to take one single photo during step one - I was too busy catching the egg whites while M was crushing raw eggs into the bowl all by himself... And negotiating the number of heaped spoons of flour to be dragged by the "bulldozer" (=the spoon in his hand) into the mixture. Even a pinch of salt ended there (no harm done) because he is used to doing so with some other recipe... And a tiny bit of coconut flour.
You can then use the baking time to clean up some of the mess on the kitchen counter, while the kid is running around, playing with something else for the time. (hopefully 😉
Step two
... is adding a mid-layer of whipped cream and fruit. It is a cleaner activity by far, so you can really enjoy it and make tons of photos of your little angel...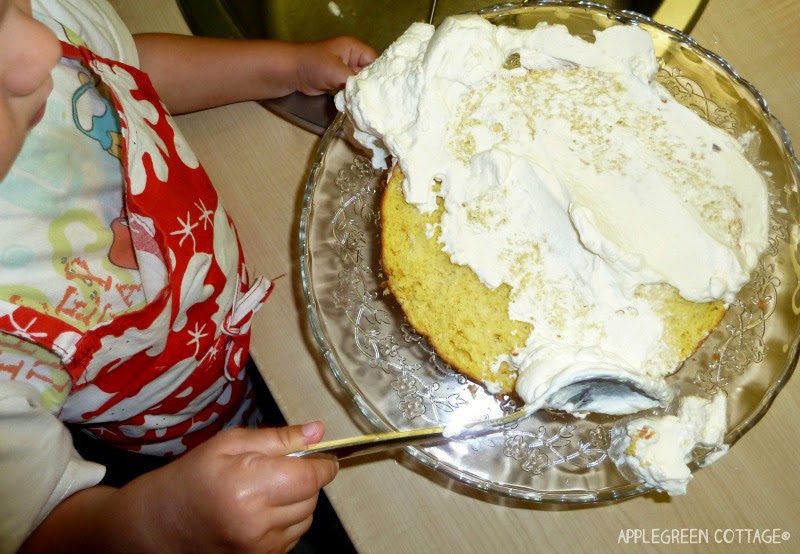 ... smearing whipped cream all over the bottom half of the sponge cake ...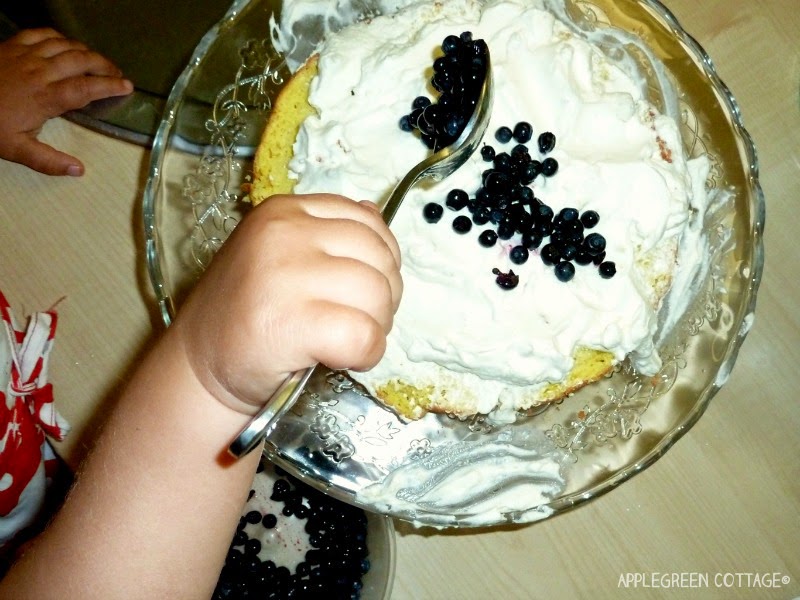 ... adding blueberries if so desired...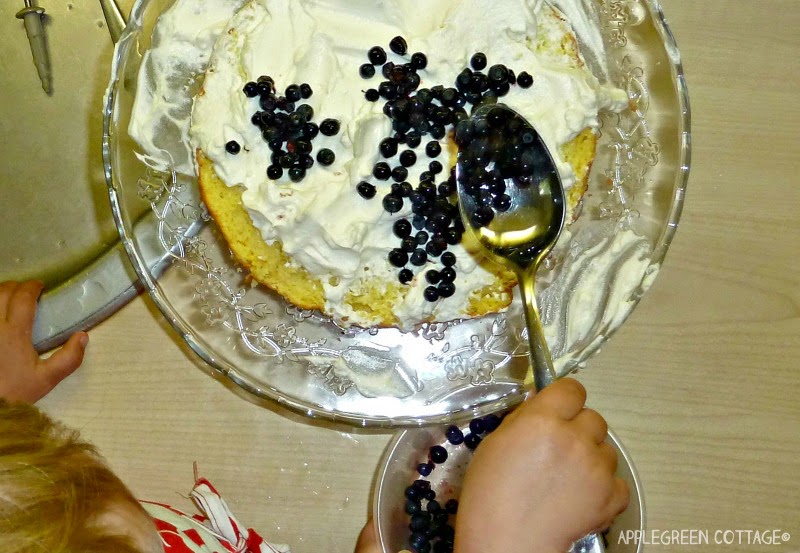 ... and more blueberries ...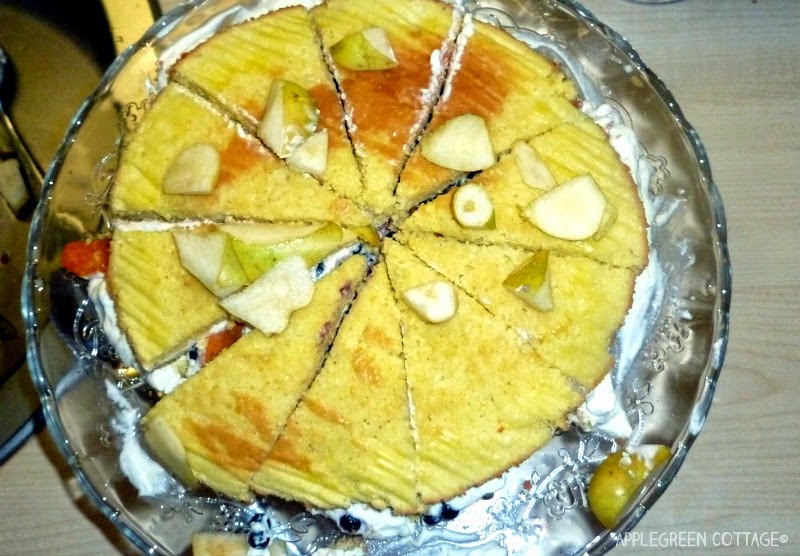 ... and adding the 'final touch' - pieces of other fruit on the upper layer to 'make the cake pretty'...
Don't worry about the looks. It's the process that matters to the toddler. Make him or her feel proud of what has been accomplished. It is a big deal to a tiny child. Enjoy!
Sponge cake recipe
Ingredients:
5 whole eggs
2 tablespoons of sugar
5 tablespoons of flour
baking powder
vanilla extract (optional)
whipped cream for topping
1 cup of blueberries /fruit of your choice
Sponge Cake Instructions
Get 2 bowls.
BOWL 1: beat 5 egg whites like crazy for several minutes to get a fluffy white texture
BOWL 2: mix
5 yolks
+ 2 (or less, or more) heaping tablespoons of sugar
+ baking powder (waaay less than one portioned package)
+ some vanilla extract, if you want
Stir until creamy and light yellow.
Then add 5 heaping tablespoons of flour and the contents of BOWL 1 and mix everything gently together.
Pour the mixture into a baking pan and let it spend about half an hour in the oven at 180 C.
Oh, and while you're at it, whip some cream in advance and put it into the fridge. You'll spread it on the sponge cake when cold, together with some fruit of your choice.
Now, a disclaimer - this is as I remember it from childhood and as I've always done it - I have never bothered with measuring the exact quantities... It somehow always works out 🙂 As I said, you might want to use your own tried-and-tested recipe, I'll totally understand.