Potty training made easier! Here are 5 hints for those parents who would love for their kids to have an easier transition from diapers to the potty (or toilet, for that matter) but have no idea where to start. These simple ideas have helped a lot in the so-called potty training in our home and I hope to make it easier for you too.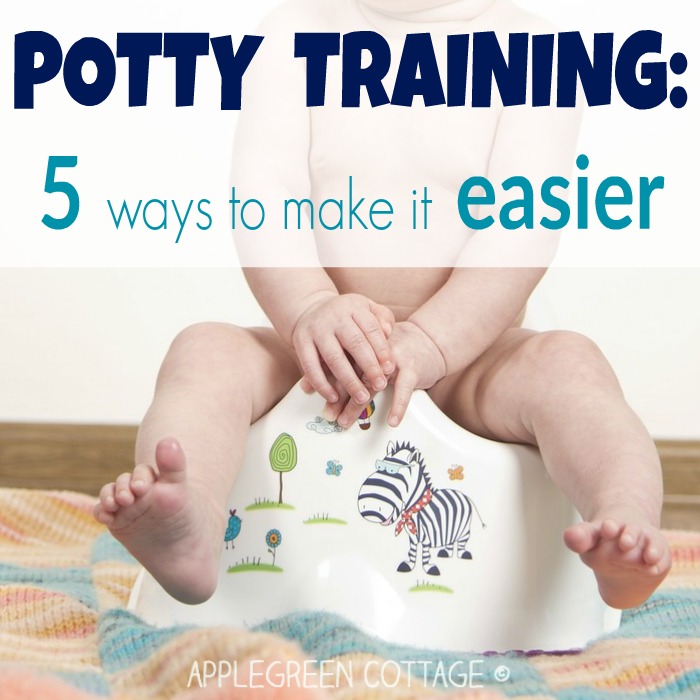 First off, I need to admit we've been incredibly lucky with our first kid getting off diapers.
Just into his second year of life he only used diapers during night (and even that one stayed dry most of the nights) and by the time he was three we had long forgotten about them. I feel like he was potty-trained practically BY HIMSELF. Possible? Nah, I don't know. What I do know is that I have been spared the hundreds of soiled pants moms talk about. OK, there were some tens of wet pants, but this is no issue at all, is it? (No cleaning, you just change the pants and you're done, right?)
I know we were just lucky. Apart from an occasional accident when the bathroom was too far or the game played too interesting for the toddler to notice he had to go, life was and is ..normal. 😀
I'd love you to have the same pleasant experience in potty training
though I know not everyone has it easy.
Potty training made easier!
What I can do is give a few hints to those who would like to have an easy transition from diapers to the potty (or toilet, for that matter) but have no idea where to start. I had no idea either. But these basic ideas I believe have helped a lot in the so-called potty training in our home:
1) Timing - is the child ready? 
I did not know for sure. But a potty caught the attention of our toddler when a slightly older playmate used it. And another one. So I guessed it was just about time to offer him an alternative to diapers (who'd like to soak in a diaper on a 90 degree F in the summer, anyway?)
2) Timing - time of the year
We went for it during summer, our toddler was 2 years old. It's warm during the summer, clothes are stripped to the minimum, especially if you're on vacation at the seaside (I don't know how it is like in the USA, but toddlers run around mainly naked at the seaside camps at the Adriatic..) accidents go nearly unnoticed, everything is much easier than during winter.
3) Comfortable clothes ...and good toilet equipment
Pants should be easy to take off, no buttons or belts please. Just an elastic waistband will be perfect.
This post contains affiliate links, meaning I may receive a commission at no cost to you when you choose to purchase something using these links. Thanks for your support.Oh, and it doesn't hurt if your kid likes his potty - be it in his favorite color, having a favorite cartoon hero on it (Bonus hint: you can simply get a sticker to add to a totally regular potty, it works just as well as those potties that are expensive just because they have a Disney cartoon character on. And you can exchange it regularly, it will be even more interesting for the toddler!). But choose the potty model wisely: from what I've seen in the market, some potties are really small, some look quite uncomfortable, so choose one you think will fit.
4) Accidents are no big deal.
Off course they will happen. What I did was I tried to make them go hardly noticed. In my honest opinion, what's the fuss?  Wet pants, so what? I merely calmly and discretely suggested to the kid that we change the pants, so he doesn't need to have wet pants on. OK? 'OK.' was his calm response. Calmly and privately. No need to advertize it. Why do I state this? How would I feel if someone bluntly and loudly announced my failure in something? Uncomfortable, right? I wouldn't want to confide in that person anymore. I'd rather go to someone who'd maybe notice I made something wrong and would just help me. Quietly, with understanding. Having said so, I need to state that this is no expert opinion, just a feeling and a personal decision, It does not need to be your opinion. But I firmly believe that being calmly supportive is still a major step towards a successful potty training.
5) Success is a big deal.
Praise, be happy about every achievement, each dry diaper in the morning (we still use diapers for during the night, at least until the winter is over...). Some parents use candy as reward, we didn't need to do that. But the choice is yours. If candy works and nothing else does, so be it. (In my humble opinion, the kids will have had a lot of candy in their lives, so what the heck if some of it is eaten for a good cause 😉
As we didn't need any sweets, that doesn't mean there was no reward. Oh, there was! We made a lot of fuss over successful toilet time. And still do sometimes. Games, competition who gets the first to the toilet, or including toilet into the daily plans ('We'll have breakfast, then you'll go potty, and immediately afterwards we can go to the park, OK?')
6) Make it FUN. 
This applies to two phases:
- at the start. Playful and cheerful goes far.
- later when the novelty has become routine (and is not so much fun itself to a kid)
 Later (but this is no training phase anymore, I need to say), it might not be so interesting anymore to go to the toilet in the morning, especially if the kid would like to sleep just a bit longer.. So we make it a competition. I start slowly, stating I need to go to the toilet and recognizing 'I might be the first one to manage to the toilet!' No need to say more, the toddler jumps up, fighting to get out of his bed as quickly as possible and off to the toilet. This has been working for weeks, I believe we'll need to figure out something new when this competition-effect wears off.