A family day out with your kids can be the best present you can give to them, so you might plan an outdoors activity together. To make it even better, you might make these simple DIY boats for kids to play with. Heading to the nearest waterstream can be an adventure in itself!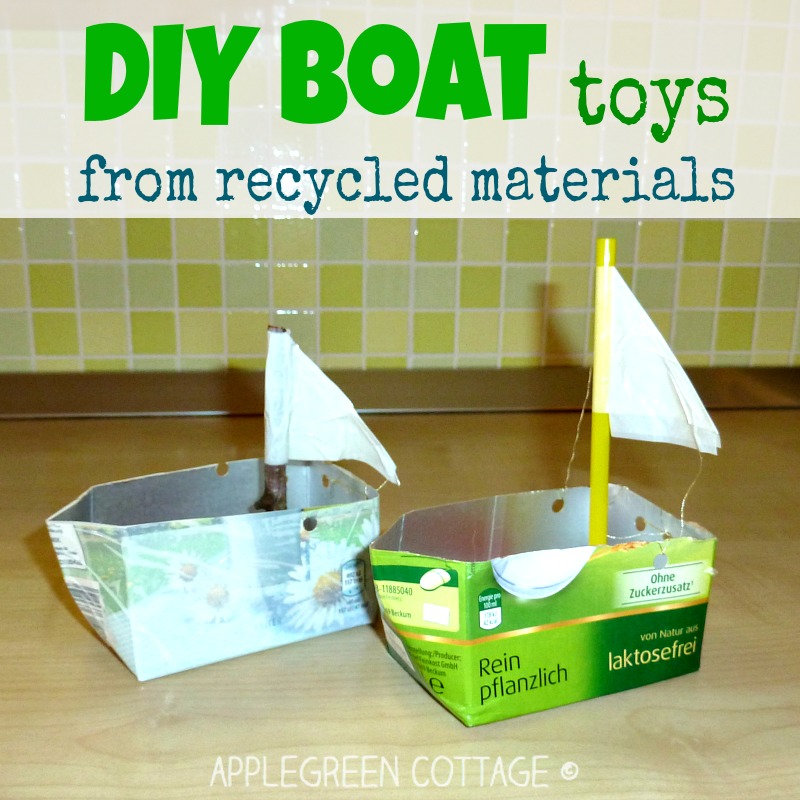 A DIY sailboat from repurposed materials or two could be all you'll need for a fun day out in the nature with your family.  I made these two within minutes - and if I can do it, you can too! Have a look at this simple how-to!
But first off, I might need to clarify why there are candles in those DIY boats: it's a local tradition of placing boats with lit candles into a waterstream to welcome spring. It's an old custom dating from times when craftsmen placed little wooden boats onto the river with lit candles, celebrating the fact that with the arrival of spring, it was no longer necessary to work with lights on.
You can off course leave out the candles 🙂 Now, let's make some cute little boats!
YOU'LL NEED: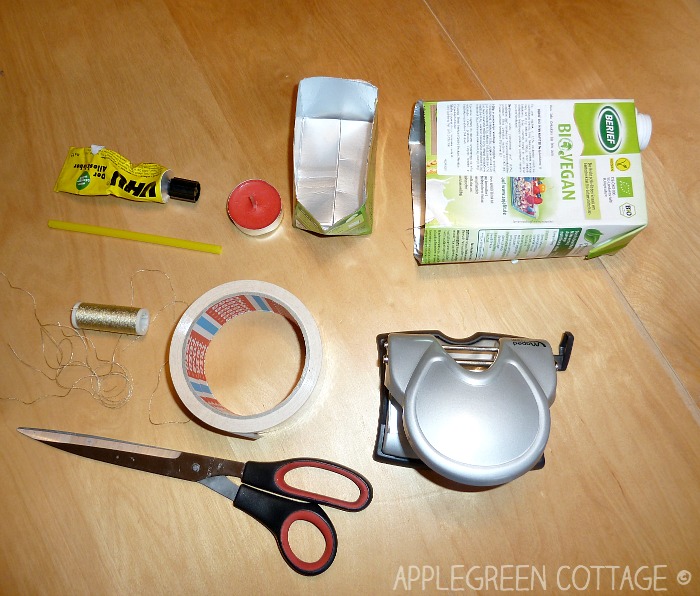 scissors, a hole punch
two-inch wide packing tape or vinyl tape (I used white, but can be in any color)
liquid glue (or glue gun would be even better)
twine/thread
an empty juice box (or milk carton)
a drinking straw or a stick of any kind
a tea-candle (optional; if you do use it, the activity will need supervision by an adult)
Originally, I found the DIY boats on a Slovenian page -
here, at MetiBeti blog
. I loved the use-what-you-have principle and adjusted them to suit what I had in mind.
HOW TO MAKE A BOAT from repurposed materials
1) Make the
sail
. The easiest way to make a simple sail: follow the photos, you can't miss: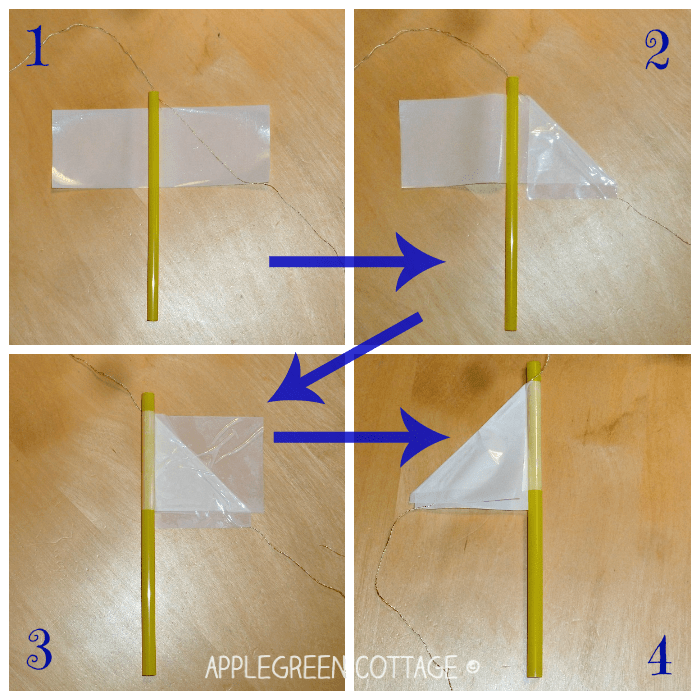 2) Now, if you choose to use a candle, you'll need to attach the straw to the tea candle, using a piece of packing tape, like this: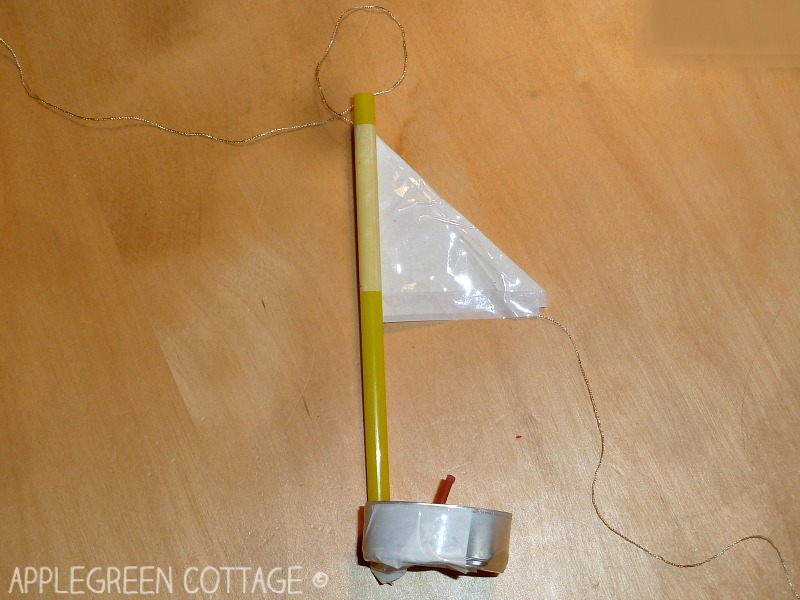 BE CAREFUL: I need to point out that if you do use a candle, it's better to opt for fireproof materials. A stick made of fireproof material (and a fireproof twine as well as another type of packing tape) might be a better solution. I'm not saying it catches fire (and it didn't when we lighted it) but I'm just saying it's better to be safe than sorry.
(I'll explain some other time why we used the candles in these sailboats. Thing is, it has nothing to do with summer 😉
3) MAKE THE BOAT SHELL: Now, use the bottom quarter of the juice box - cut it so you'll get the 'boat shell'. You might want to punch several holes around the upper rim of the boat shell, to attach the 'sail ropes' later.
Then glue the sail (here: with the candle) to the bottom of the boat shell, using liquid glue or your glue  gun, like this: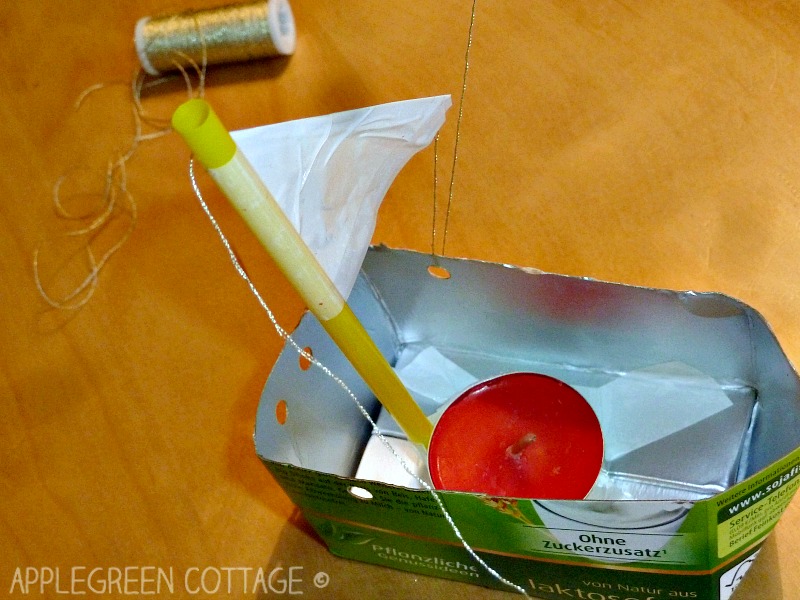 4) Attach the twine to the boat craft using the punched holes: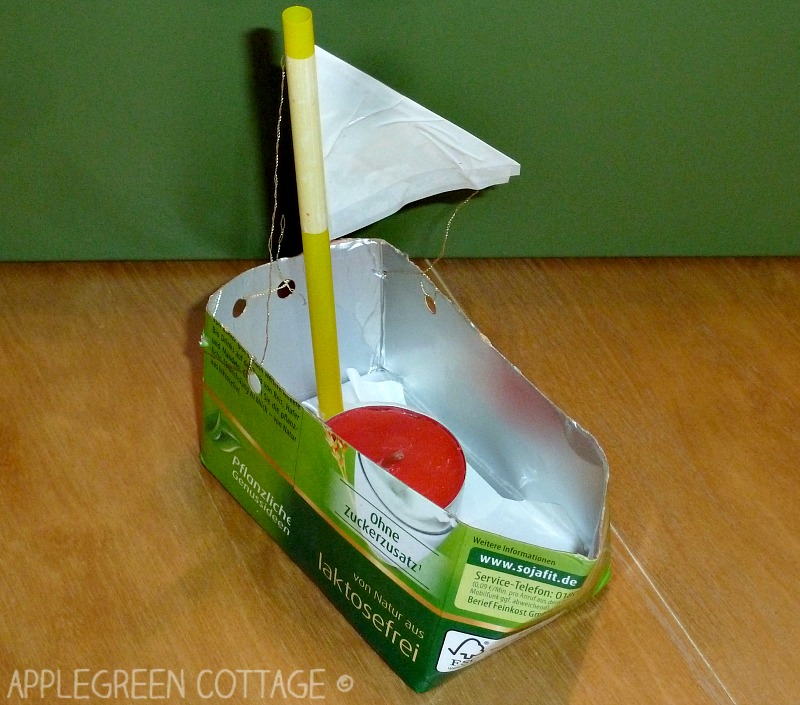 Remember: If you'll decide to use the candle, and even light the candle when having the boat sail on the water, the entire activity needs to be supervised by an adult. Children are never allowed to play alone with fire, off course.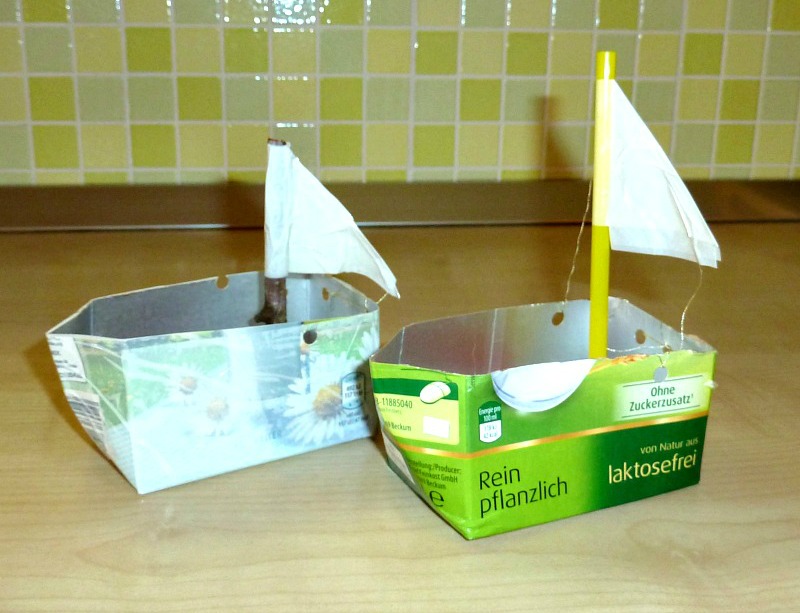 Done! As you'll see, I made another one using a wooden stick, and I felt it was even better. You can use any materials you like - it's best you just look around and there's a high probability you've already got everything you need. No additional cost, easy and made in a really short time.
Now just head to the nearest waterstream with your kids, and let the summer fun begin!
MORE POSTS YOU MIGHT LIKE: