These 15 patterns are roughly a third of my entire shop. And growing. And to be honest, sometimes readers mention that it's insane what a huge part of my shop I've made available as free-for-subscribers. But..
It's a Win -Win!
I sincerely want you to have these patterns - and get creating!
Because - firstly, I love designing patterns for my readers. It's what I love doing. It's been a hobby for years before it became my business. (My story here.) And secondly, because I'd love to help you make sewing fun! Sometimes, it may be hard to start creating. You need something, and someone, to pull you in. A pretty project you cannot say no to - or 15, if you're like me! 🙂
Easy and adorable projects - these can be all free for you. Before you know it, you'll find a project you'll just WANT to try!
Those who join the mailing list will receive a 100%-off code that will make certain 15 patterns free if they use the coupon. Please mind that only the eligible patterns are free, not the entire shop. Still not bad, it's a third of it. 🙂 Welcome to the journey, have fun!
New to this blog? You'll get the password to the blog Freebie Library when you join the newsletter HERE. It's all done in one single signup, no need to do it twice 🙂
The free resource library at AppleGreen Cottage has more subscriber-exclusive freebies
Just some of the additional Blog Library goodies: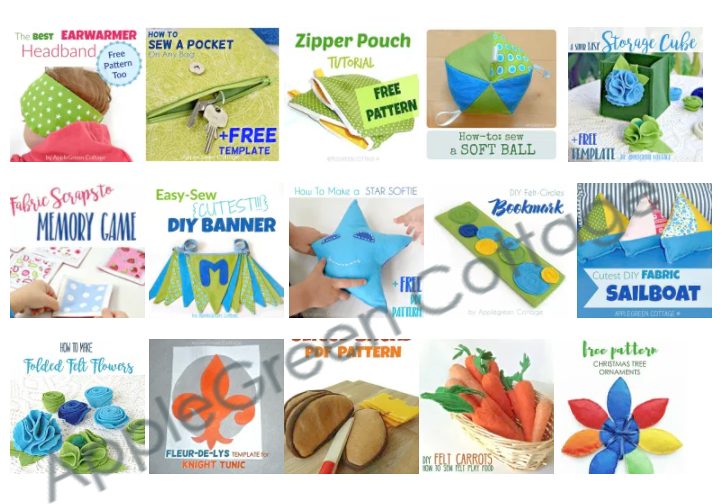 How to access the AGC Freebie Library
First, join the newsletter HERE! On subscribing you will get our latest password to the AppleGreen Cottage Freebie Library (it's also at the bottom of AGC weekly newsletter)
Visit the Library ENTER blog LIBRARY with password HERE.
Enjoy!

See you on the other side, enjoy!
Damjana