This post features all the tester projects from before the new pattern release when we were all checking out where we can make the SILA Duo Zipper Pouch pattern better, and the sewing process smoother. I'm sure their versions of this flat bottom zipper pouch pattern will inspire you in your own sewing journey.
This beginner-friendly pattern is a 'plus-one', and it comes with a tweak: it might just as well become your new favorite flat bottom zipper pouch pattern to sew. This post will show you the pattern testers take on it. So many great ideas!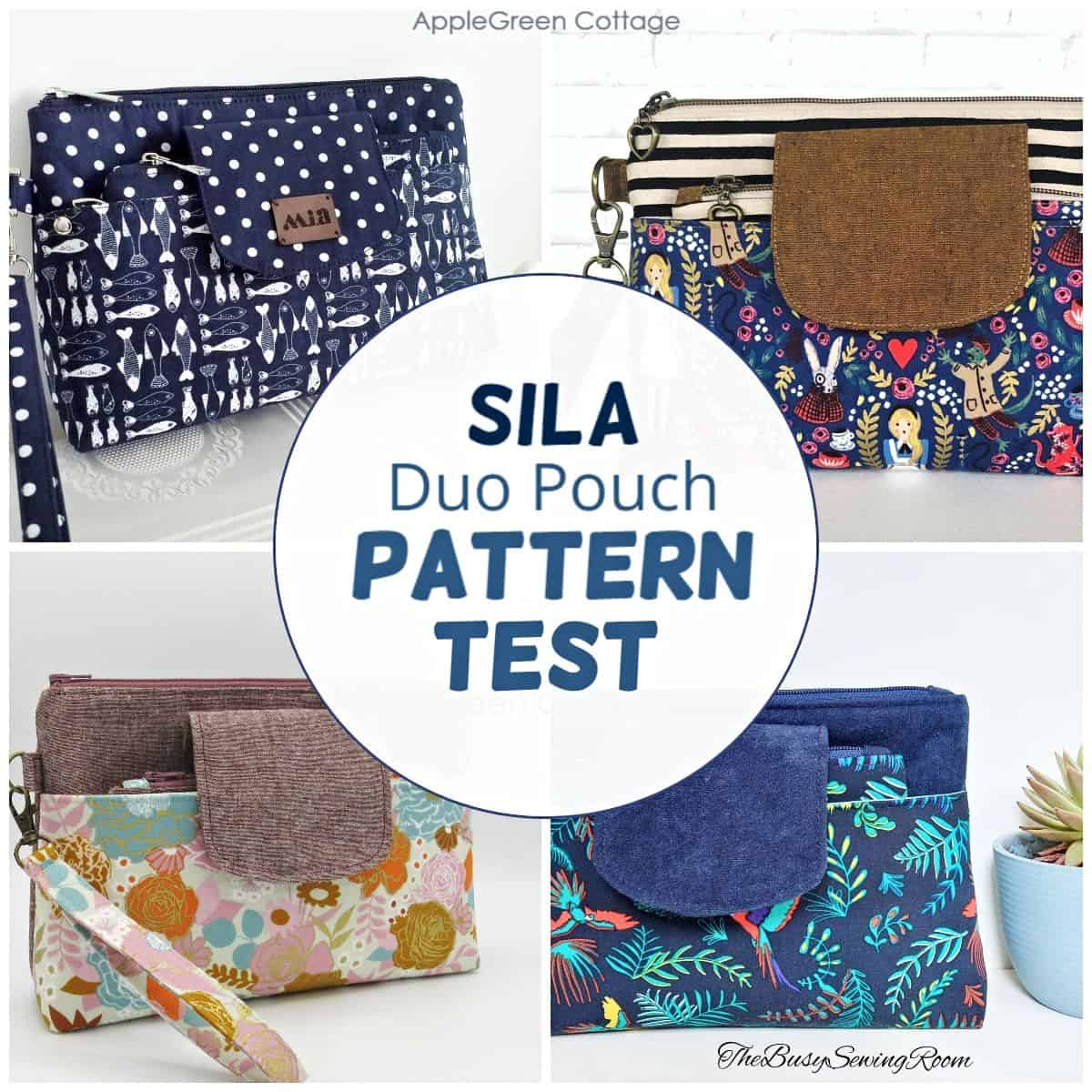 This is the SILA Duo zipper bag pattern we will be talking about: actually, it's not just one flat bottom zipper pouch pattern - there's a handy additional flat pouch added, aka removable pocket!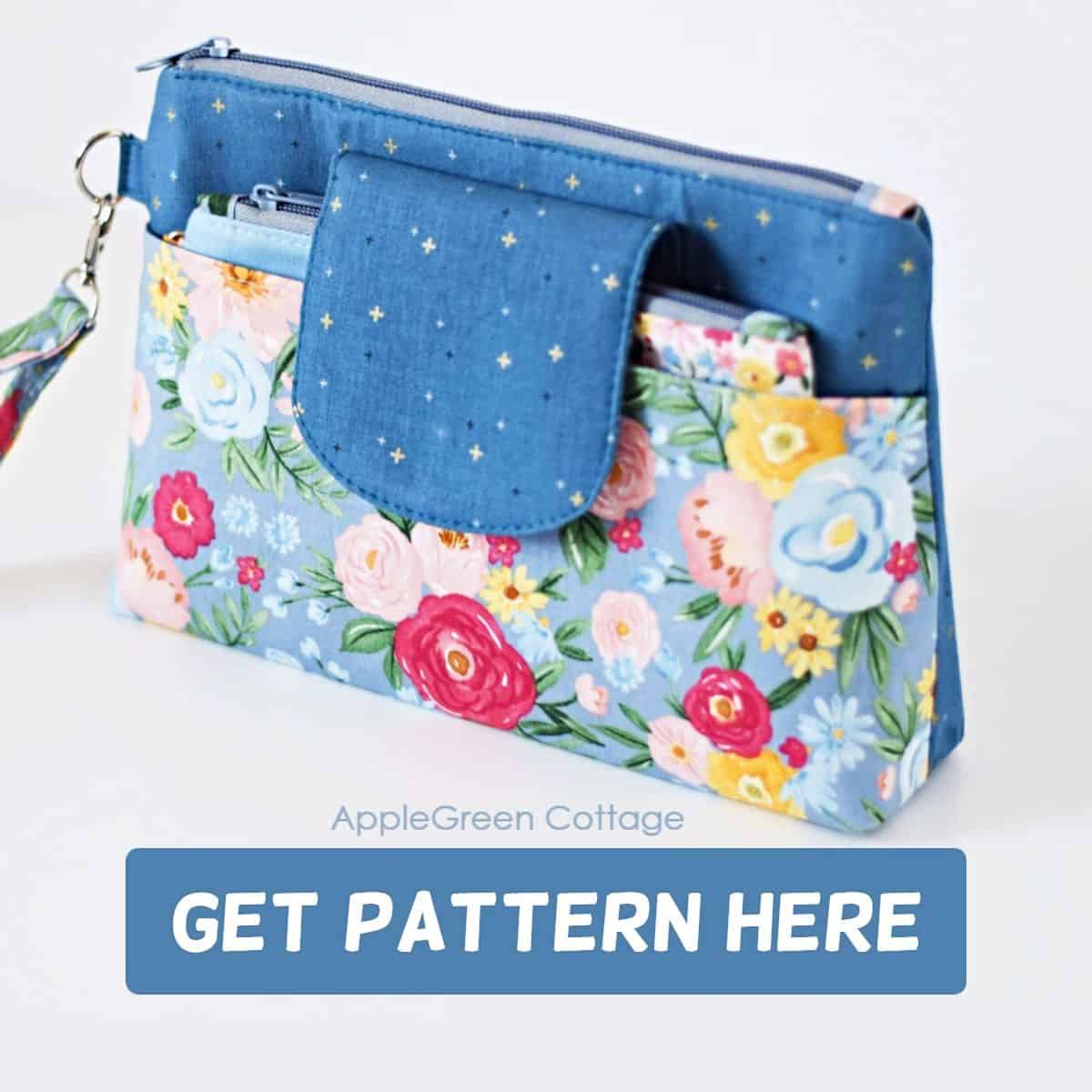 Pattern Feature VIDEO
Not a fan of scrolling through the post? Sit back and watch this slideshow:
But first, I'd like to take this opportunity to thank my amazing team of testers. I will always, always feel such appreciation for the time you gifted to me, as well as your amazing sewing and testing skills. Without you, AppleGreen Cottage patterns would not be nearly as good, and popular, as they are now. <3
Without further ado, let's see them all!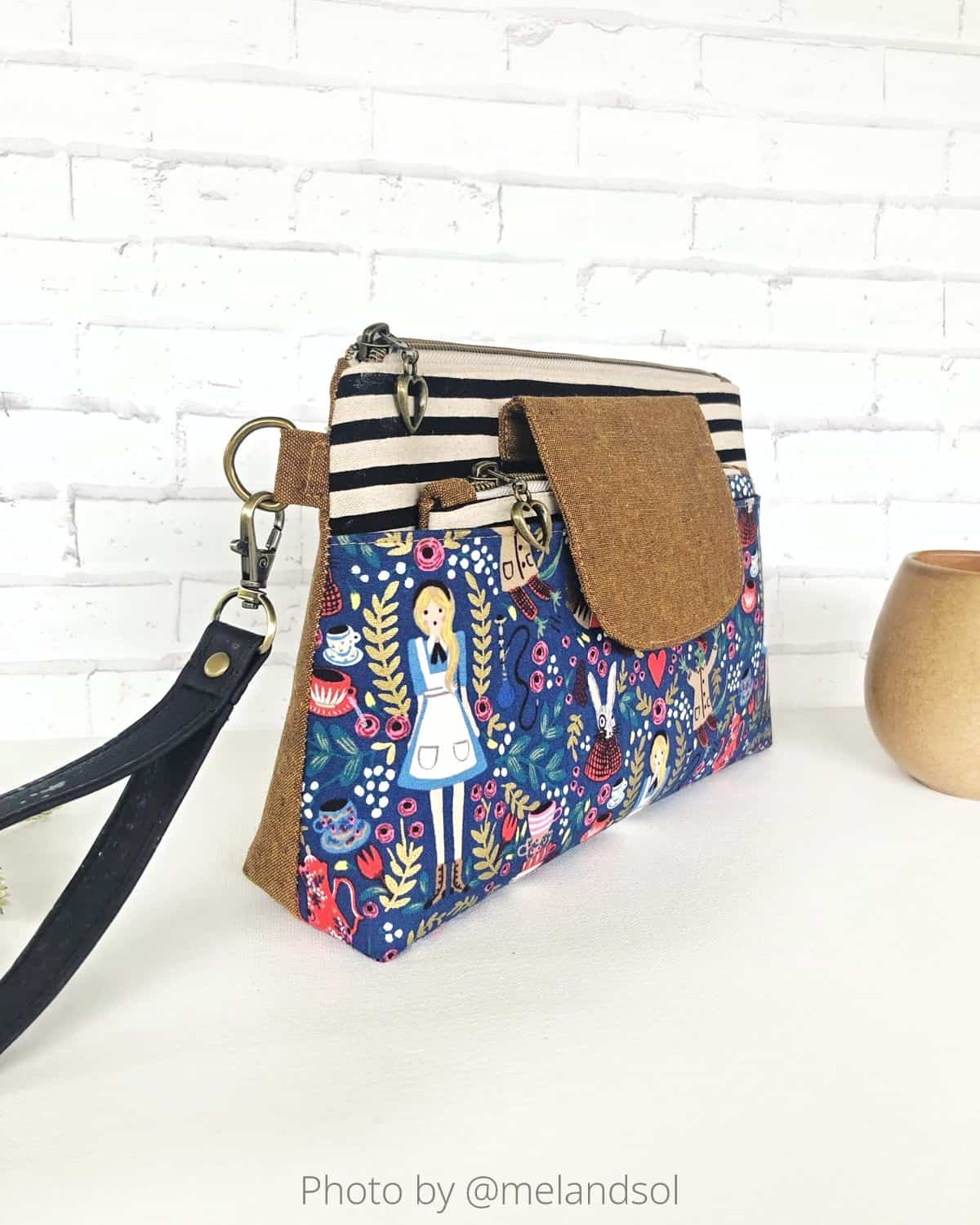 Mellissa at @melandsol made this SILA Duo set. Love it! Perfect fabric placement - that beautiful Alice in Wonderland print just got even prettier, and with the antique brass hardware matching the gold print. I just have to show you one more photo: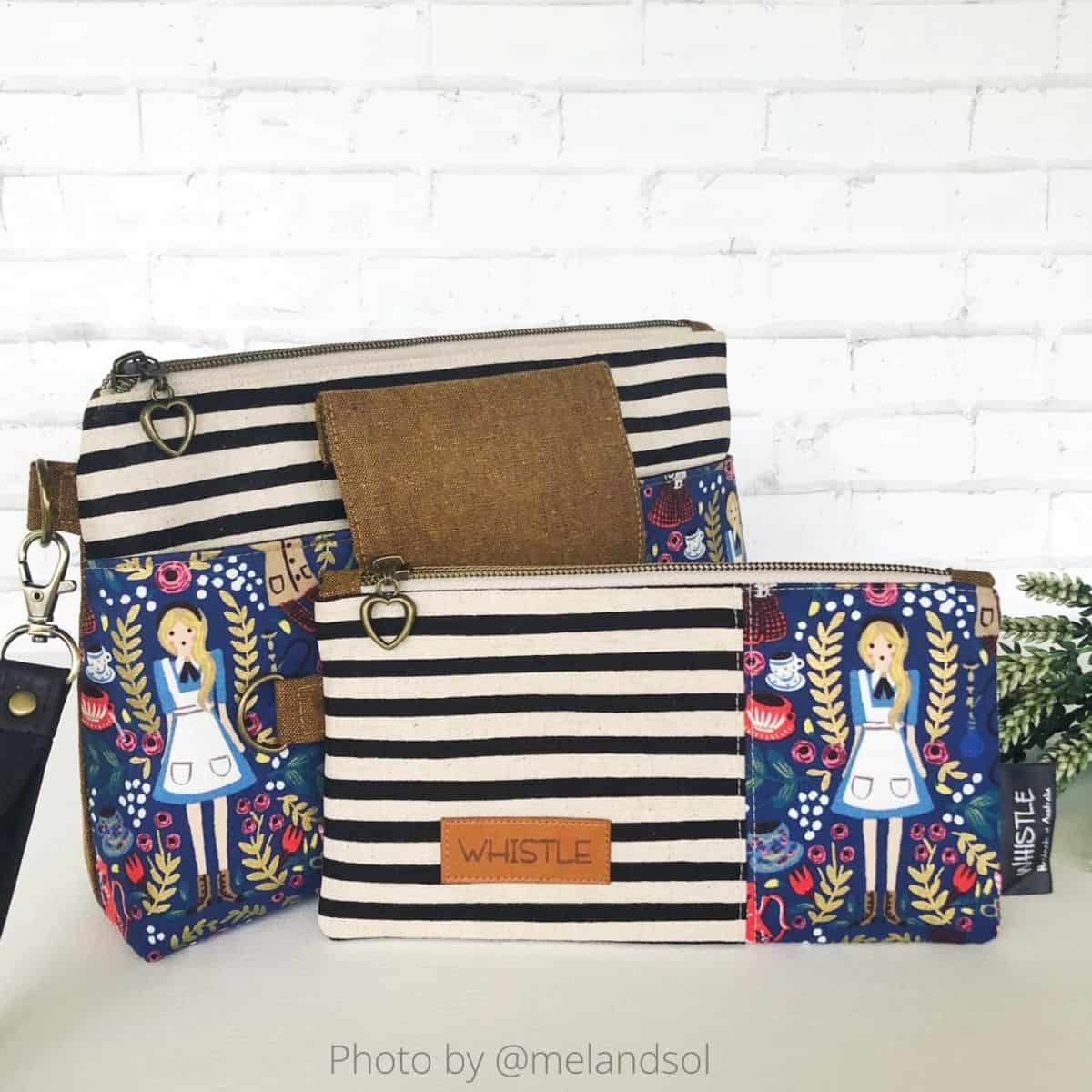 'This was fun, and I really love the two in one design for its uniqueness in the pattern market.'

Mellissa @melandsol
THE SILA DUO PATTERN NOW HAS A VIDEO!
NEW, a great video sew-along tutorial, filmed by Kris @SewNotes - here:
If you're a visual learner and want to sew up the SILA Duo zipper bag pattern - this SILA Duo sewing video sew-along is for you. Kris thank you so much!
The SILA Duo Wristlet in cork and canvas
Noelle @olddogsewing made this in beautiful cork and Kira Kira Girls Oxford print - stunning!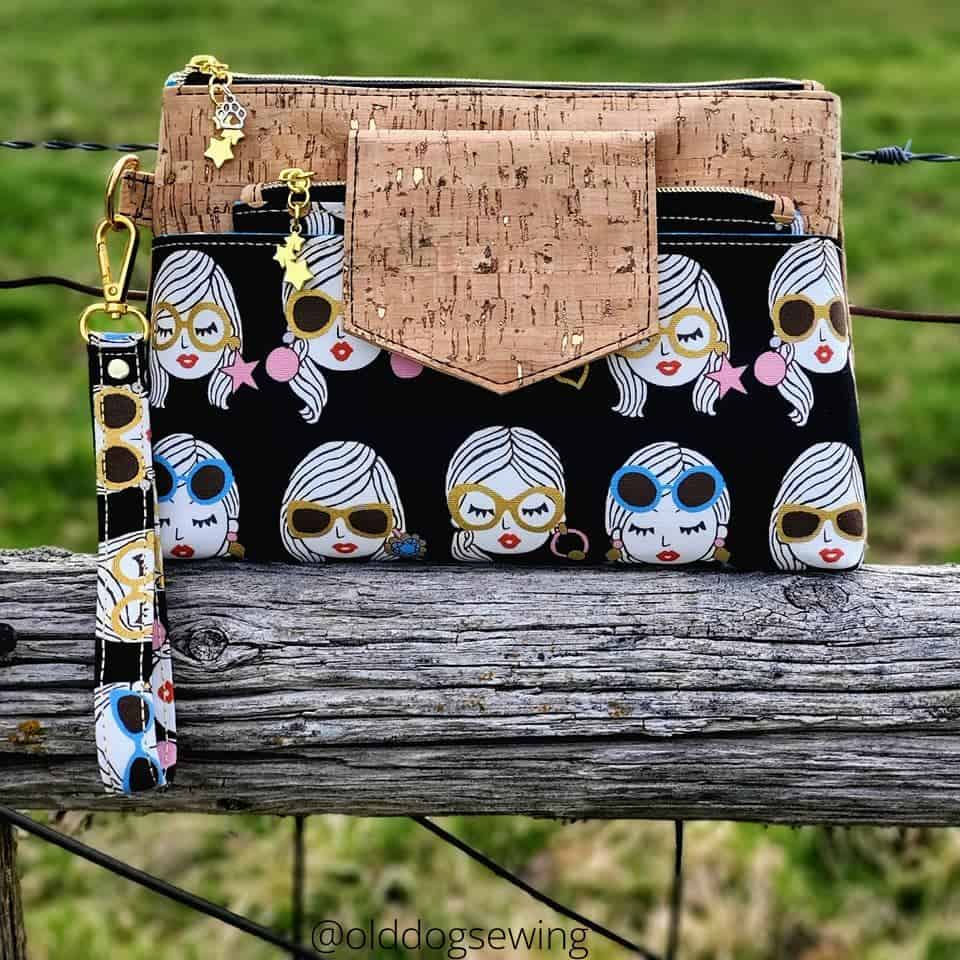 I love all the details - that cork with gold accents, paired with the gold print cotton, the zipper matching - everything just falls in place! And those zipper charms
Noelle added two rivets to the underside of the flap for security - smart!
Such a fun pattern with so many possibilities!

Noelle @olddogsewing
A versatile pattern, selling well.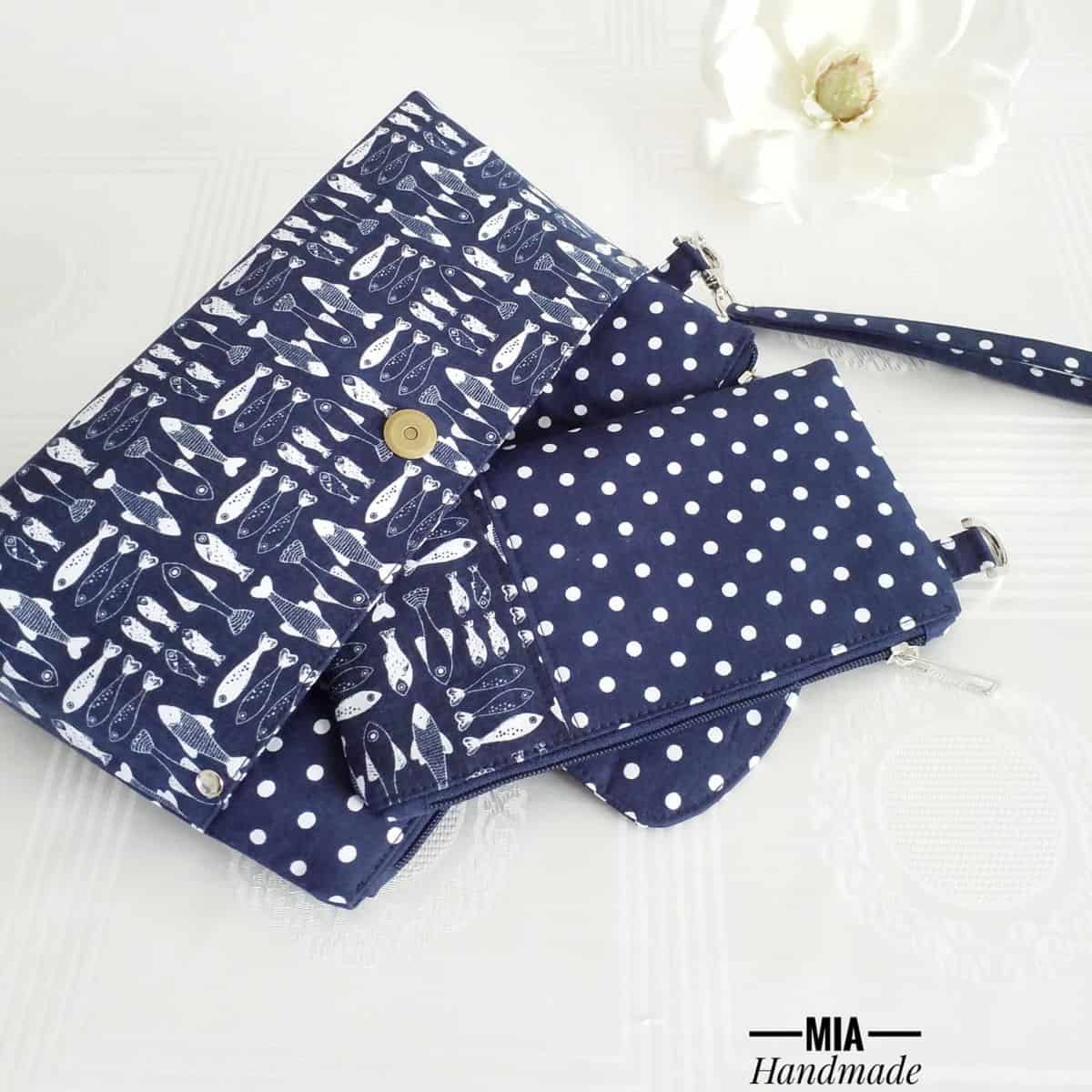 If you've been following bagmaking groups, you'll recognize Maria's signature style, beautiful photography, and the stunning bags she creates - this time, she opted for a beautiful, maritime blue combination. Follow her on IG @miacreates
'Absolutely love the Sila Duo Pouch. It's useful for so many things.'

Maria at @miacreates
She made a good point: not only did she say her tester SILA Duo had sold immediately, even before the new pattern release, she also got requests to make additional Small SILA pouches: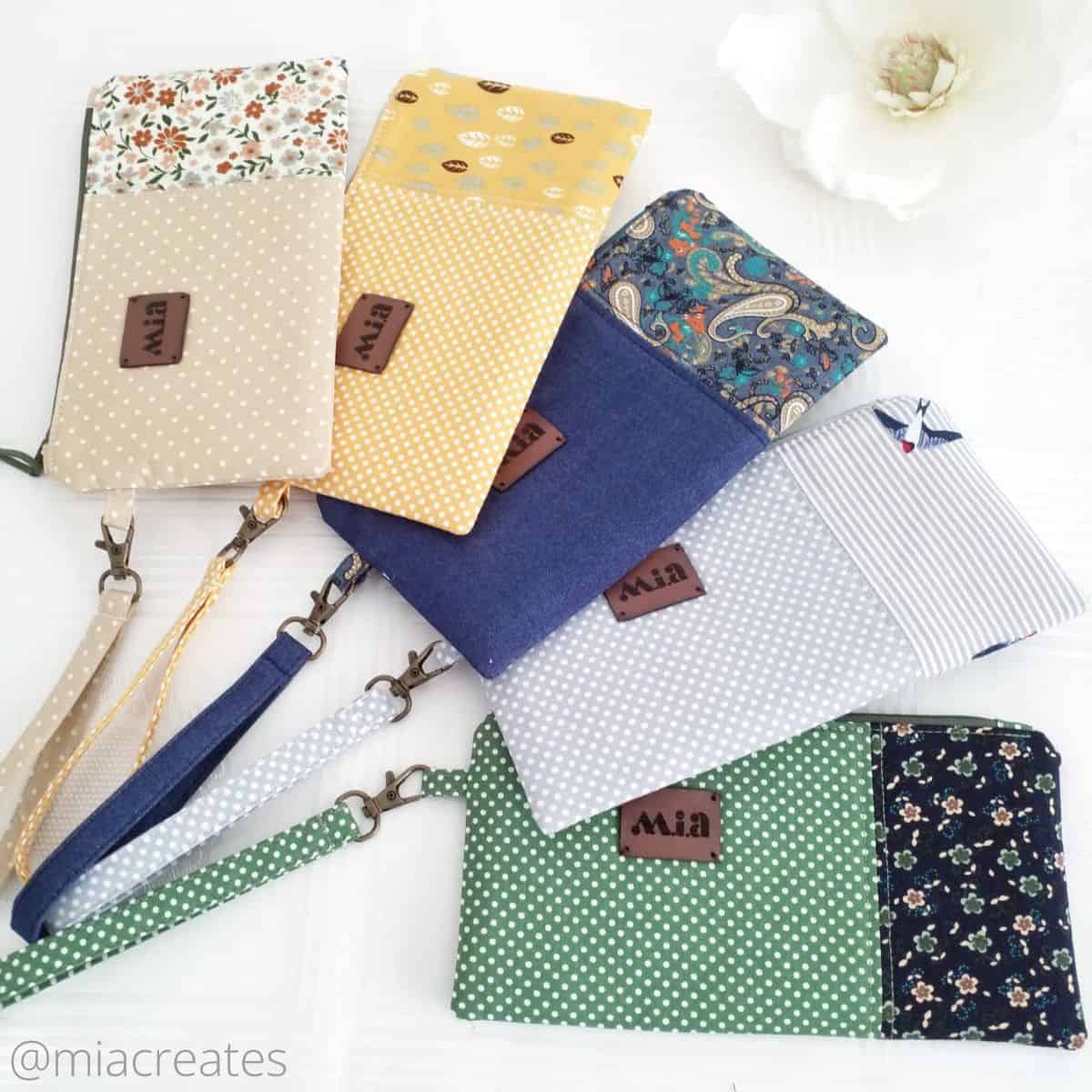 It turns out that even the small SILA pouch alone works great as a phone pocket. These have been indeed selling like hotcakes, since the pattern release!
Next stop, Cara at @earlybirdstitches: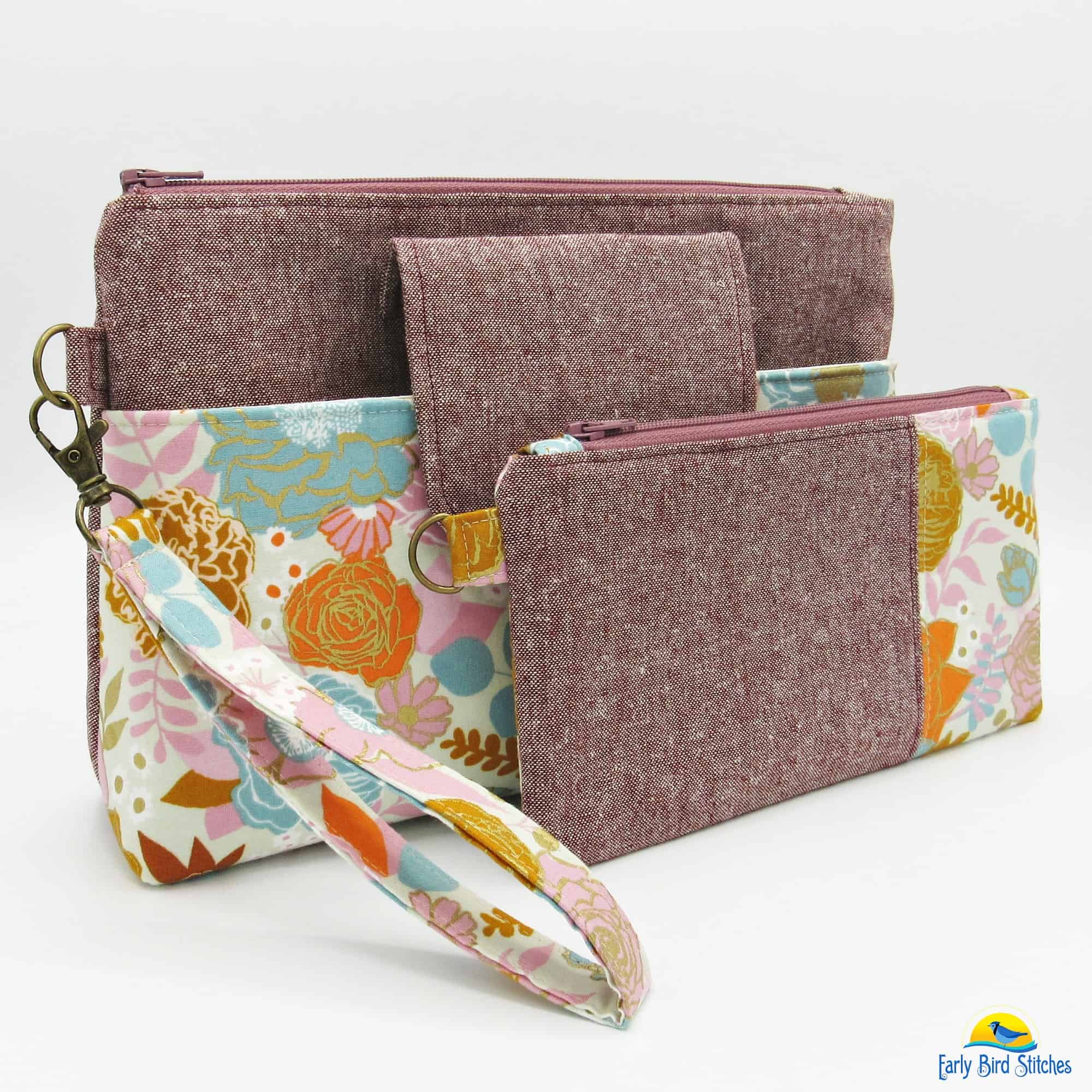 Cara used Essex linen and this gorgeous floral from Melody Miller for Ruby Star Society. I love her fabric choices, her accurate sewing, and her photography style!
Reducing Bulk
We got you covered if you're working on a home sewing machine and would like to go with as little thickness as possible: there's a clever and easy workaround to avoid bulk in your seam allowance, on any sewing pattern for crossbody bag - or any other type of bag.
There's a very smart tip in the pattern to minimize bulk, I will definately use this in other patterns!

Noor Raats, member of the pattern testing team
And this is what I also wanted to show you: the magazine-cover-worthy photography by Noor at @noor.raats: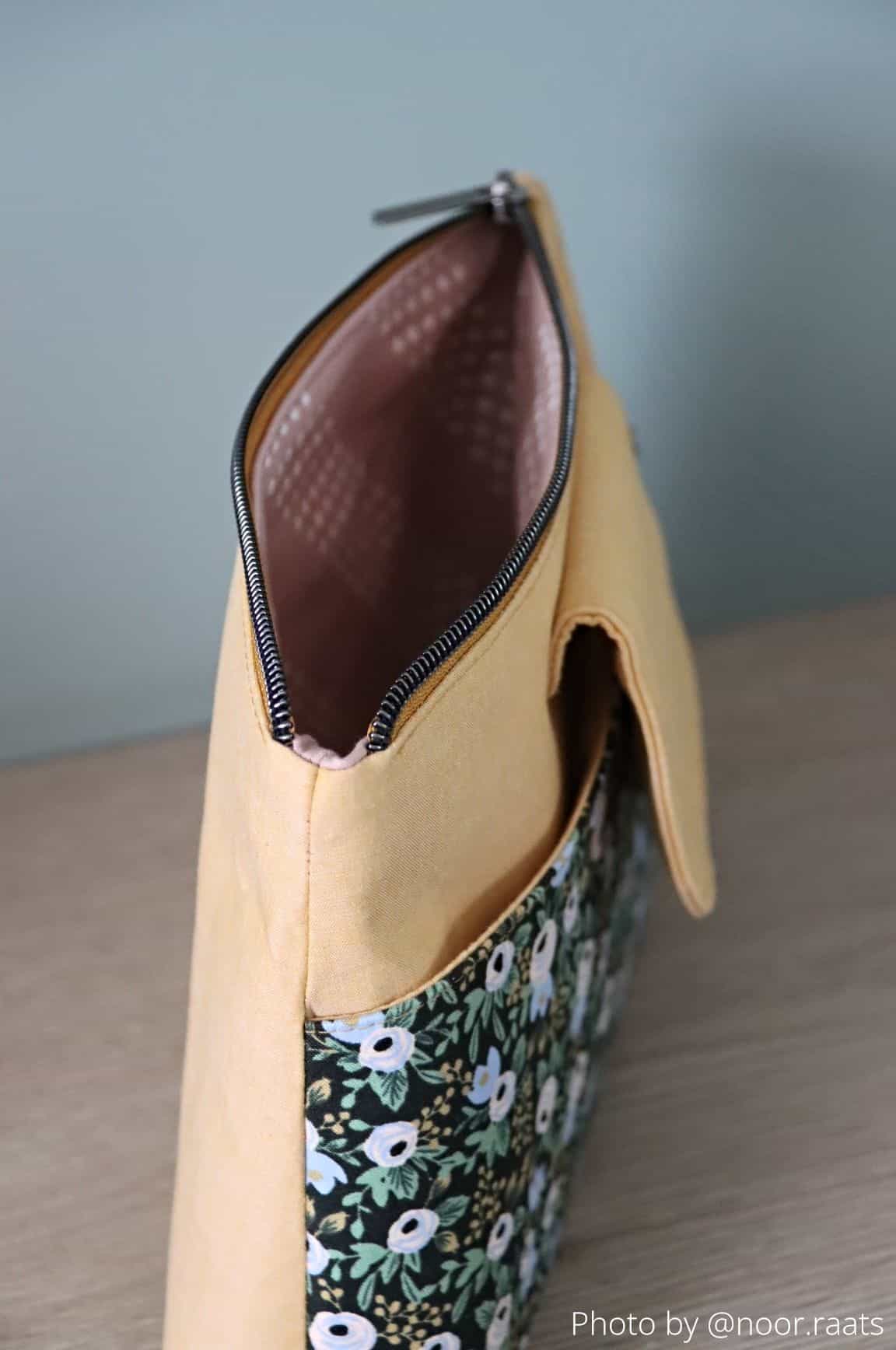 Isn't it gorgeous! She paired the subtle cotton chambray with the lovely Primavera print from Rifle Paper Co and Cotton and Steel fabrics. What a stunning combination - I couldn't think of a better way to bring out the best of the design...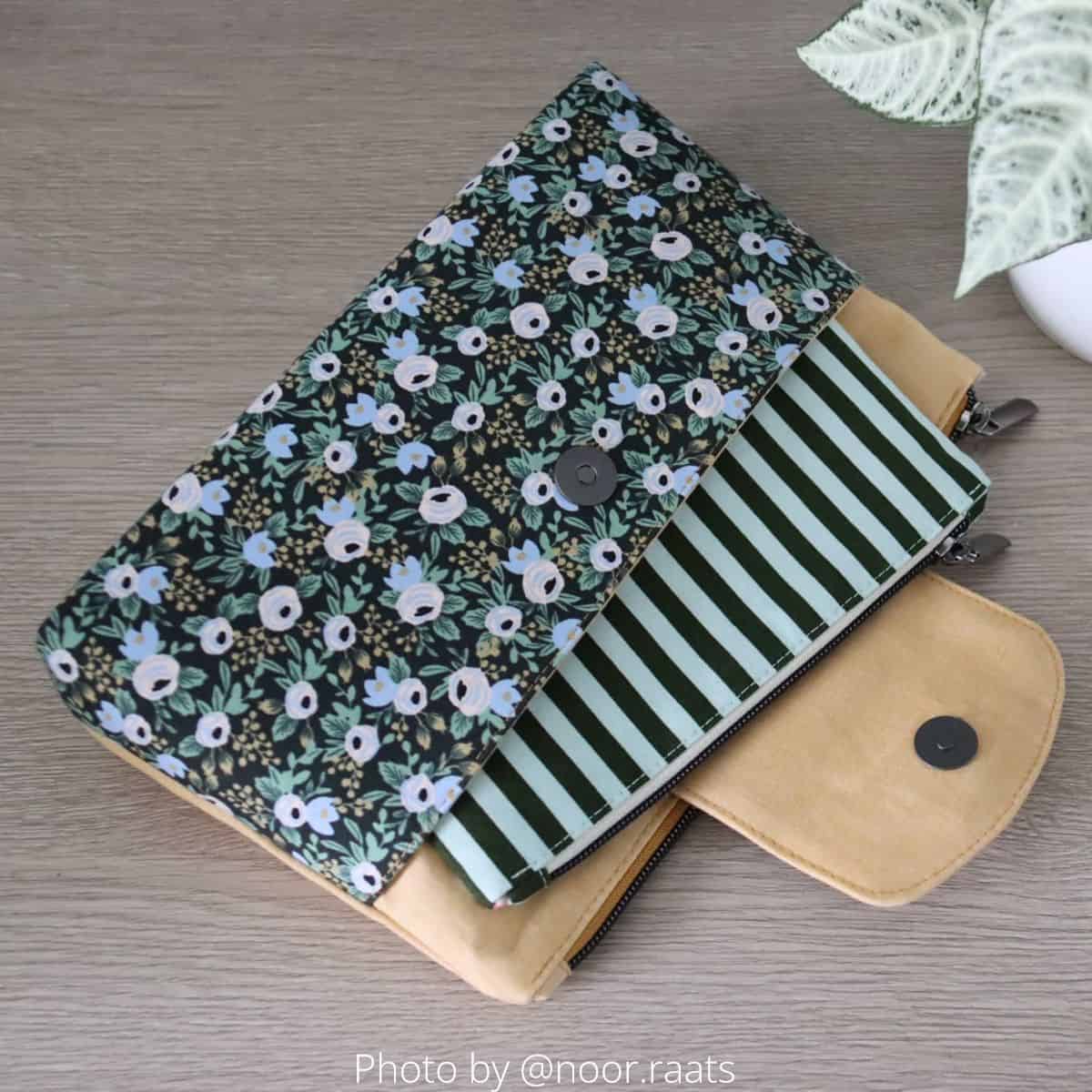 How about sewing a luxurious handmade cosmetic bag set?
Let me show you two more stunning SILA Duo sets that make beautiful cosmetic bag sets: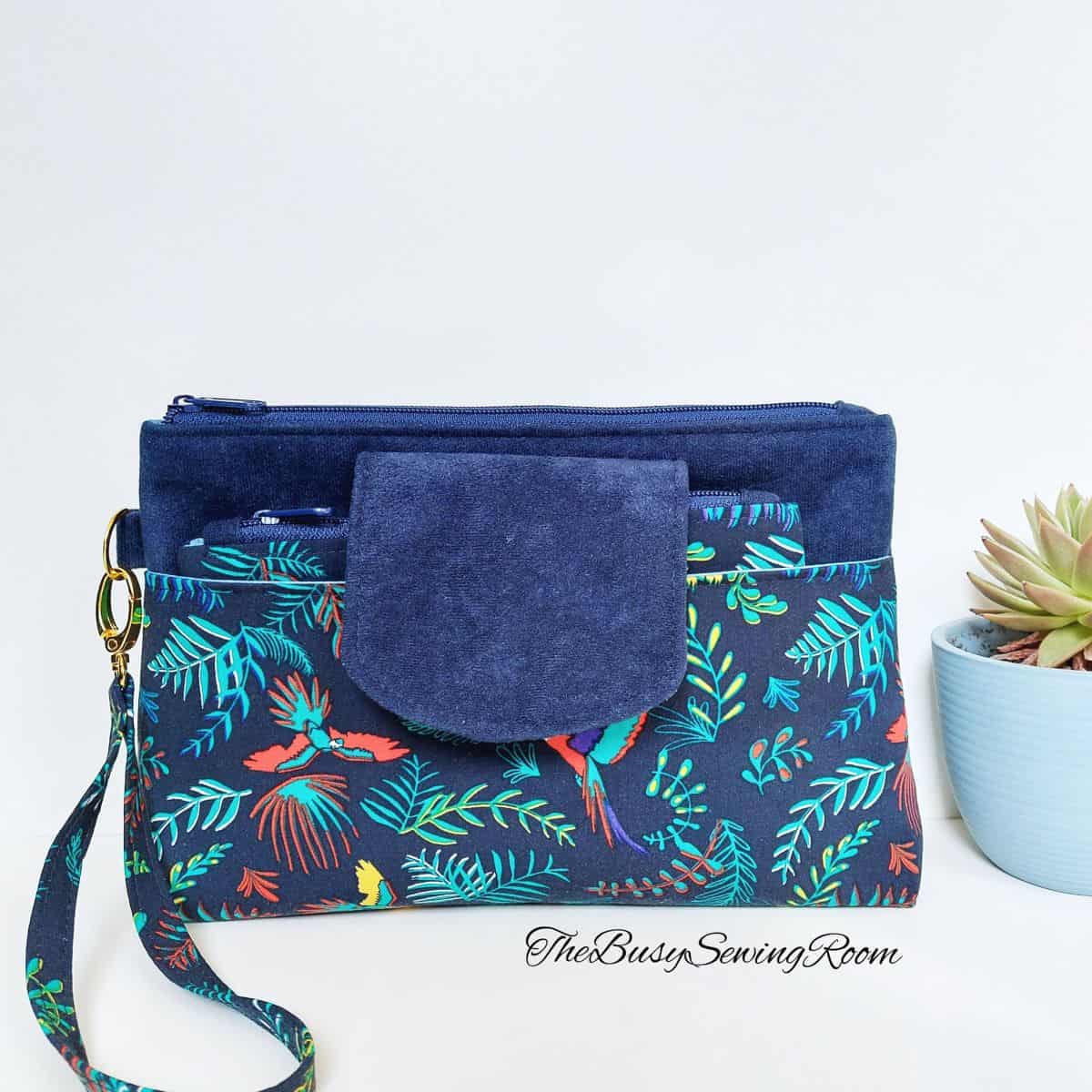 Ulrike from @thebusysewingroom paired an Indian cotton print with navy teddy suede, which looks heavenly soft, and the polyester satin lining gives the bag such a luxurious feel. What a beautiful set, that seems exactly what I'd like as a pampering cosmetic bag set!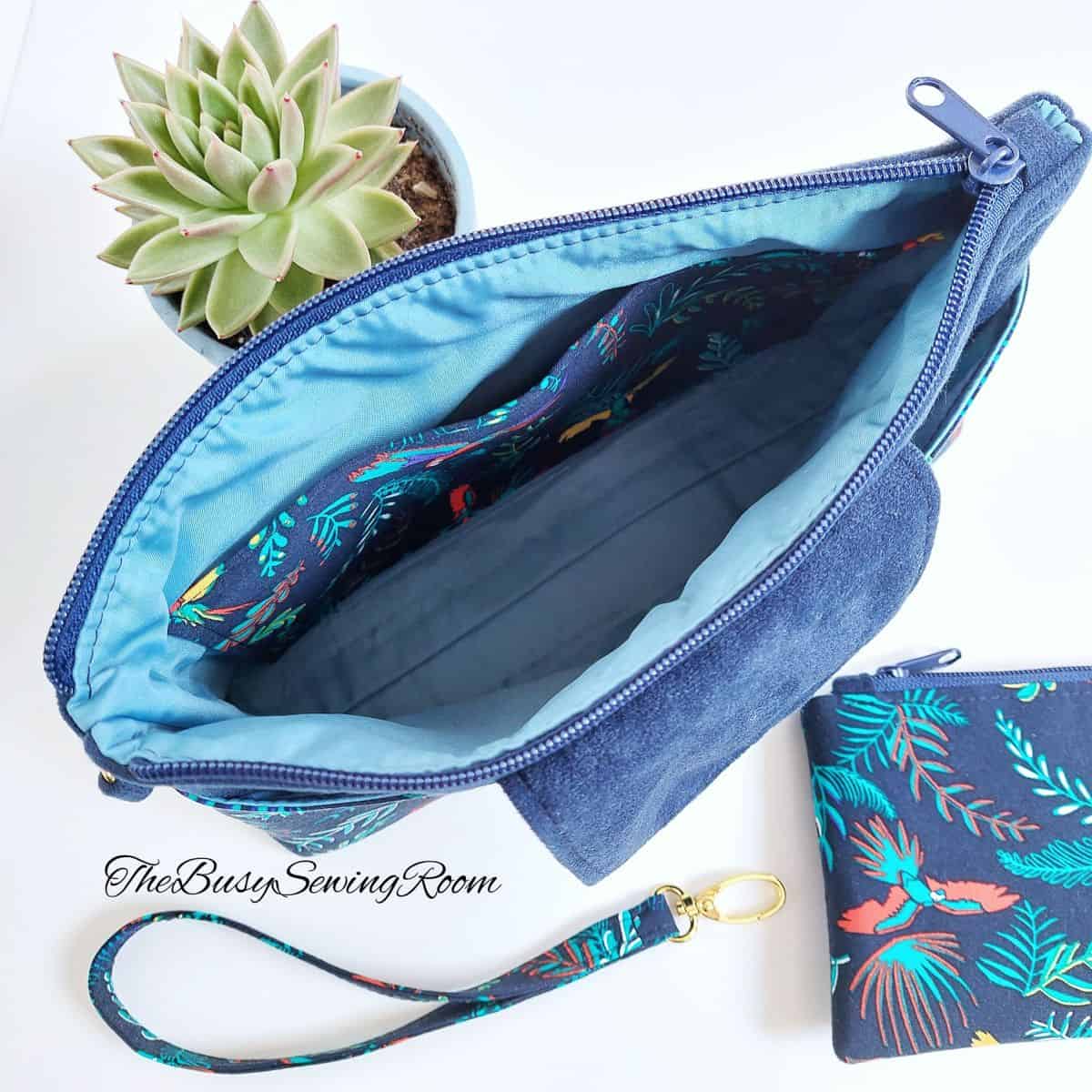 Another stunning SILA Duo zipper bag set was sewn by Moira - beautiful, classic, and modern, with the pretty scales print and Essex Linen.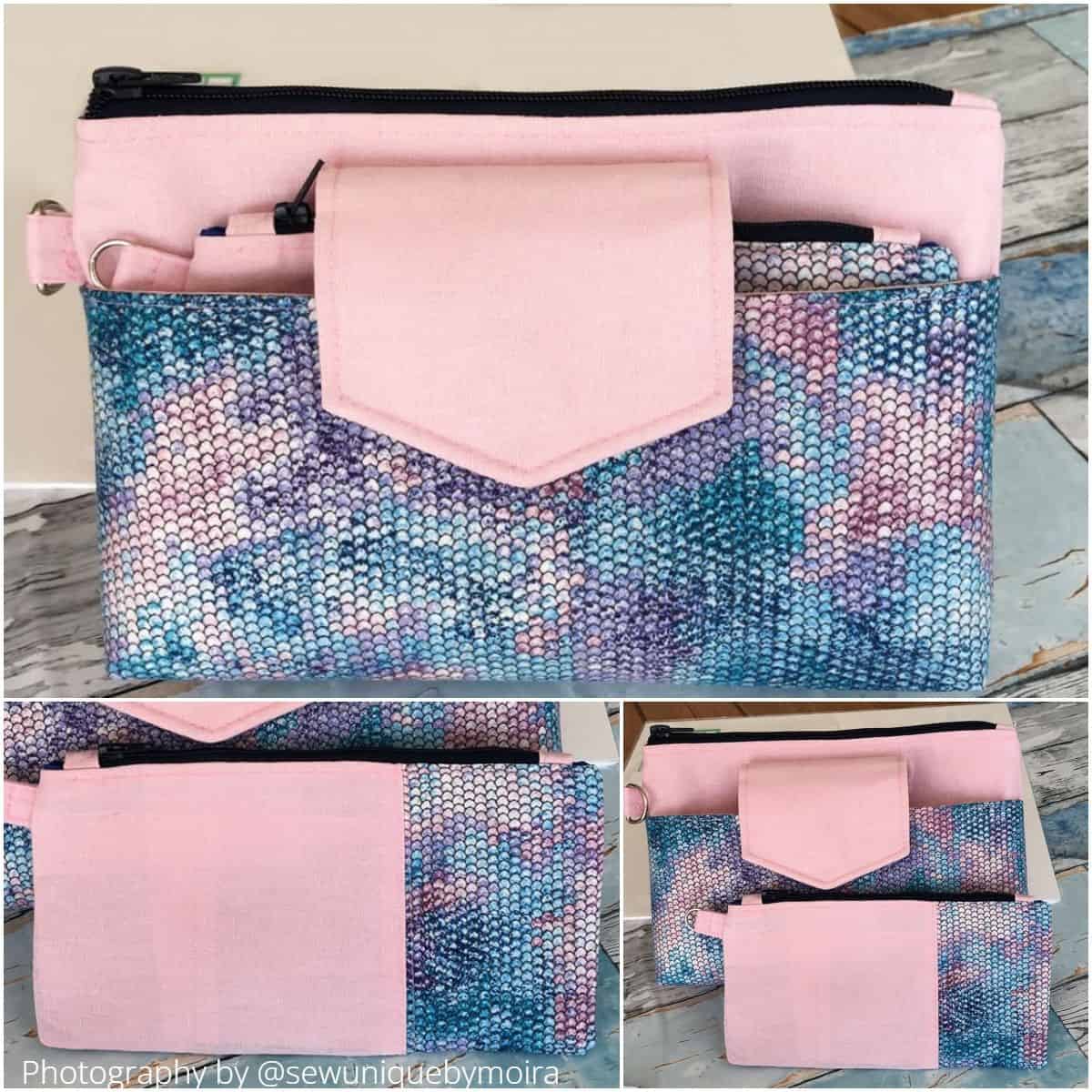 You'll find Moira's makes here on FB page Sew Unique By Moira - make sure to check out photos of the bags she's made - the page's current cover photo is gorgeous!
And A Quilted Version
As usually, I tried to make one of my own tester pouches a bit differently, this: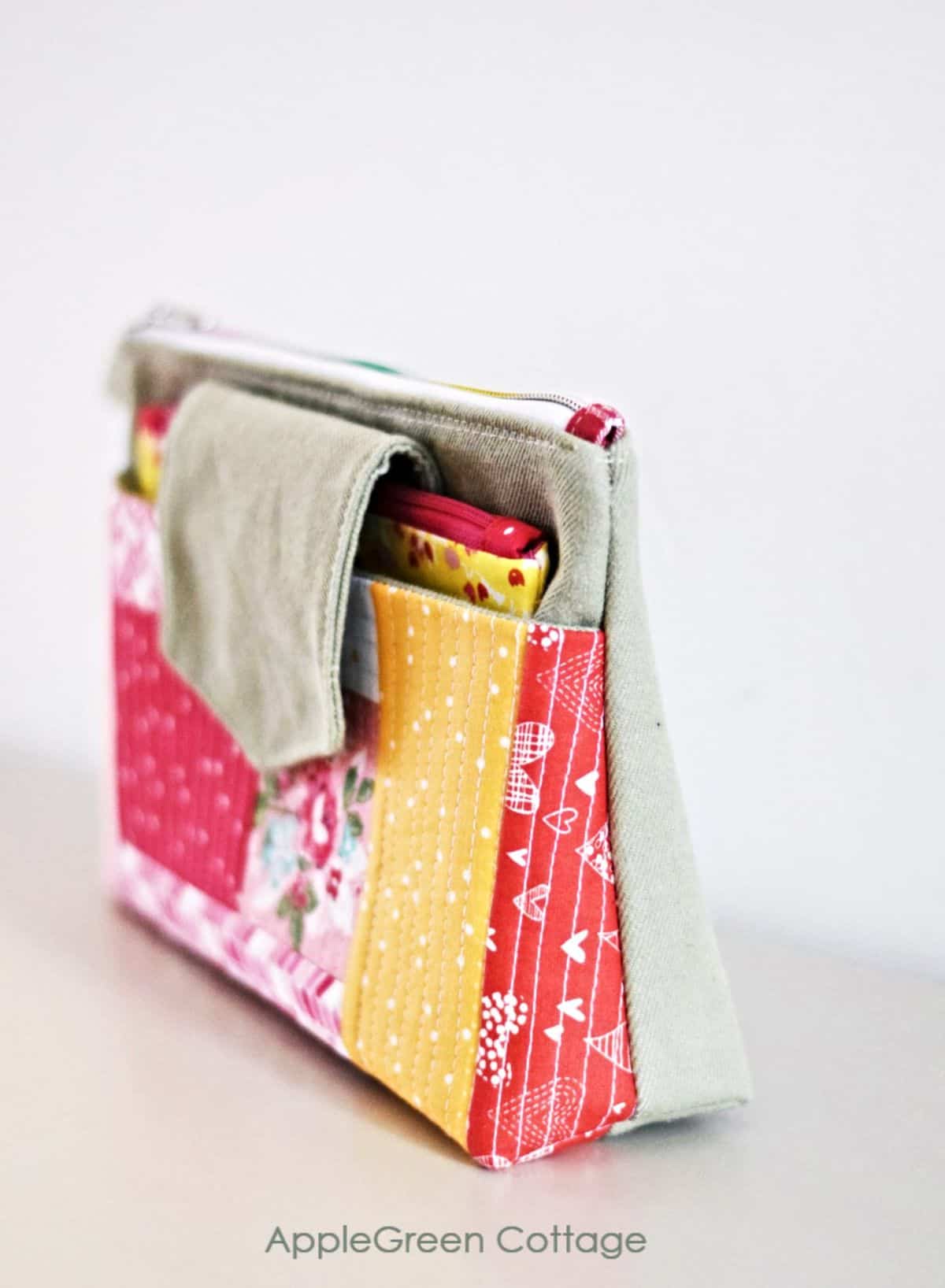 One of my own SILA Duo Zipper bags with a quilt-as-you-go front pocket. Due to the bulk reduction tip, there should be no issues with any thick areas to sew over. Do you like the quilted pocket version? Well, I guess I owe you a qayg tutorial. 🙂
I hope you liked all the makes from the flat bottom zipper pouch pattern. For more photos, check out the SILA Duo zipper bag pattern blog post and the SILA Duo zipper bag pattern in AppleGreen Cottage shop. And here's a photo for you to save on Pinterest for when you need some inspiration: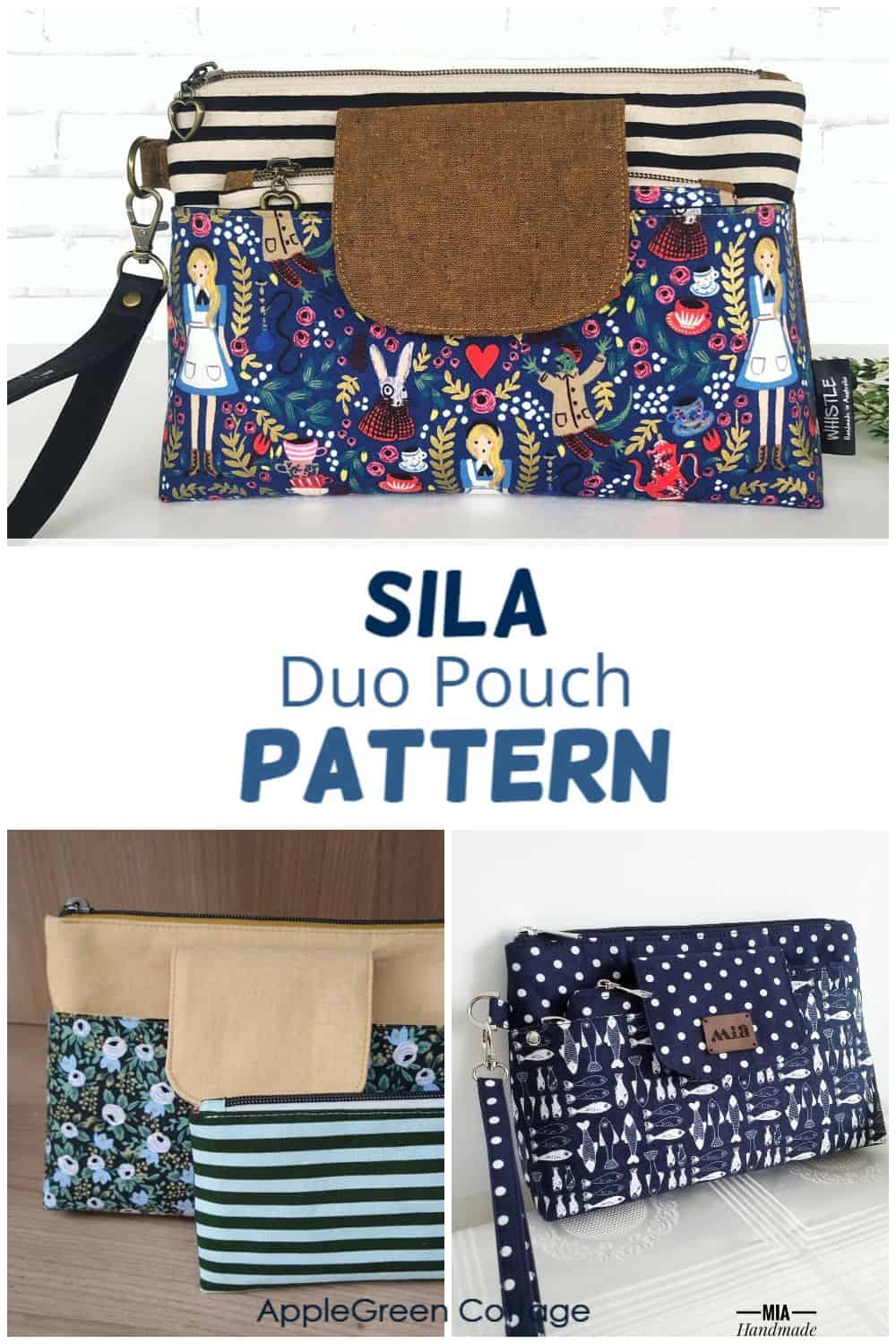 Get the SILA Duo Pouch sewing pattern
And finally, here's the new SILA DUO sewing pattern. And make sure to check out even more photos in the AppleGreen Cottage shop: