Purse sewing pattern - Check out the beautiful Glam Girl Purse photos from the pattern testers. You'll love them! Also, scroll down to see detailed photos of the two interior pocket options - makes it easier to choose your favorite!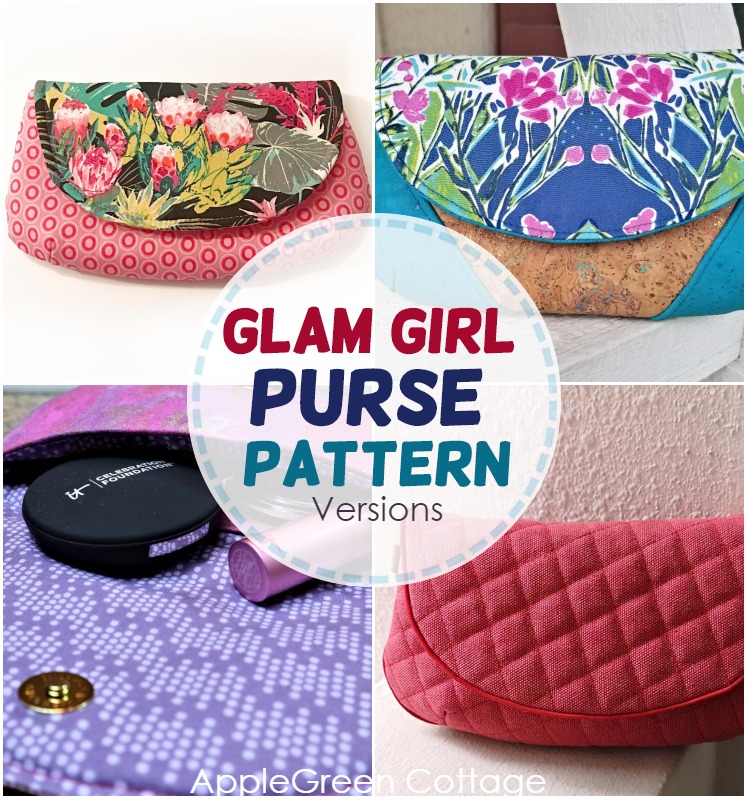 This post might contain affiliate links. thanks for your support.
Boy, this purse sewing pattern may be simple to sew but it has so much potential!
I noticed this when drafting it, and then also during the testing sessions with my pattern testing team. Virtually everybody had an idea for a pattern variation and additional use of the pattern. And gosh how many pretty purses were made in those testing sessions!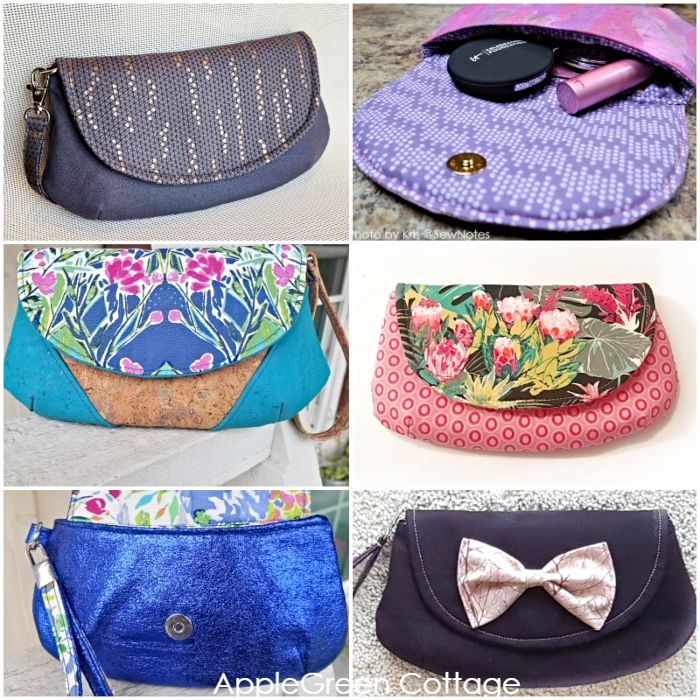 I want you to see them all, and get an idea of how to put the pattern to good use, and maybe even modify it to suit you even better!

Purse Sewing Pattern - Glam Girl Purse Testers Versions
Want to sit back, relax and see them all in a slideshow? Here, compiled just for you:
I'll try to show you one by one and tell you something about each purse, so each one gets a bit of a spotlight.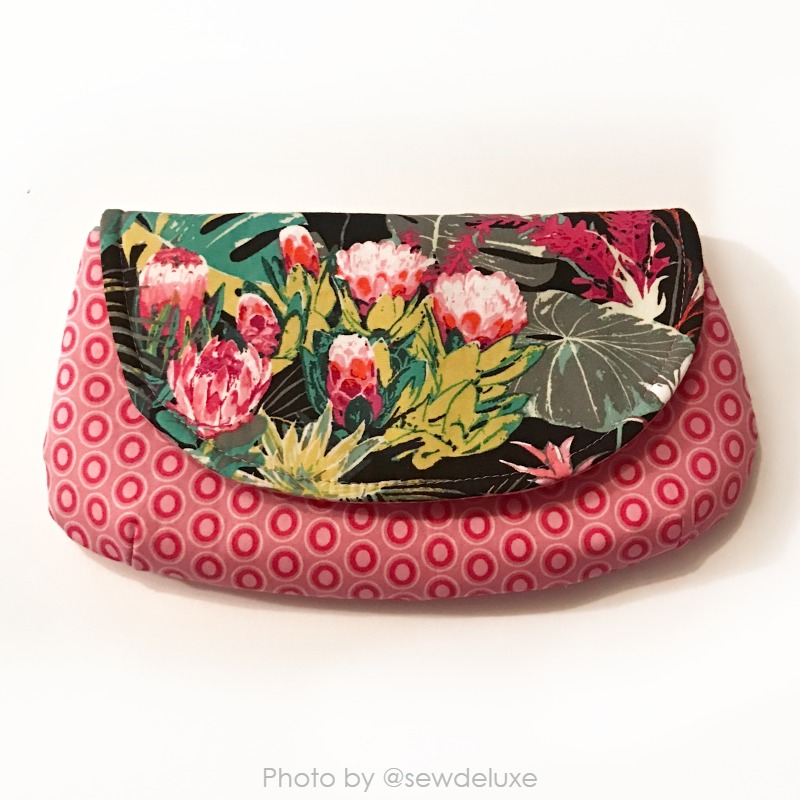 'It is a fast sew and economical. I think it could be a great pattern to make and sell.' said Laura Watson Yant at @sewdeluxe; she made this beautiful Glam Girl purse with florals on the flap.
When designing the pattern, this was my first thought too: a bold, statement floral print for the flap. Makes a purse stand out, always.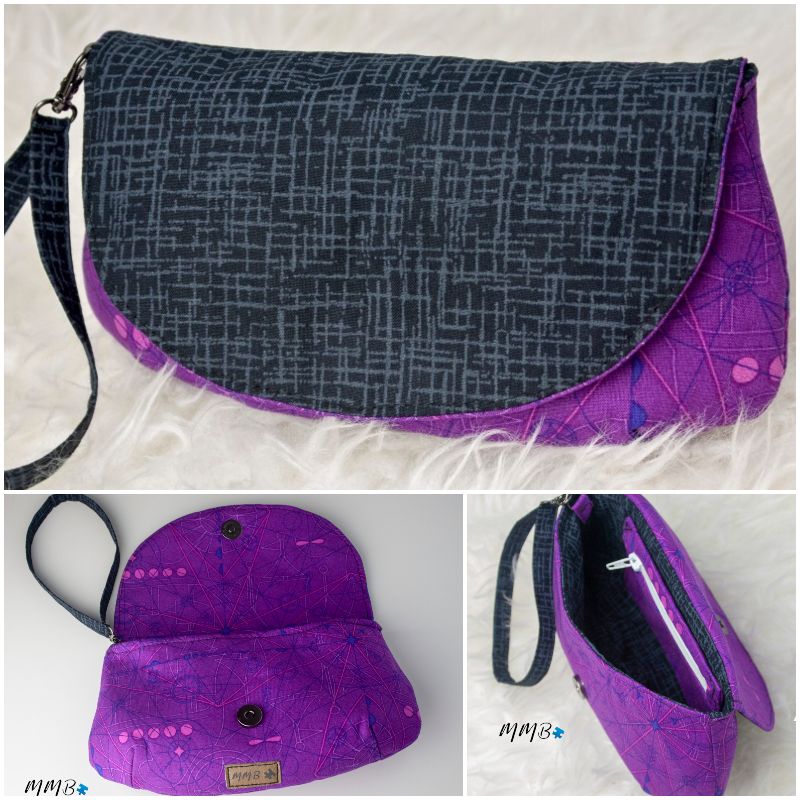 Michele @mariemichelebm  made such a gorgeous purse in purple, a fantastic fabric combination too, and she appreciated the detailed step-by-step photos: 'The pictures are so helpful that even someone who doesn't speak English can make it.'
And here comes one of the major Glam Girl Purse pattern modifications!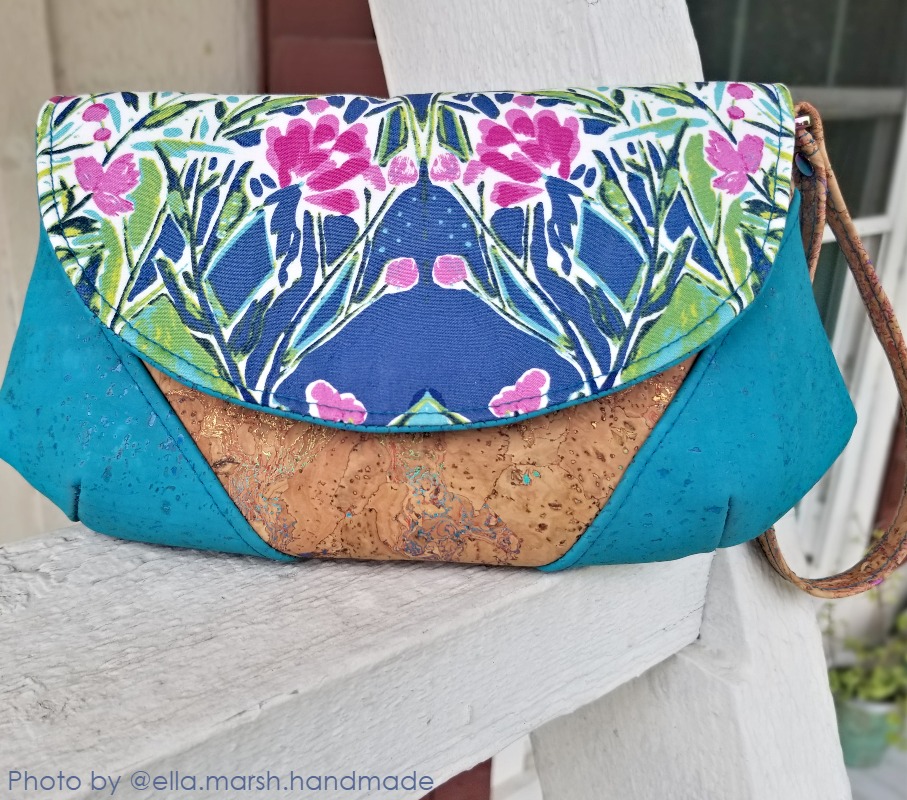 Lorna at @ella.marsh.handmade made this beautiful Glam girl purse in teal and blue, and she used cork with gold accents for the body, and teal cork on sides. Super creative, and such high-quality craftsmanship! But wait, not over yet:
Sunglasses Case!
Then she came back with more photos - she also sewed another Glam Girl purse at 80% to use as a sunglass case. Isn't it just adorable!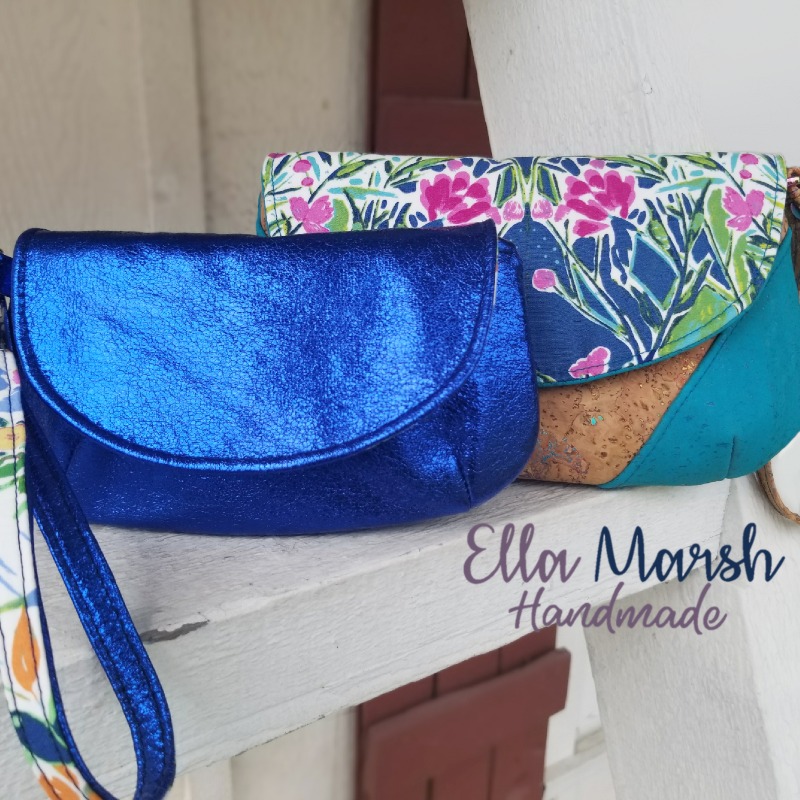 A Purse And Mini Wallet Set!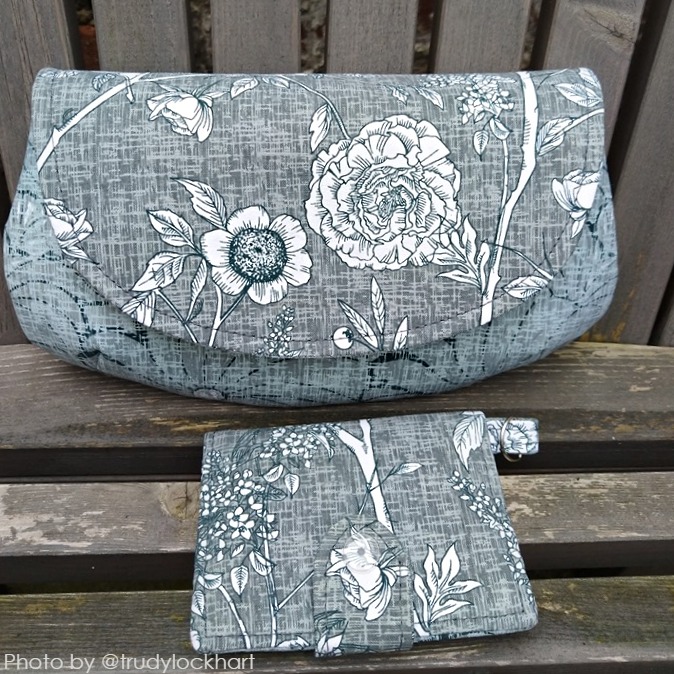 Trudy @trudylockhart made a set with one of my other patterns, the little Kalina Wallet, and they look fabulous together!
Feel free to check out more about the Kalina pattern HERE (make sure to check out the tester photos there too!)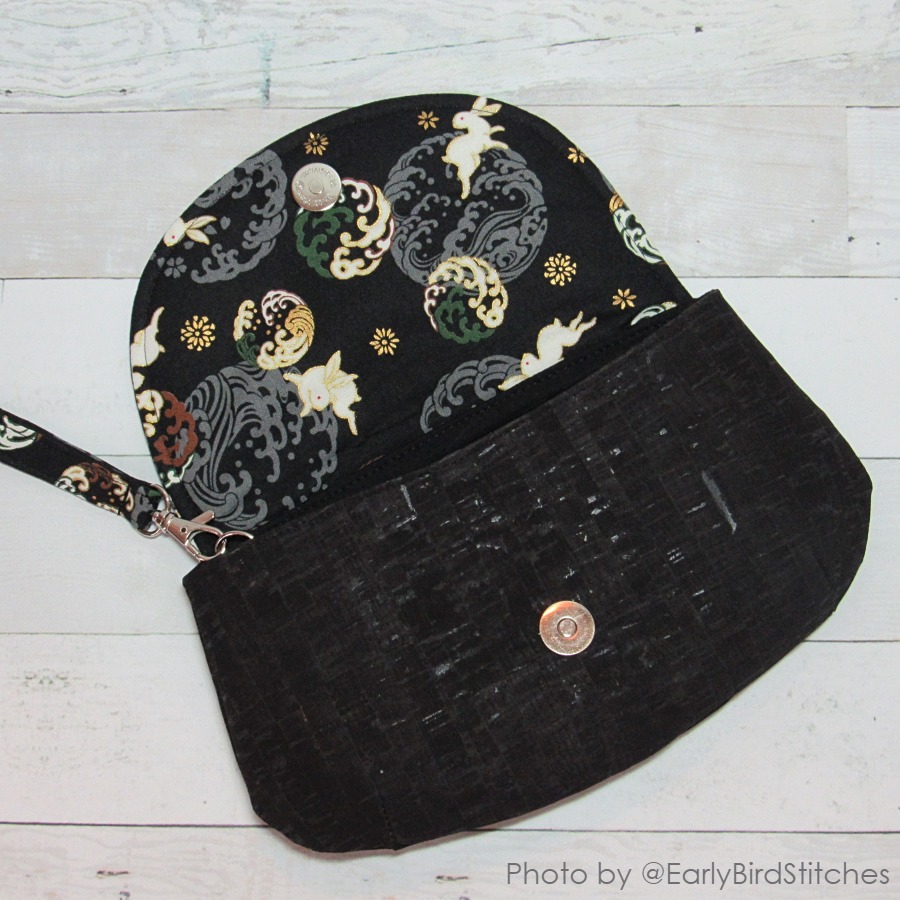 Next comes Cara's purse, you'll find her at @earlybirdstitches. Cara, I admire your patience in dealing with my stylistic and grammar mistakes! And in most cases, she's the one who'd slice my loooong sentences into nice small chunks of words - and make them readable! She made a stunning purse with cork, and I doubt it will stay in her handmade Etsy shop for long.
Makeup Purse!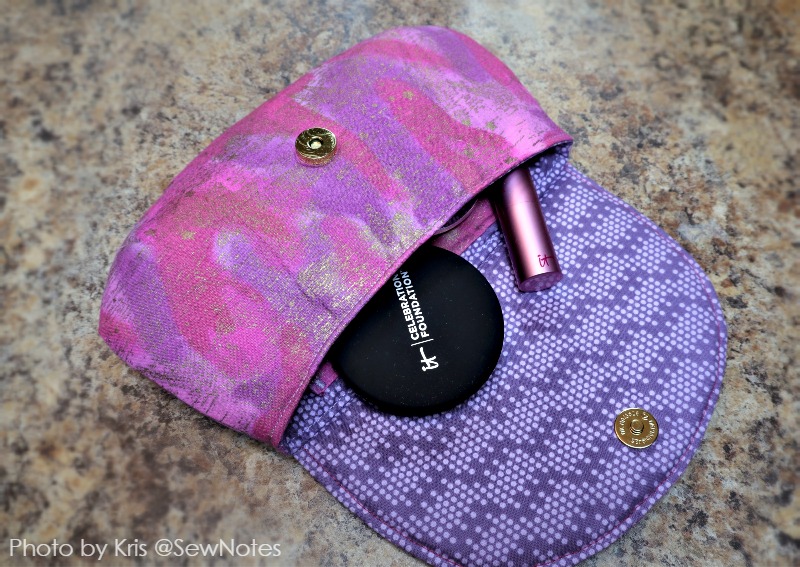 Kris at @SewNotes made this pretty makeup purse. She used fabric with metallic accents - a perfect match to the metallic snap in gold!  She even made a video pattern review and posted it on Youtube!  You can watch it here:
Theatre Purse!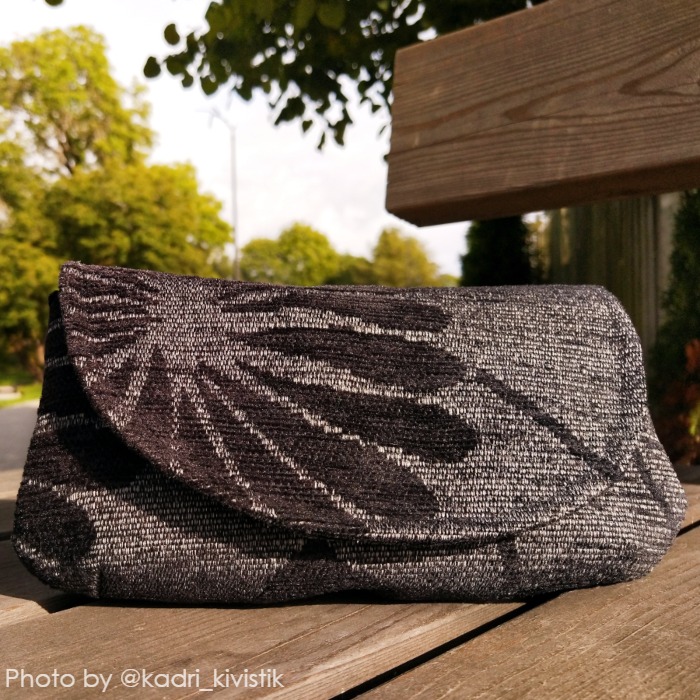 Kadri @kadri_kivistik told me a while ago she planned to sew a purse to accompany her to the theatre. So she did! I loved to see her use upholstery fabric with medium weight interfacing to turn it into such an elegant clutch. I want to try this one too!
Date-Night Purse!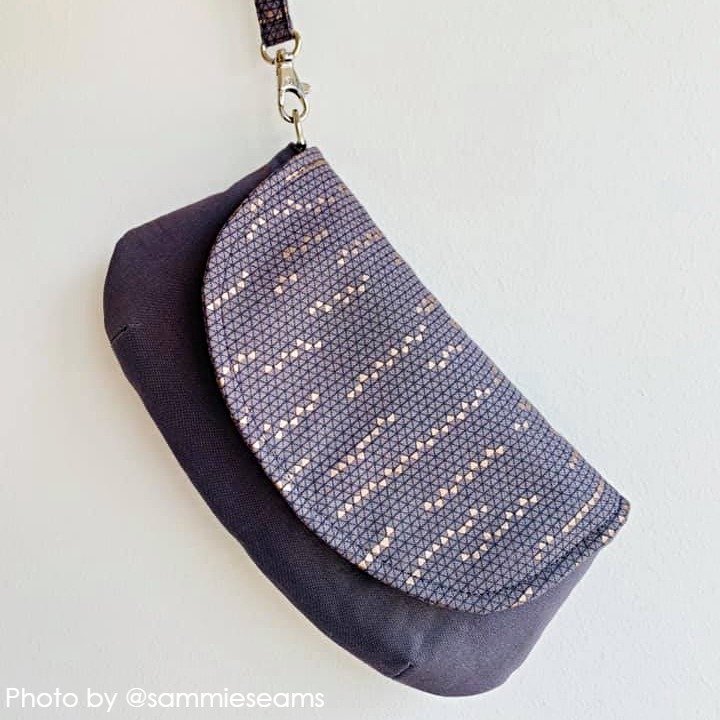 Next comes a date-night purse with metallic accents. Another super pretty Glam Girl Purse, this one was made by Samantha at @sammieseams She used the Robert Kaufman Winter Shimmer with a metallic accent. Stunning!
From the two interior pockets options, she opted for a slip pocket: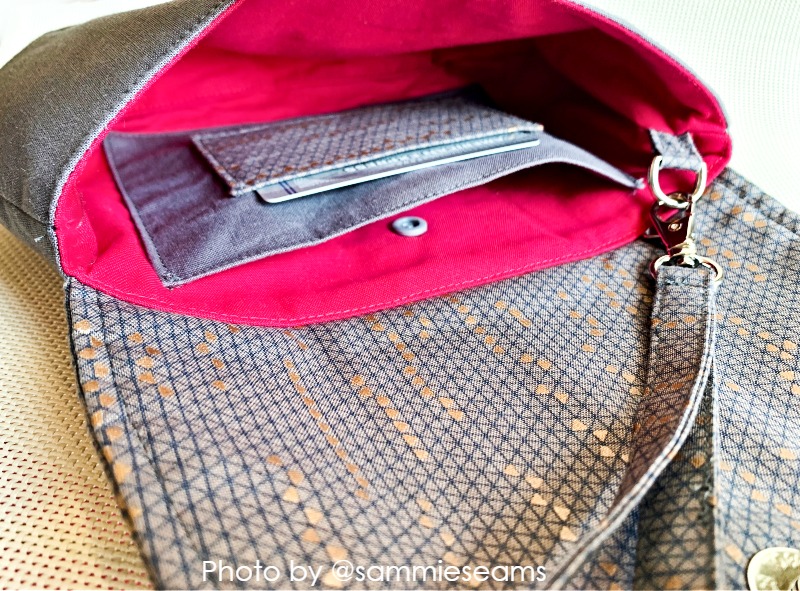 Quilted Clutch With Piping
And now, check out another date night purse, sewn by Elisah Lim at @madebyalley: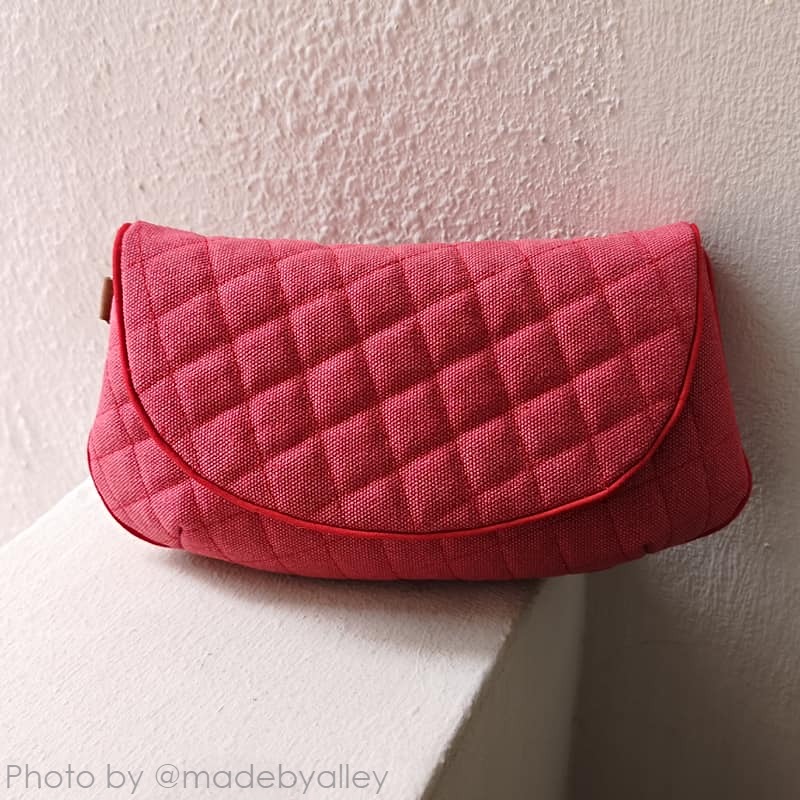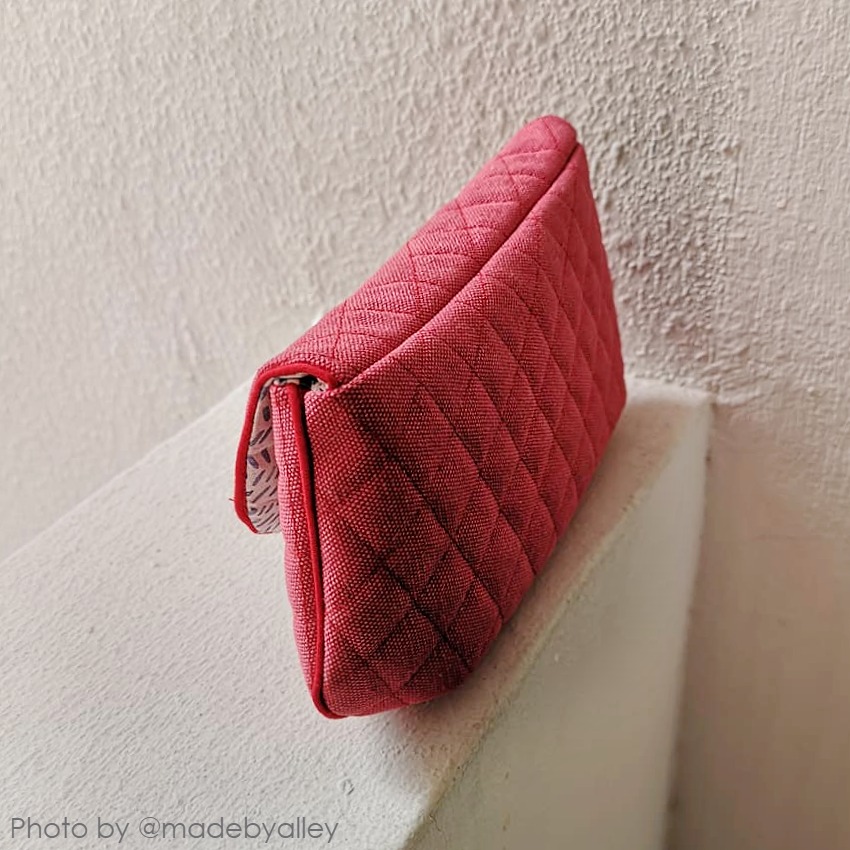 Elisah  at @madebyalley used Soft And Stable foam and quilted both the flap and the purse body. Oh, and she added piping - it accentuates the curves in the best possible way. Love it. I can't wait to see what she has in mind for her next one!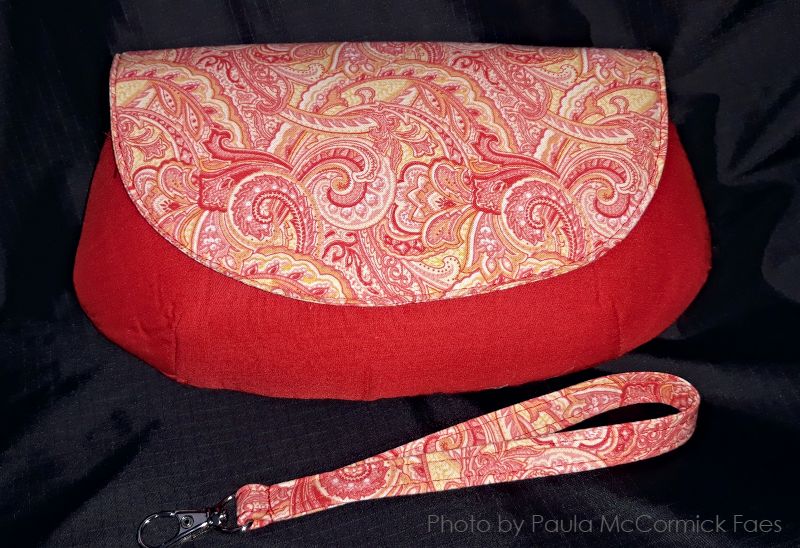 Another in red; Paula McCormick Faes took a delicate paisley print and matched it beautifully to a red solid. Check out her Facebook account at @paula.m.faes (link) to see what other bags she's made!
Creative Flap Accents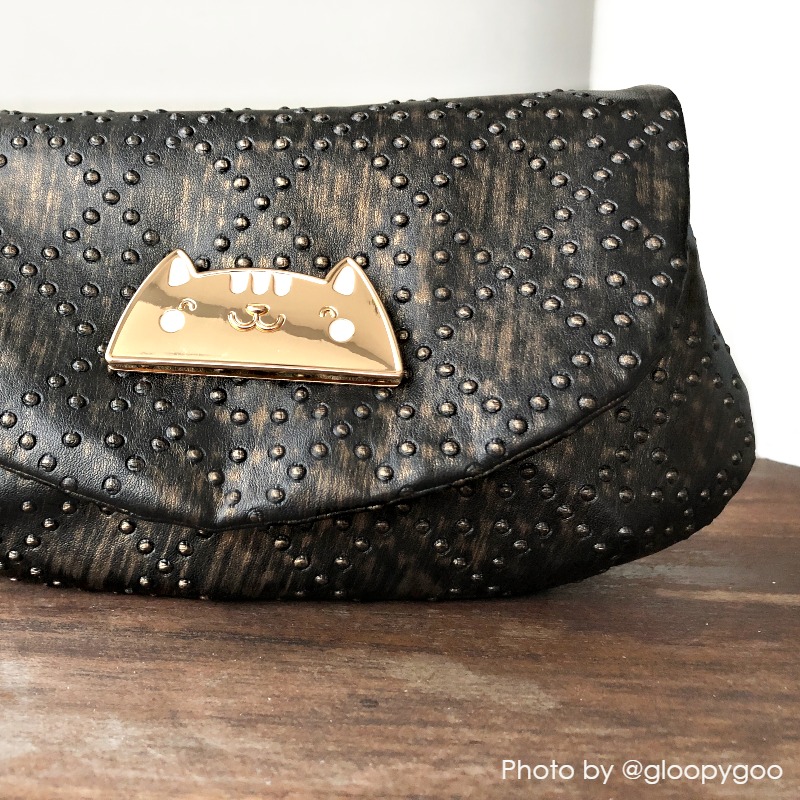 Let's talk accents! Kiran @gloopygoo used this super sweet kitty magnetic snap with metallic textured pleather - looks perfect!
And Aqil @aqilraim chose a different approach to embellish the flap - a bow! How cute is this one! And so fitting - why didn't I think of that!
Feel free to use my bow tutorial on the blog if you want to make bows to add to your own Glam Girl Purse.
Glam Girl Purse Made With Denim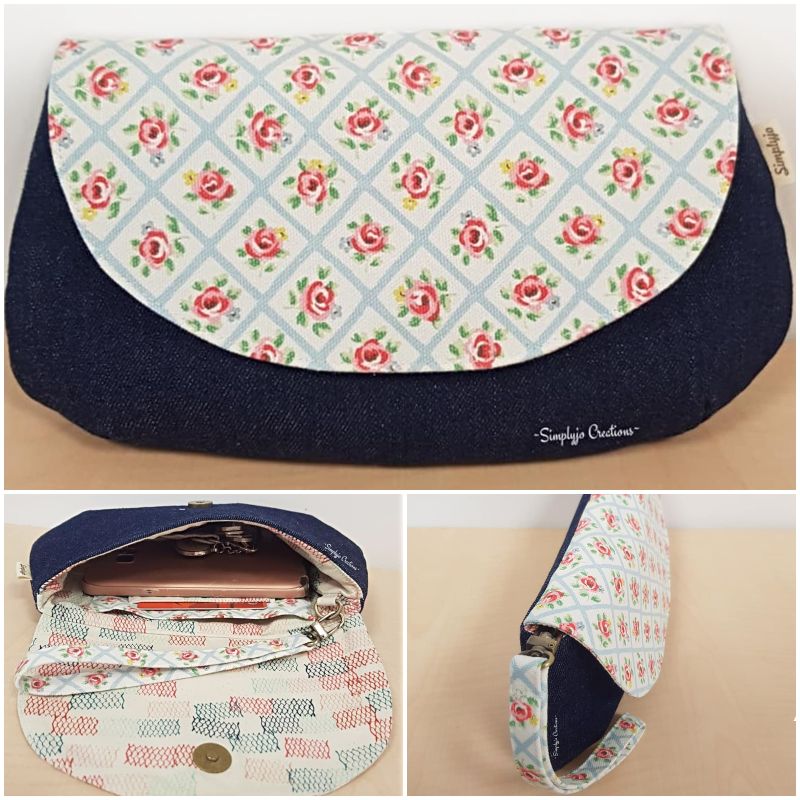 Jasene at @simplyjocreations made the Glam Girl purse with soft denim and light cotton prints. Thank you Jasene, such a sweet purse! Denim looks great with florals.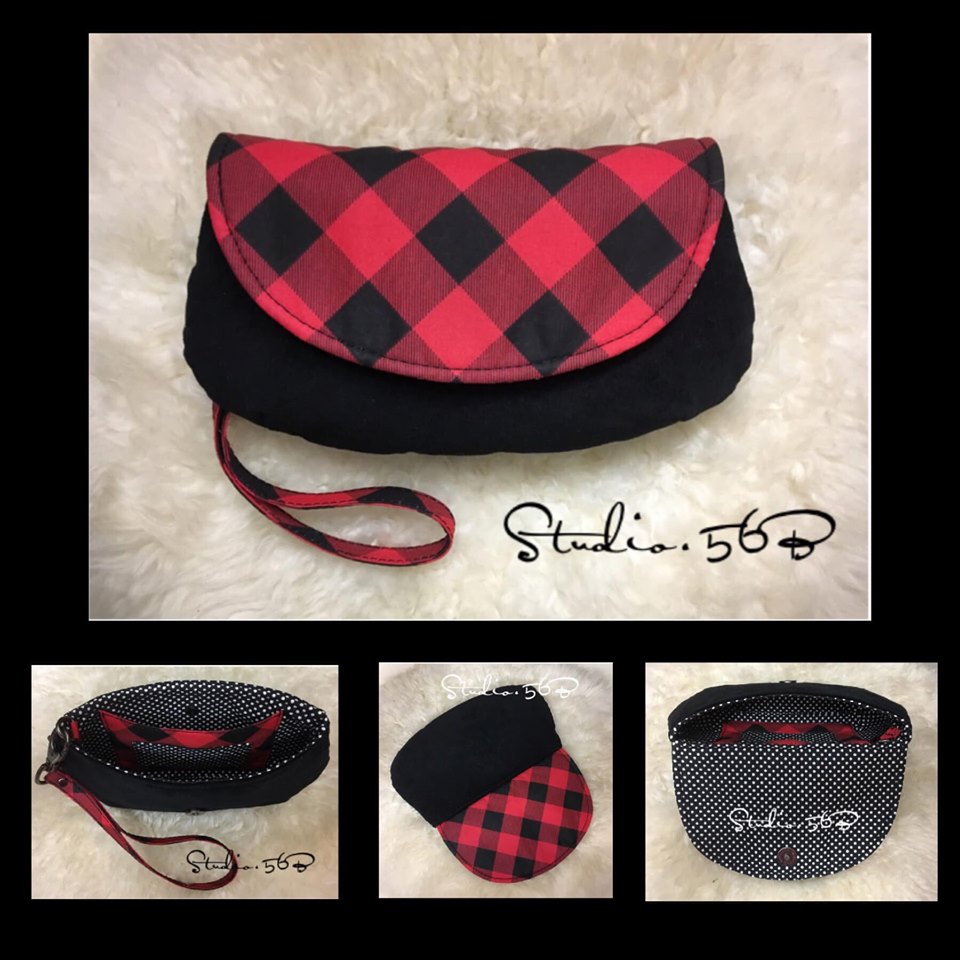 Jan Alig used corduroy and quilting-weight cotton. What a smart choice! Check out her FB page at @Studio.56b to see what else she sews.
Two Interior Pocket Options
Here are a few photos of the interior, to make it easier for you to decide which of the two pattern options will suit your needs better: 

Option A Zipper Pocket and a large slip pocket behind it: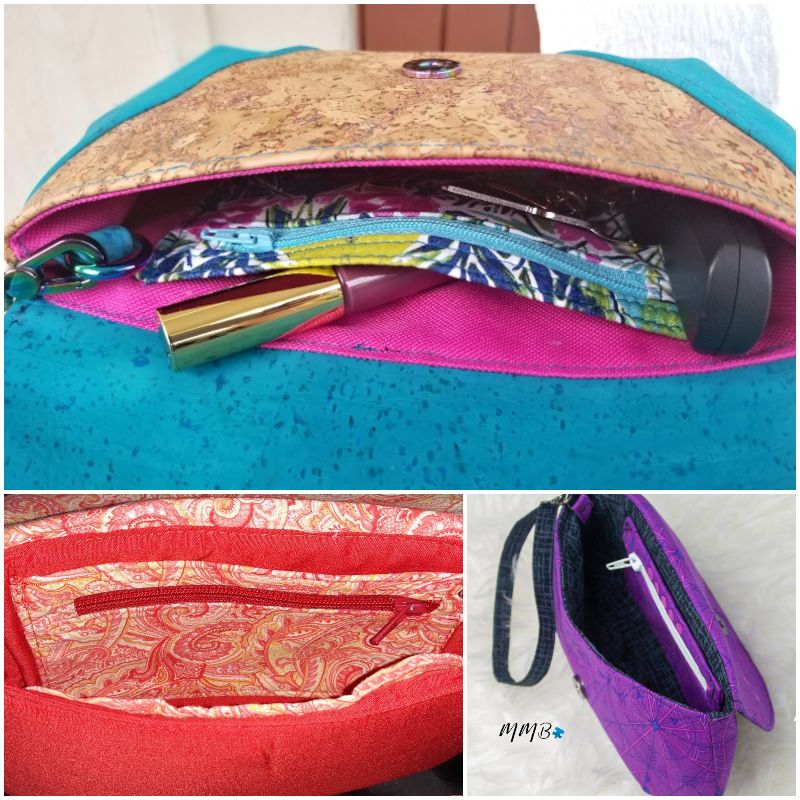 Option B Large Slip pocket (closed by a KAM snap) plus a card slot for up to 3 cards on top of the pocket: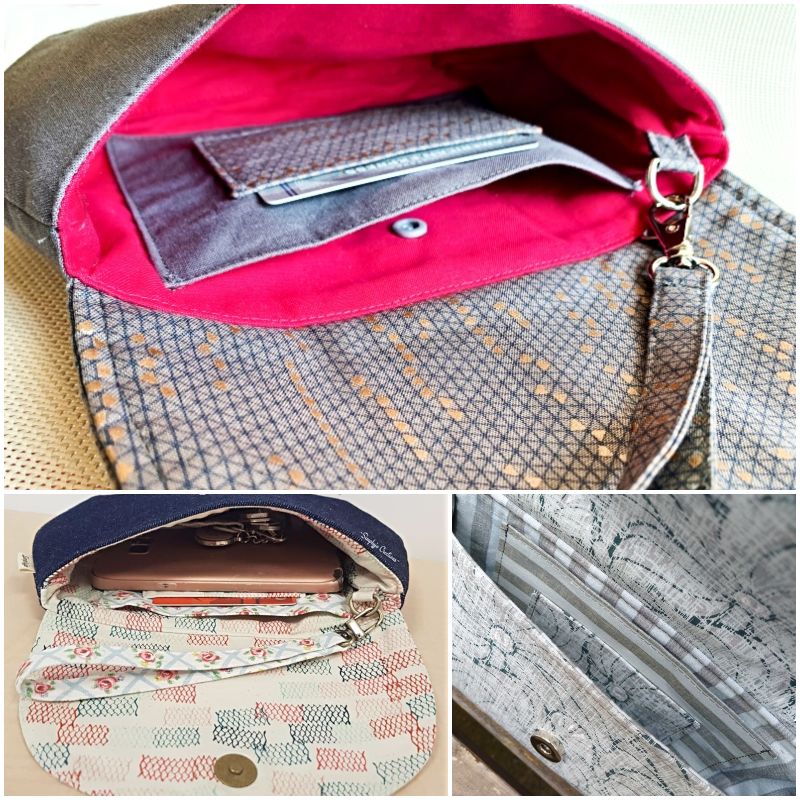 So you've seen them all now - which one is your favorite? Let me guess - too hard to choose just one? When the testers photos started to roll in, I just kept scrolling through all the pretty photos -  I did not get much work done that day. Really really beautiful makes!
Add this elegant purse to your pattern collection - make them for yourself, gift or sell them in your handmade shop! Use the hashtag #glamgirlpurse so I can see what you make!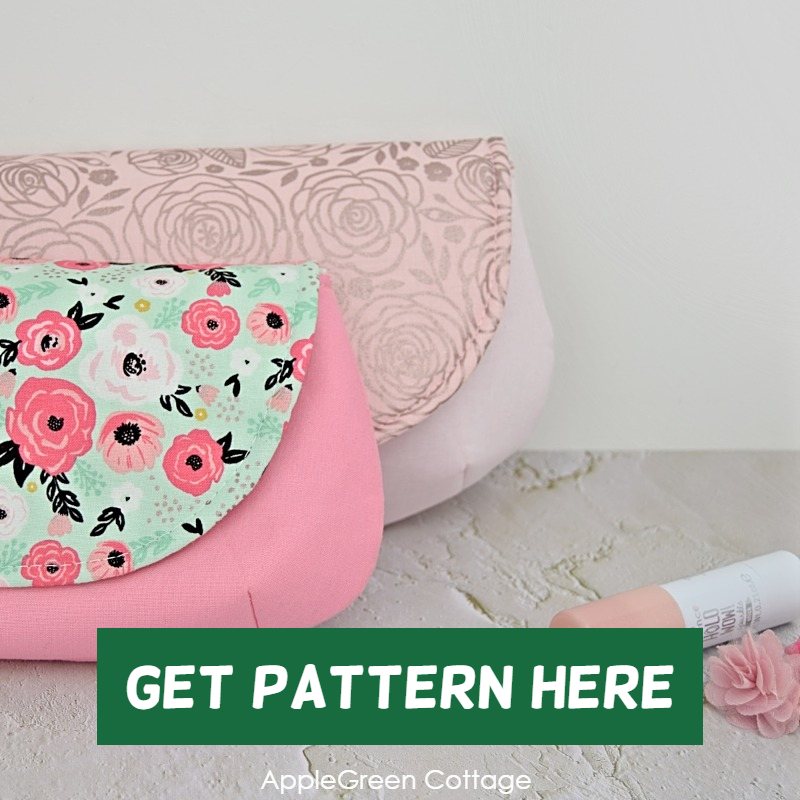 If you like what you saw, check out the pattern here - and make your own Glam Girl Purse.