Use this ear warmer headband pattern to make the best diy headband, one that actually stays in place, protects your ears in the wind, and is so comfortable!. A perfect fall accessory you can make in a really short time. Did I mention it's a beginner sewing project? Easy and fun!
And there is a PDF sewing  pattern available in 8 sizes - and email subscribers can download the smallest 3 sizes (baby to 1 year) - join for free here.
Would you like to add a pop of color to your kids' fall wardrobe and let them stay warm outdoors this fall? You've found your perfect accessory: this ear warmer headband pattern!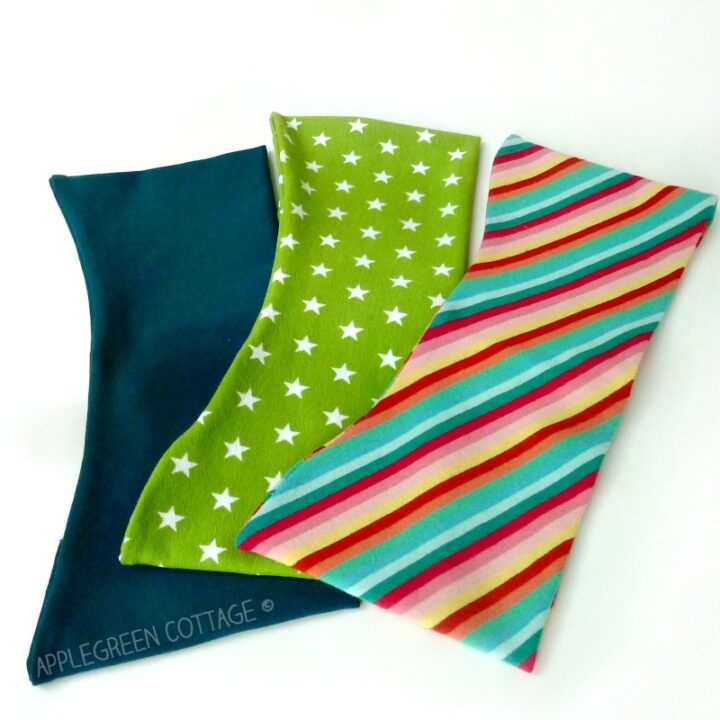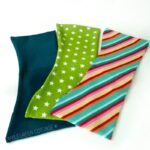 I'll tell you why I love these earwarmer headbands. And why you'll love them too:
Ear Warmer Headband Pattern Features
PERFECT FOR FALL: They're wide enough to actually protect the head from wind (but don't make the kid sweat like those winter fleece ones!)
Ear flaps fully cover the ears (but don't obstruct the kid's eyes!)
Stays in place (no slipping during the play!)
Easy and inexpensive to make.
A great scrap buster!
Make a great and easy homemade gift!
You can get a FREE PDF sewing pattern in 3 sizes (scroll down). Yey!
Now, are you in? Let's make an earwarmer headband together!
Supplies
You'll need:
a 10"by 18" piece of cotton blend jersey
sewing thread (here I used a thicker, contrasting thread to make it easier for you to follow the tutorial)
sewing machine
ballpoint needle (A must for sewing knits.)
iron
scissors
pins
pattern (make or get one - my newsletter subscribers can have mine!)
I used a 5.8 oz weight jersey for this tutorial, it's a 95% cotton + 5% spandex blend. It has a moderate stretch.
Your PDF sewing pattern
Join Free Newsletter to Get Your Free Pattern HERE:
First things first: you can get your free PDF headband pattern for the smallest three sizes (baby to 1 year) using this subscribe link. I've made it available to all subscribers of AppleGreen Cottage and it's one of the thank-you freebies for joining me on the creative journey.
(If you're already a subscriber, you can access the pattern with the password in each newsletter, in the resource library HERE.)

ALREADY GOT YOUR PASSWORD? LOGIN RIGHT HERE, with the password from the newsletter.
Headband Sizing
You'll notice that the sizes are a bit larger than the regular headband sizes. This is due to a wider, ear-covering form that will stretch less than the thinner variations of headbands we usually see in the market.
Need A Larger Size?
No problem. If you need a different size, have a look at the Best Earwarmer Headband PDF Pattern with tutorial in my shop. It's not free, but with the additional sizes up to adult sizes (total 8 sizes), you should be covered for life 🙂
It comes in 6 kids + 2 adults sizes  (total 8 sizes), complete with instructions and sewing tips. You can check it out here if you like:
DIY Earwarmer Headband TUTORIAL
And here's a video slide-show for those of you who prefer video how-tos. (and all the separate steps are added below) Check it out here:

To make it even easier for you, the how-to is split into
three sections
. Makes it even easier to follow!
A) The Perfect TEMPLATE
c) OR, you can draw your own template: wrap a piece of your fabric around the kid's head and add the 0.5 cm for seam allowance. You'll also need to add ear flaps, which may be a bit tricky - you need to catch the right position (exactly covering the ear area, not too far back or close to the front.) You might need a bit of a try-and-test approach. I'd suggest this only if you've got enough time and fabrics for a second/third try.
TIP: No matter how you start, always measure your child's head to be sure you are making the correct size
B) CUTTING the Fabric
3) Fold your jersey twice:
First, grab the right edge and fold it in half. Now you've got the fold on the right side and the jersey right-sides-together.
Second, grab the folded upper edge of the fabric and fold it in half by placing it onto the bottom edge. Now you've got four layers of jersey nicely stacked.
5) Unfold the cut fabric once so you get this double-layered piece (i.e. folded only once):
C) SEWING ear warmer headband pattern
3) Now pin the short ends of the headband, right-sides-together, like this:
4) Sew them together using a ¼" seam allowance, backstitch as needed to secure.
6) Done! You've just made a perfect headband for a kid.
Your ear warmer headband is finished!
And if you're not ready to start working with jersey yet, fear not. Just select the fabric and wait a bit. In one of my next posts, I'm throwing in several sewing tips for beginners, and above all: TWO basic things that REALLY matter when sewing with knits. Like, really important. They can save your project. And make you totaly confident with cutting up and sewing your jersey piece. Actually, you'll just want to sew more of these headbands. Get your fabrics ready, subscribe to get your free template and pin this tutorial for later.


Pin For Later:
Happy sewing!